Today is the official start to our #Subseafloor Life cruise, but instead of heading out to Axial Seamount, we are sitting on anchor in Victoria Harbor. The weather report at Axial Seamount is not good. There are 5- to 6-meter swells and 25+ knot winds, and those conditions are predicted to last until Tuesday night.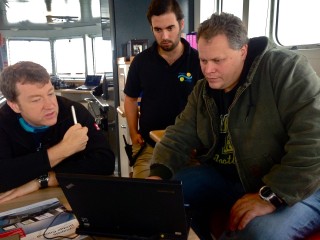 I met with Captain Bernd, Chief Mate Philip, Marine Tech Colleen, and ROPOS Expedition Leader Keith this morning, and we looked at 4 different weather prediction models for our site. We collectively decided that instead of going out there and trying to get things set up while rocking and rolling, we would stay at anchor another day to get our instrumentation finalized and do a test dive with ROPOS here in the harbor. Then we will head out tomorrow morning.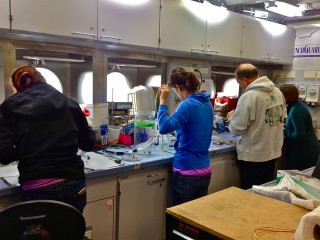 The last few days have been very busy. We have this ship packed to the gills with our gear, and we have even spread out of the lab spaces into our rooms to find space for spare parts and such. Luckily, many of the cabins on Falkor are quite large, with ample closet space, so I was able to fit a number of crates and coolers into my room. My postdoc Caroline's closet is filled with syringes, tubing, and filters.
Our team is highly analytical and experimental, which means that in addition to observing things on the seafloor, we collect fluid samples and analyze and manipulate them in the laboratory. Doing that requires a lot of STUFF! Add in all the gear required to operate a remotely operated vehicle a mile beneath the ocean surface, and you can imagine how packed this ship is.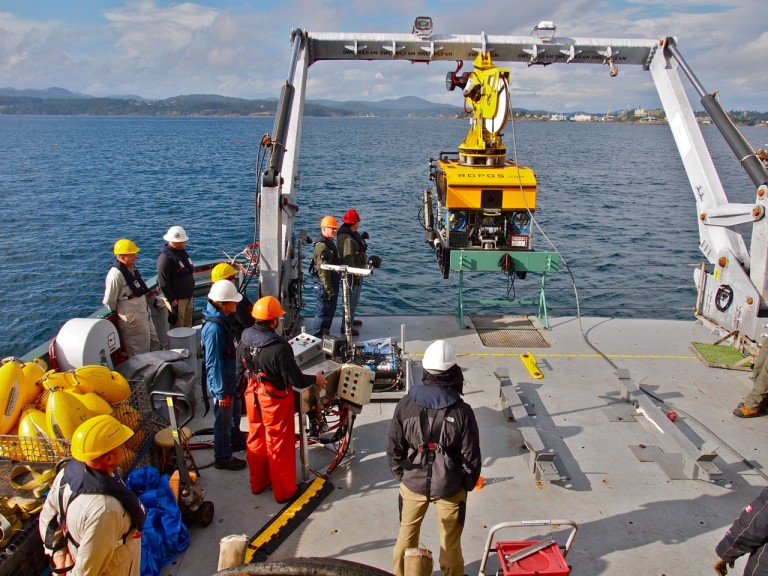 As we continue to get our labs and equipment set up, we have also taken time to get to know Falkor, procedures on board, the crew, and how the ship operates. Yesterday we had a safety drill, followed by a welcome barbeque. Although it was chilly, we all enjoyed the wonderful views of Victoria, the delicious food, and getting to know our sailing companions for the next 2 weeks.
For me, this cruise is like coming home again. My very first research cruise as a (very) young oceanographer was in 1998, and it was to Axial Seamount with the ROV ROPOS. Dave Butterfield was my mentor at sea. Back then, I had no idea that 15 years later I would have the opportunity to lead an expedition back to Axial.  The site has changed dramatically in those years, as have our scientific questions, and the technology we can use to address those questions. So, I am very excited to get started. For the time being, however, Mother Nature has other plans for us, so we will continue to prepare for the adventure ahead.