Today is our last day at sea. We are steaming along, and will arrive in Victoria, British Columbia by tomorrow morning.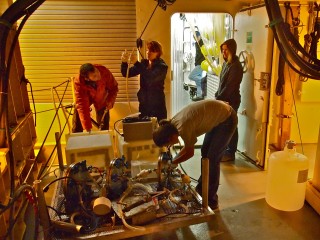 This has been a very challenging, but certainly rewarding trip. Our team managed to accomplish quite a bit, which is surprising given that we were weathered out for almost 7 of our 10 days on site at Axial. I looked back at our original proposal to Schmidt Ocean Institute and we had planned 8 dives in our 10 days. We accomplished half of that in only 3.5 days! I'm proud of my team and thankful we were able to stick it out and make science happen, despite the terrible weather.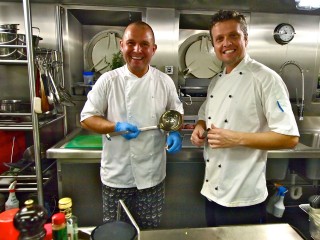 Many of us have spent a lot of time at sea, in various places and on various ships. So we wanted to collectively write a post about things that really stood out about this particular cruise and Falkor. For some of us, this is the most days we have ever been weathered out on a cruise. We decided that if we had to be weathered out, at least we were on a spectacular and comfortable ship. In many ways, the Falkoris similar to other research vessels–staterooms, the laboratory, the bridge, the working deck, watch schedules, etc.  But in other ways, it is unlike any other research vessel. So here is the science party's list of our top 10 favorite things about the Falkor.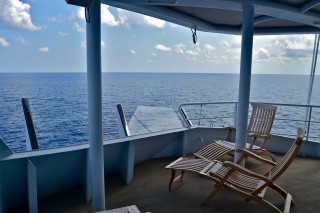 Espresso machine: Self-explanatory, but key to round-the-clock survival and team morale.
Pastries and cakes: Chocolate croissants, cinnamon rolls, layered cakes, molten chocolate cake… the list goes on. The chefs are spectacular.
Laundry Service: You can take your laundry down every day and the amazing stewards will wash, dry, AND fold it!
Wireless internet throughout the ship: This means we can iMessage and pester one another (as well as our loved ones on shore), even from the comfort of our bunks.
The library/lounge: Perfectly placed mid-ship, it has become our second home in rough seas. Comes complete with wrap-around couches and a fine movie and book collection.
The showers: These are a notoriously gross and dangerous place on most ships, but here on the Falkor we have two shower heads, a towel warmer, a handle in the perfect place for rolling seas, and big soft towels.
Flat screen TVs everywhere: You can watch the dives (or the weather) from your room, the library, the mess, and the gym. The chief scientist's cabin even has a super-secret-spy flat screen that folds out of the ceiling.
Gym: This is another spot that usually ranks as pretty gross on most ships. On the Falkor, it is sparkly, clean, and well equipped. You can plug in your iPod and run, row, or lift to your own music. Note the gym has not been getting much use due to the rolling seas, but before it got terrible, we were using it.
Outdoor space: Solarium deck, observation deck, teak furniture, hammocks, and all sorts of outdoor space. We have not been able to enjoy most of this due to the weather, but we appreciate the fact that it is here. We were able to enjoy a couple of barbeques, complete with heat lamps. We are already planning our next cruise for the tropics in flat seas so we can really enjoy it. Fiji has been mentioned more than once.
The crew: The staff aboard the Falkor is attentive, considerate, and incredibly kind, not to mention very well-dressed in their SOI uniforms. They want to make our science happen as much as we do, but they also want us to be comfortable and have fun. There is always a deckhand around to help Lisa carry 50-liter carboys of water, or a mate ready to talk to me about the weather. When I was not feeling well during the storm, Verena (steward) brought me a bag of pretzels, and Colleen (marine technician) brought me seltzer water. First rate service, all in the name of science.
So that's it for us. Tomorrow we will be demobilizing ROPOS and all of our science gear, and then we get to return to our much missed families and friends. Thanks for joining us in the adventure.