Falkor arrived late last night at the remote Scott Reef. Perched on the edge of the continental shelf the reef rises up out of depths of up to 800 meters and forms one of the region's most prominent features. The reef actually consists of two adjacent atolls (coral reefs that enclose lagoons): a pear shaped North Reef and a horseshoe shaped South Reef. The reefs are separated by a 700 meter deep, 2 kilometres wide channel. These atolls developed millions of years ago on the highest point of a subsiding sea floor. The coral reef continued to grow and deposit layers of reef leaving the seafloor deep beneath it and building the reef we see today.
For the past 20 years scientists have been visiting Scott Reef. While Indonesian fisherman regularly visit the reef to fish for sea cucumbers, shark fins and other species, the reef is still considered one of the most pristine in the world. Located far from intense human activities that directly or indirect affect most of our reefs globally, Scott Reef is a rare opportunity to study the natural reef dynamics.
Currents and connectivity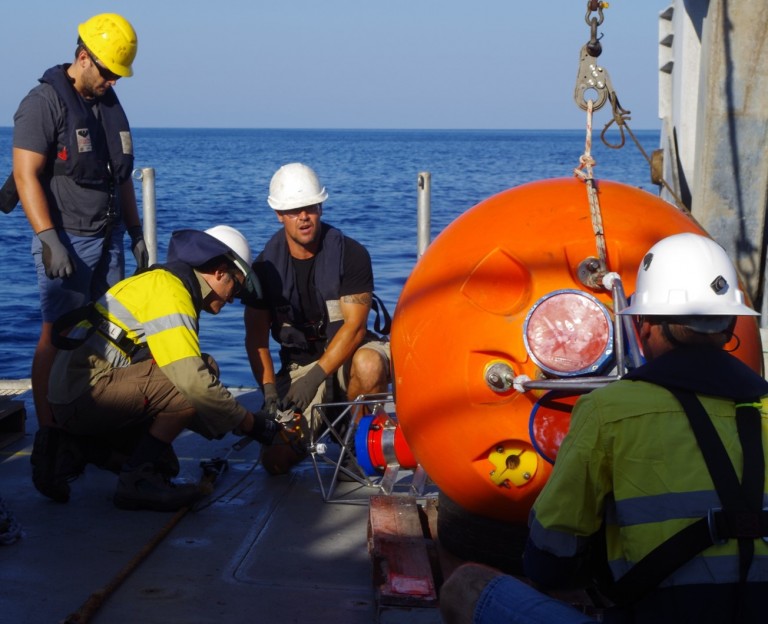 One of the research goals at Scott Reef is to investigate how the local and regional oceanography shapes and maintains the patterns of biodiversity that we see on the seafloor at Scott reef and the other shoals we will visit later in the trip.
Most of today's activities involved placing equipment in the waters in and around Scott Reef. The team deployed what are known as 'oceanographic moorings' at locations both within the deep channel, but also around the shallower parts of the reef. Moorings stay fixed in one location and provide a way to hold instruments to make measurements below the ocean surface. In the deep channel the moorings allow instruments to be spread between the ocean surface and the seafloor, and enable us to observe ocean currents and temperatures. From this information, we can determine the typical circulation patterns around Scott Reef and investigate the complex flows that occur in the deep channel between North and South Reef.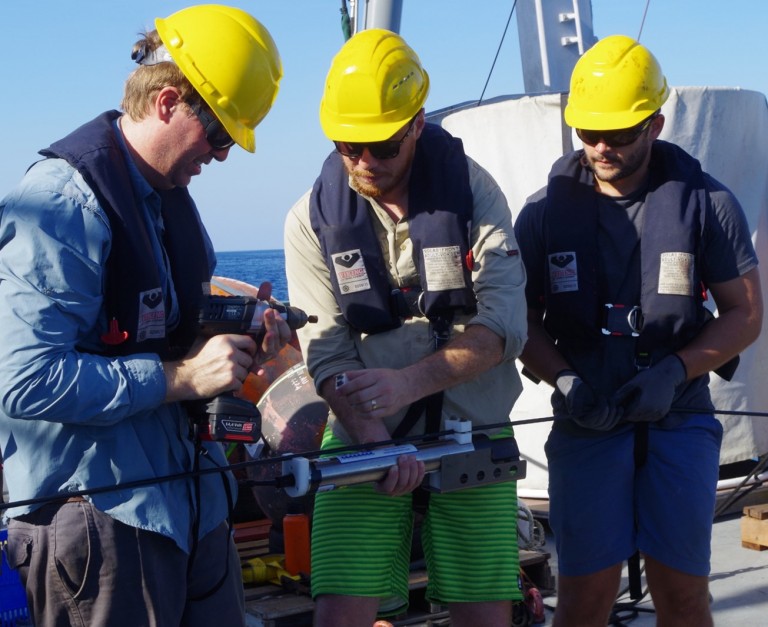 In shallower areas, such as along the edge of the shallow reefs, the moorings consist of current and wave meters to measure water flow and wave height, pressure sensors to measure water depth, and temperature sensors to accurately measure the water temperature. This information enables the science team to look in great detail at the oceanography in the lagoon, and understand how it responds to the general circulation around the reef but also how the daily heating and cooling and local weather influence the reef environment.
Check out the time lapsed video below to see the science team and Falkor crew preparing the deep water mooring for deployment. The equipment deployed today will remain in place for nearly three weeks, before it is recovered and the data downloaded… then the task of analysing the data begins.