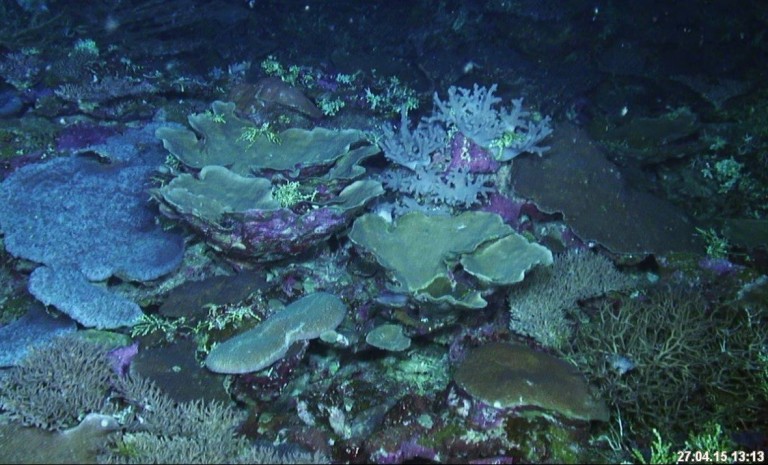 For the past few nights the ROV team have had the opportunity to re-visit a number of sites across south Scott Reef lagoon looking for long term changes in benthic community health. The deep water coral communities were surveyed by the Australian Institute of Marine Science (AIMS) in 2007 as part of an impact assessment for an environmental marine seismic survey conducted for Woodside Energy Ltd. (Maxima 3D MSS). The survey was focused on detecting the potential effects of underwater noise from seismic surveys on tropical reef communities, particularly benthic (seabed) communities including the hard and soft corals. While there is little published literature on the impacts of airgun noise on coral reef communities it was speculated that noise from the airguns could potentially damage coral polyps. The survey found no detectable effects on the coral community and provided us with detailed information on benthic community health that we are now using to explore long term changes in coral community health.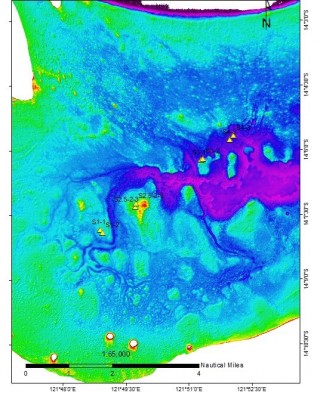 Accurate replication
Previous surveys were undertaken using towed underwater video cameras and high resolution digital camera images. Using the Falkor'sROV these transects can be replicated as it also is equipped with high definition video and digital cameras with the location of every image precisely known. The advantage of using the ROV is the level of control that the marine technicians have over its location, speed and height above the reef. This enables the collection of high resolution imagery allowing for very accurate post survey analyses.
Long term health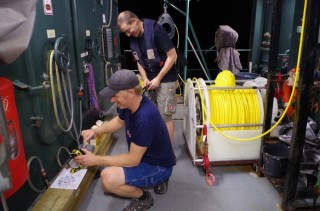 The ROV team has been repeating the 150 to 200 metre transects surveyed in 2007. To examine community health the scientist are looking for any evidence of damage or disease. For example they're looking to see the proportion of corals been cracked or broken and whether they show evidence of fish or turtle bites, disease or bleaching. They are also looking for longer term effects including any change in percent cover of the major species, the proportion of dead coral, diseased coral and bare substrate. While further analyses are necessary, based on a quick visual assessment from last night's dives, senior scientist Andrew Heyward estimates that the disease/bleaching they have detected would be less than 1% of colony tissue. This is excellent news for the reef and is also consistent with earlier findings. This finding again points to the deeper coral communities exhibiting long term health and stability unlike the shallow water coral communities that seem to be more prone to disturbances such as cyclones and warming events.