Ten scientists, 24 hours a day, 7 days a week, over 32 days – A lot of time, knowledge and effort have been invested on our MEGATERA expedition, which has now come to an end. 17,597 square km of high-resolution bathymetry have been acquired, along with 2,665 km of seismic reflection profiling.
The Wharton Basin, the 2007 and 2010 earthquake epicenters, and the locked Mentawai patch were all part of this extensive geophysical experiment. It will take a few years for all of this data to be processed and implemented into hazard mitigation plans, but some very promising results are already showing.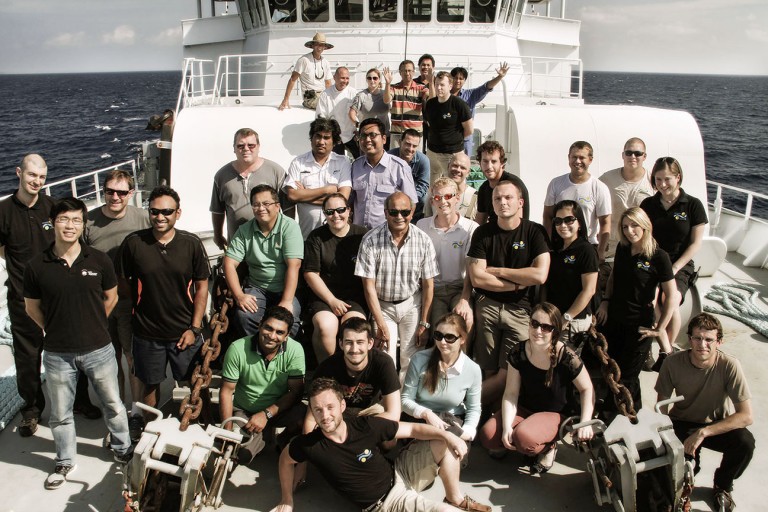 First observations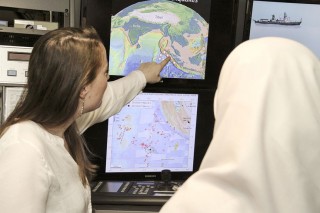 The team found many active faults at the Wharton Basin with different orientations, suggesting that the whole area is deforming on different scales. This area was the site of the largest intra-plate earthquake ever known, and the strongest aftershock. It was such a powerful event that before it, scientists did not even believe such an earthquake was possible. The Wharton Basin is under enormous stress due to the continental collision taking place up north, and of course the Sumatra-Andaman subduction zone to the east. The deformation it presents will certainly be a source of discussion and learning in the scientific community.
West of Siberut Island lies the Mentawai Gap, a locked patch of the Sumatra-Andaman subduction zone that has not released its stored energy for over 200 years. This leads the experts to believe that a powerful earthquake will eventually originate here. Seismic images acquired during the expedition showed active faults near the Sunda Megatrench, both on the subducting and the overriding plate. A detailed analysis of this data will allow the scientists to better constrain the nature of a tsunami produced by an earthquake in this region.
Sharing the information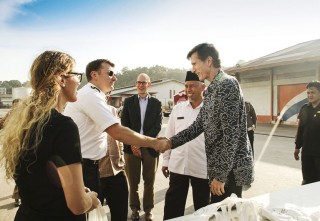 On the 22nd of June, 2015 R/V Falkor arrived in Padang, Sumatra, marking the end of an intense expedition. Padang was also the place for an outreach event in which the information and lessons learned so far were shared with students, media and local authorities. Different groups visited the research vessel throughout the day, and were invited to look at some of the images produced, as well as ask questions to the scientific party.
In the Padang area alone, more than half-a-million people reside less than five meters above sea level. There are over seven million people living along the central and southern coasts of Sumatra and the Mentawai islands. The findings produced by the MEGATERA expedition and subsequent application on tsunami mitigation plans will certainly translate into better quality of life for these communities.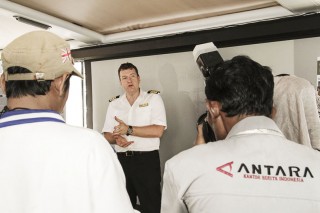 The better the information that Sumatran communities and authorities have, the better mitigation plans there will be. Today R/V Falkor sails through the Indian Ocean again, approaching its next destination. But the data produced will remain in Sumatra forever, providing deeper insight on the secrets of the ocean's floor and empowering communities and authorities to better prepare.