I have spent my whole life as an ocean enthusiast, spending a considerable amount of time in, around, and on the water.  For the past decade I have had the pleasure of doing scientific research on the microbial underpinnings of coral and coastal ecosystems. I was excited to have the opportunity to "dive deeper" in my research – contrasting my experience in coastal systems with the deep ocean – 2000 meters down (almost 1.5 miles of water between the boat and the bottom for those who are mile-oriented): a logistically challenging environment to study microbiology.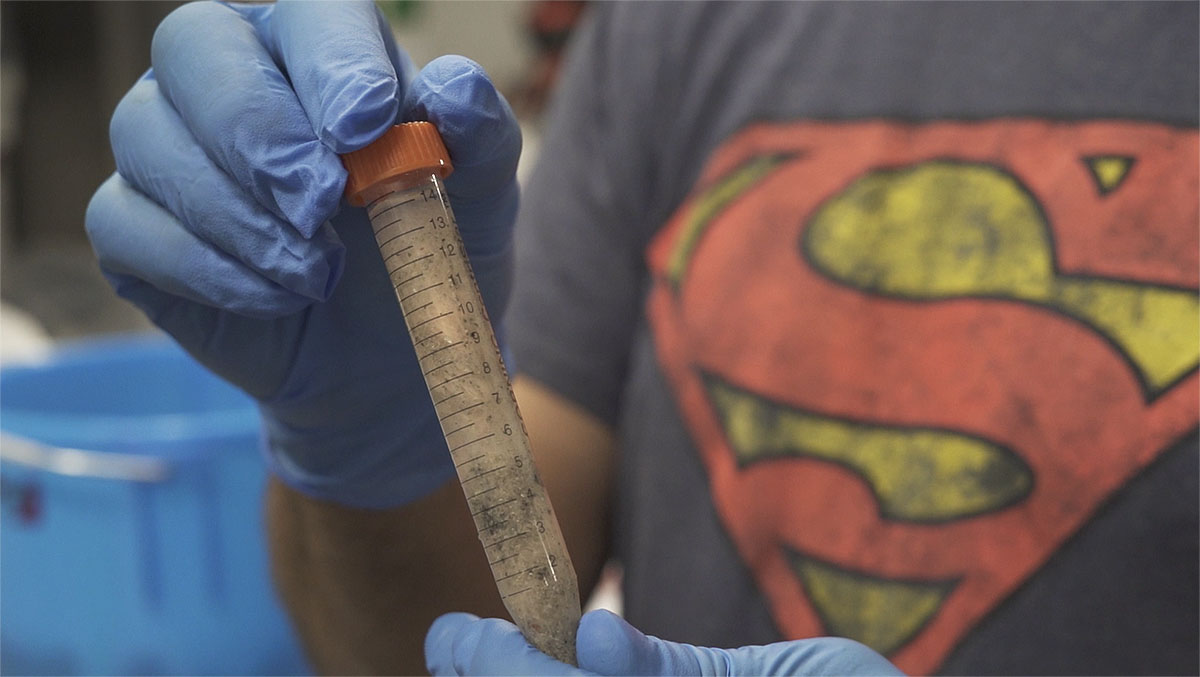 Microbes rule the world… and it is nowhere more apparent than the deep ocean. My first impressions as ROV SuBastian approached the seafloor at 2000 meters was a dark, desolate, mud filled expanse — what one would expect in this just above freezing environment devoid of life-giving sunlight and pressed with the immense pressure of 1.5 miles of overlying water. But as we neared the thermal vent field, a gradient of life appeared. The seafloor was littered with molluscs and other marine invertebrates seen in shallower waters like starfish, clams, and octopus. Then a vent appeared – a visual cue of the origin of much of the biomass in the area. It was awe inspiring. Equal to the number of species and vibrant colors I have seen on coral reefs with red riftia tube worm plumes, purple zoothamnium ciliate covered rocks, along with yellow, white, and orange mats of beggiatoa bacteria. In these sunless, cold, pressurized waters there was a multitude of species thriving. This life was fueled almost entirely by the microbiology that feeds and transforms the nutrients pouring forth from the earth's crust to allow even large animals to grow and thrive.

Advancing Research at Sea
This is a microbiologist's dream. One of the paramount tasks is to find out what microbes are there and what they are doing. We do this by collecting all manner of samples (water, sediment rocks, and animals). We isolate the DNA and RNA from the samples and do genomic sequencing, allowing us to determine what microbes are there and their activity. Most of this work will be done back in our home labs, but a new technology, the MinIon, allows scientists the ability to do much of this in the field, replacing large, bulky benchtop sequencing machines with a small sampling unit not much larger than a USB drive. We were able to pilot the use of this high-tech device on this cruise and look forward to using it to analyze the hundreds of samples we have collected over the past two weeks as well as on future research expeditions.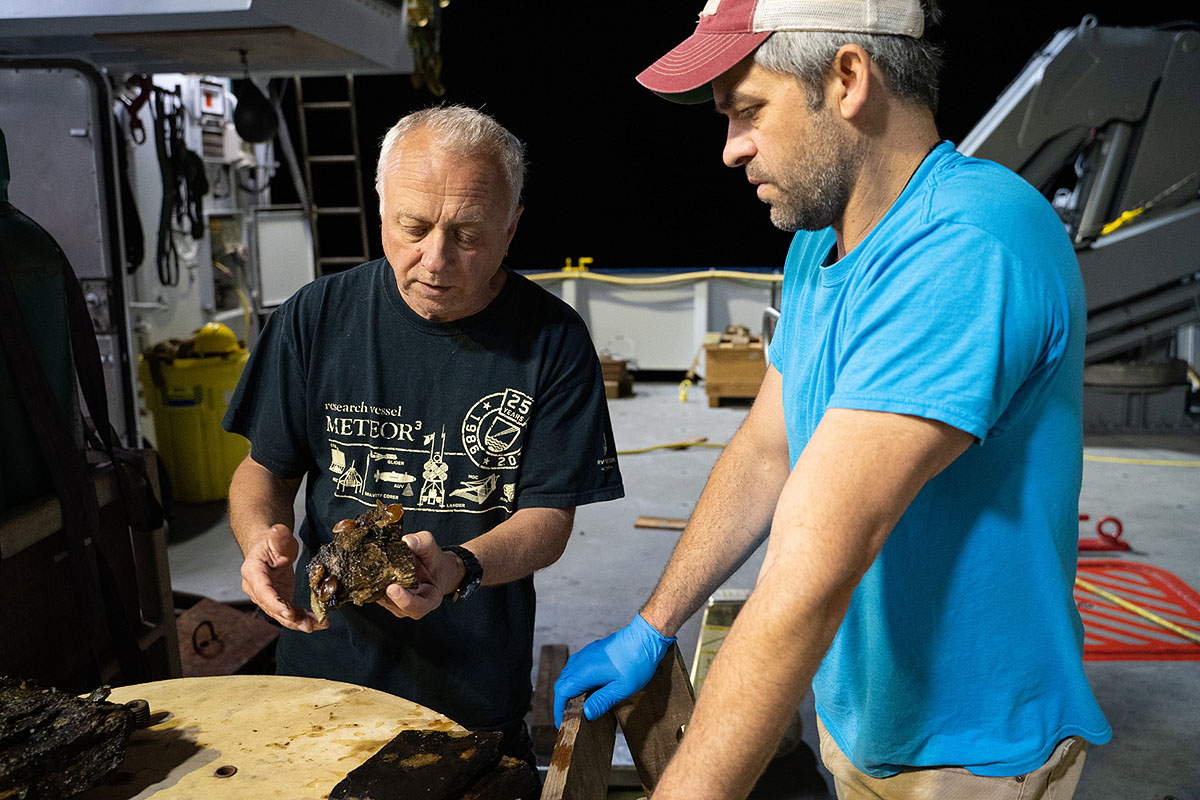 The state-of-the art research vessel Falkor is an amazing place to do this kind of research. Not only is it packed with high tech toys useful to scientists, getting us samples from the bottom of the ocean, but it is loaded with a crew and ROV team that allows scientists to focus on their science. The captains and mates keep us on course, stewards and amazing chefs keep us fed and cared for while the fitters, deckhands, and engineers keep us all afloat. We found that the crew could fix just about anything – including machining or 3-D printing broken plastic parts for our equipment, repairing blown circuit boards, and just about any other logistical problem that arose.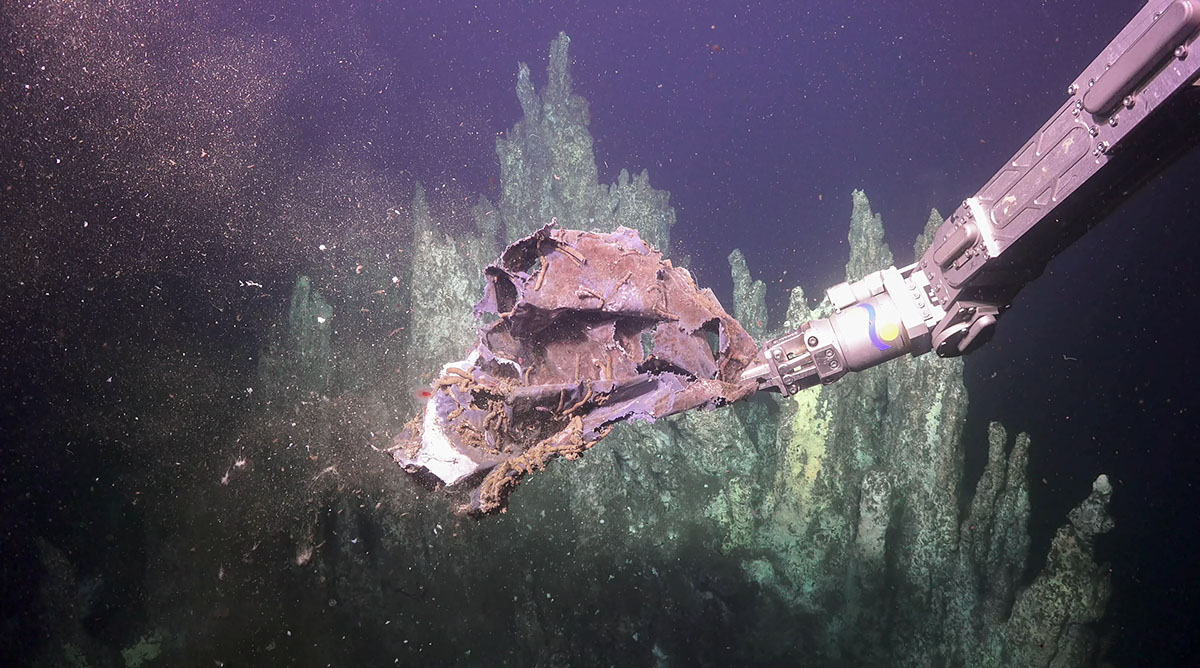 Issues and Resolutions
As with my previous work on coral reefs, human impact in the deep ocean is ever-present. Most surprising to me and alarming in this deep environment is the impact of humans. Plastic trash was encountered on virtually EVERY dive as the most recognizable sign: deep sea anemones growing on a plastic bag; an octopus navigating around a plastic bucket. But the solutions to some of the problems facing the planet might also be discovered here. We can learn from these microbial denizens. Nature is the greatest engineering laboratory in the world. Life has had billions of years to evolve and create novel metabolisms that allow them to live and grow is such harsh environments. One of my driving questions is how microbes produce and eat methane. Methane is a currency of life at these depths. Methane is also an important greenhouse gas in our atmosphere. Understanding who and how methane is produced and metabolized could lead us to solutions for our rapidly changing planet. Stay tuned as we unravel these microbial mysteries 2000 meters below the Guaymas Basin.