With no ROV dive, today was a time for filling in some gaps in the high-resolution seafloor mapping, and some sampling work launching equipment from the surface. In contrast to yesterday's beautiful scenes at Baker Bank, one of the more interesting finds was something invisible to the naked eye and a good bit less pleasant. But, it may serve to inform the debate over increasingly frequent toxic red tide blooms in Texas waters.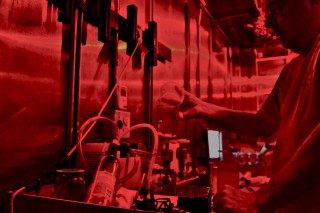 The schedule included a deployment of the CTD rosette at Banker Bank, where we did the ROV dive yesterday, and one at Aransas Bank where we've decided to explore next. The rosette is a frame with 24 canisters attached that the team triggers electronically to capture water samples at different depths. There are also sensors that measure things like temperature and depth. Data from the instruments are background information the scientists use to help understand oceanographic factors that influence patterns they find in the seafloor life seen during dives.
The Dreaded Red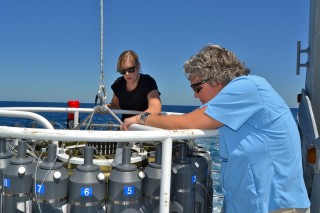 Paul Zimba is using the water from the canisters, called Niskin bottles, to study toxic algae and bacteria. Within that group one of the species of greatest concern is called Karenia brevis—the main cause of the dreaded red tides that can wreak havoc on coastal communities. In 2010 and 2011, red tides created a veritable massacre on Texas shores, killing millions of fish.
This red tide organism is called a toxic dinoflagellate. These are technically algae, but to keep things confusing they also have a few animal characteristics. For instance, they can propel themselves using appendages called flagella. Some dinoflagellates produce toxins that, besides having the potential to kill fish, can also concentrate in shellfish and make humans that eat them sick.
Toxic dinoflagellates like Karenia are always around in at least low concentrations. But in areas where red tides are a problem there are usually some open questions about exactly what factors, such as pollution and currents, determine when the cells will proliferate to the point that they cause problems. The Texas red tides seem to begin with blooms well offshore that have likely always occurred, but they are becoming more frequent, which might suggest a tie to some human activities.
Though state agencies and volunteers regularly check for Karenia in coastal waters, as far as we know no one has ever looked for them in the areas we're now traversing.  Zimba filters water from those Niskin bottles and then looks at the filters under a microscope to see if there are any toxic species like Karenia present.
A Surprising Find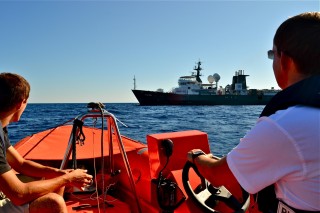 At Baker he found no signs of Karenia. But at Aransas Bank, in samples about 180 feet deep and 60 feet above the bottom—that's the layer where algae and bacteria are most concentrated—he found a significant concentration of Karenia. Zimba won't know the exact concentrations until he gets samples back to shore for more detailed analyses.
Is this find something to be frightened about? Does it mean that another devastating red tide for Texas is imminent? No one can say just yet. Because no one's been studying the toxic species out here, it's just as likely that these are normal concentrations as that they're an early sign of an impending toxic bloom.
One preliminary thought from Zimba is that finding Karenia out here might suggest that the cells that eventually cause problems close to shore make their way onto the continental shelf from deeper waters. Figuring out whether that's the case is only going to happen with more research. Just another example of why it's a good idea for folks to be spending a bit more time poking about out here.