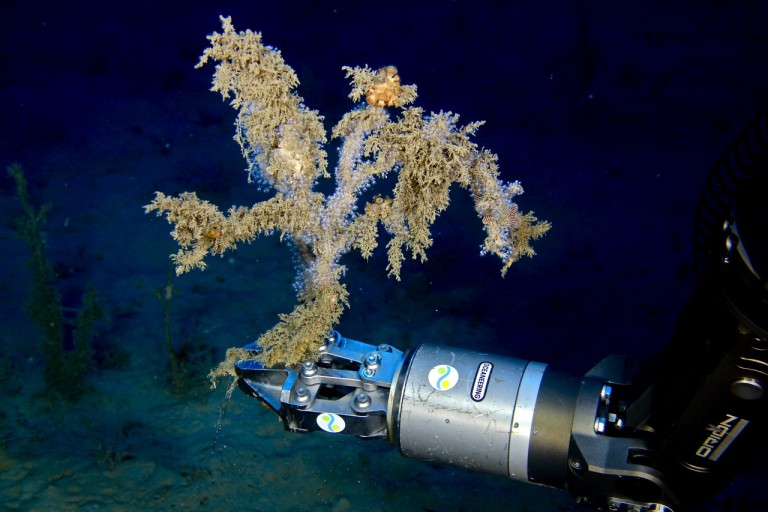 It was a fitting end to ROV operations for the expedition. Our final dive had the clearest water, the most spectacular scenes, and some of the best biological finds.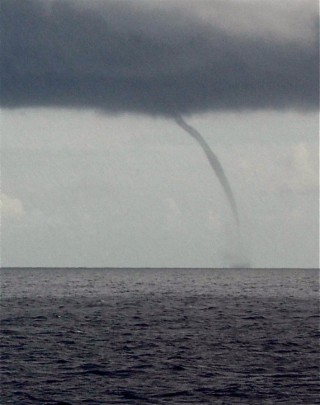 We were diving on a previously unmapped bank affectionately dubbed Tom's Nob, after safety officer Tom Bills, who was on duty as the first signs of this feature began appearing on the sonar map a few days ago. Strictly speaking, the Nob is probably just part of the edge of Mysterious Bank, which has therefore redeemed itself after yesterday's bust there.
"It was a marvelous day." -Tom Shirley
Scenic Drive
What was spectacular about today's dive wasn't an array of species we hadn't yet spotted, though there were a few of those. It was more about density. On multiple occasions the screens filled with views of a huge meadow of hundreds of wire corals, each of their corkscrew spires rising in parallel as if someone had intentionally planted a crop of them. Occasionally we'd see, rising amongst these strange squiggles, the branches of a soft coral called the golden sea spray with bright yellow bubble-shaped polyps.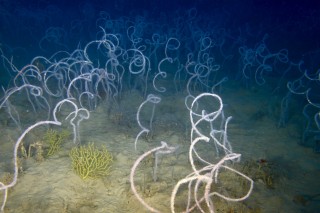 Then, just a short drive away over, we'd come to a field covered by the feathery branches of black corals. These are named for the obsidian-like color of their branches when dead, but the live corals actually take on a variety of colors—in this case a light purple.  Every now and again the ROV team turned off all the lights and we were surprised to see how much sunlight made it this deep—about 200 feet. The black corals took an eerie, almost fluorescent glow in the blue light streaming down.
There weren't as many reef fish and red snapper as we've seen at other locations, but the amberjacks were everywhere, some of which were larger than any we had seen.
When Crabby is Good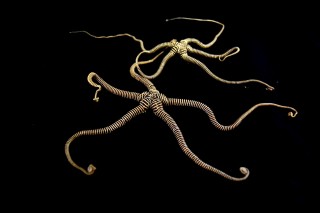 One of chief scientist Tom Shirley's goals for the trip has been to collect as many different crustaceans as possible and he had a banner day. In general, the ROV engineers collected more samples than on any of our other dives, and these included about 9 species of shrimps along with various crabs and sea spiders. Several were easily IDed, some were a bit more perplexing and will take closer study.
Some of these crustaceans the team processed for genetic analyses back on shore, both to definitively determine species, and so that the data can go into a growing National Science Foundation-funded database called the Assembling the Tree of Life project.
Other samples the team quickly froze whole. These will go to Shirley's longtime collaborator Dr. Darryl Felder at the University of Louisiana Lafayette, who's working on a book of all the Gulf crustaceans. He'll be thawing out the samples for photographs and adding the species to his regional lists.
Filling the Gaps
Felder is especially interested in samples from this expedition, because despite years of working on his project the info and photos from this region are extremely sparse because there's been so little exploration and research here. There will almost certainly be cases where the team on this expedition spotted species never before seen anywhere near here.
Highlights of underwater video captured by the Global Explorer MK3 remotely operated vehicle at Tom's Nob on September 27, 2012.  Video credits: Mark Schrope, Deep Sea Systems International, Schmidt Ocean Institute
All told, the dive was the kind of experience those fond of the sea relish. The team got to explore a previously unknown resource under nearly ideal weather and water conditions. And they found just about all the kinds of things they sought. As Shirley put it, "It was a marvelous day."