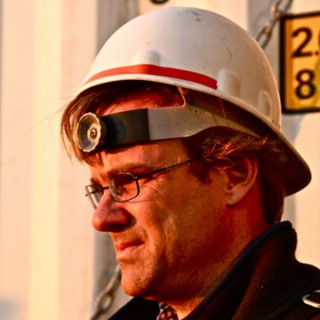 Mark Schrope got a bachelor's in biology at Wake Forest University, and a master's in chemical oceanography from Florida State University. After three years working at the College of William and Mary's Virginia Institute of Marine Science with a group studying carbon cycling in the deep sea, in 1998 he entered the Science Writing graduate program at the University of California, Santa Cruz. As a scientist, journalist, public information officer, and photographer, he has been to sea on over a dozen UNOLS, private, and NOAA ships.
As a freelance journalist, his assignments have taken him on a flight into the eye of a hurricane; to the seafloor multiple times by submersible; and around the world–from a remote Colombian island to the Egyptian desert to the coral reefs of Indonesia and Fiji. His work has appeared in publications such as Nature, The Washington Post, Scientific American, Popular Science, and Scuba Diving, and he is a contributor to The Science Writer's Handbook.
Since founding his company, Open Water Media in 2001, Mark has also worked in outreach for various universities and non-profit organizations, and for four years he directed public relations for Harbor Branch Oceanographic Institution. In this capacity he designed and implemented strategies for raising the institution's profile regionally, nationally, and internationally. This included extensive work with media, documentary groups, and others, and production of related print, web, and video materials.
Cruises: