"This is beautiful." That was one of the first things I heard coming from the science control room this morning once the Global Explorer ROV made it to the base of Baker Bank. It was the first of many like comments to come, not to mention some wows, oohs, and ahs.
The scenes before us on the control room monitors were spectacular and even a bit mesmerizing at times. Even those who have done some exploring in this region were pleased. There were red, purple and orange sponges, white sea fans that, at roughly the size of a crouched human were large enough to surprise even the veterans, and countless other critters.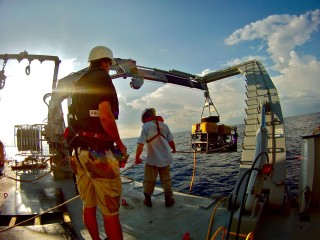 What we were seeing was all the more surreal because there are corkscrew-shaped sea whips, a type of coral, twirling several feet upward just about everywhere. So, as the ROV made its way up the side of the bank, the view seemed almost like something you might see in the screen adaptation of a fantasy tale. That's fitting, perhaps, for work from a ship named after a character in The Neverending Story, a German fantasy by Michael Ende.
My, What Big Eyes You Have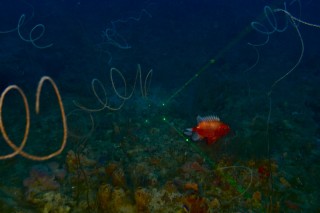 The final count may have come in shy of the "zillions" of snappers that chief scientist Tom Shirley told us to expect, but certainly the red snappers in particular were plentiful. We passed many, and schools of them showed up above us on sonar, though beyond our view. There were also colorful tropical fish like wrasses and basslets, and a few species of red squirrel fishes with their almost comically huge eyes—more good candidates for a fairy tale scene.
At times it was unnatural specimens catching our eye. We wondered what a certain long straight stick might be until Wes Tunnel spotted the silt-covered fishing reel at the stick's far end. Another larger piece of unidentified human detritus we never did quite identify. It looked like an anchor at first, which sparked one of several jokes about possible shipwrecks and gold coins—not a complete impossibility in these waters.
On closer view it seemed like just an old piece of deck equipment. After some discussion Nathan Cunningham suggested we refer to it in the log as a "ship oddity," and all agreed. "You can tell Shakespeare came from my country," said the proudly British and more than a touch sarcasticFalkor marine technician.
Onward and Downward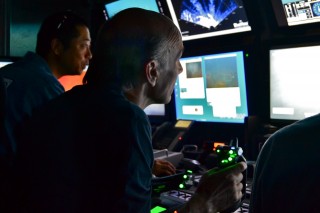 All told, the researchers aboard could identify dozens of different animal species, and there were doubtless many more we missed. It's a shame a place like this would go unseen for so long. Hopefully the Gulf will be getting more attention in the coming years. For now, though, the team will be doing it's best to see and record as much of what's out here as possible.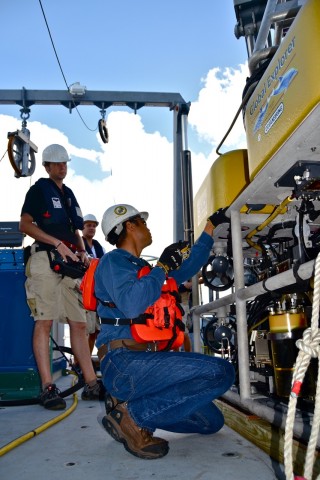 Tomorrow, we'll be focusing on more mapping and collecting water samples using equipment lowered from the surface. Then Friday we'll launch the ROV again for close-up observations. We won't set the destination until tomorrow. It might be a place called Aransas Bank, or it could be Hospital Bank. That's good, because I wanted to shamelessly exploit that in today's sensationalized title. Either way, there are, undoubtedly, many more exclamations to come.