Jeffery Oshiro is a Masters Student at the University of Hawaii at Manoa in the field robotics laboratory under supervision of professor Brian Bingham.  He is operating an aquatic vehicle called the Wave Glider. In an interview on Falkor, he described the vehicle and how it will be used during the Coordinated Robotics fieldwork.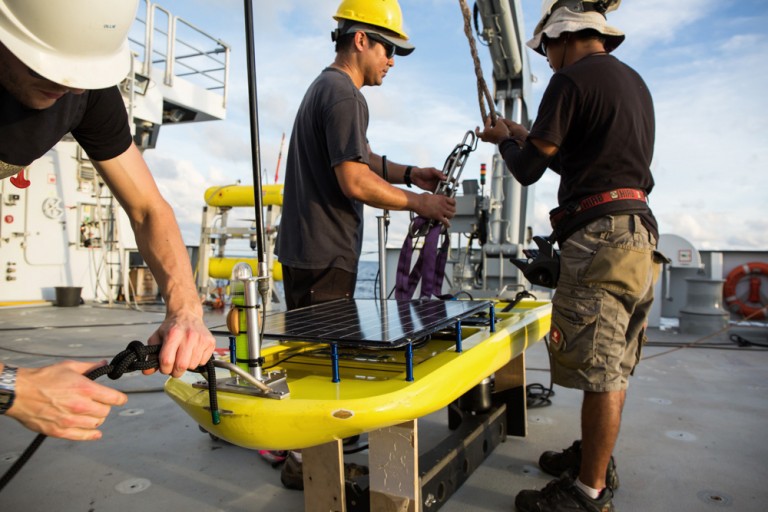 The Wave Glider is developed and made by Liquid Robotics Incorporated, an Ocean Data Service provider. It is an Autonomous Surface Vehicle, which is slightly different from most of the other robots on this cruise, which are AUV's – Autonomous Underwater Vehicles.
The glider is comprised of two major components, about 1.2 meters long and 0.5 meters across. The first component, the "Float", has the appearance of a surfboard and remains at the water's surface. The second component is the "Sub" or the submarine, and it hangs underneath the Float by a 7-meter umbilical. The Sub is fully submerged. To see what the vehicle looks like, check out this video:
Brilliance in simplicity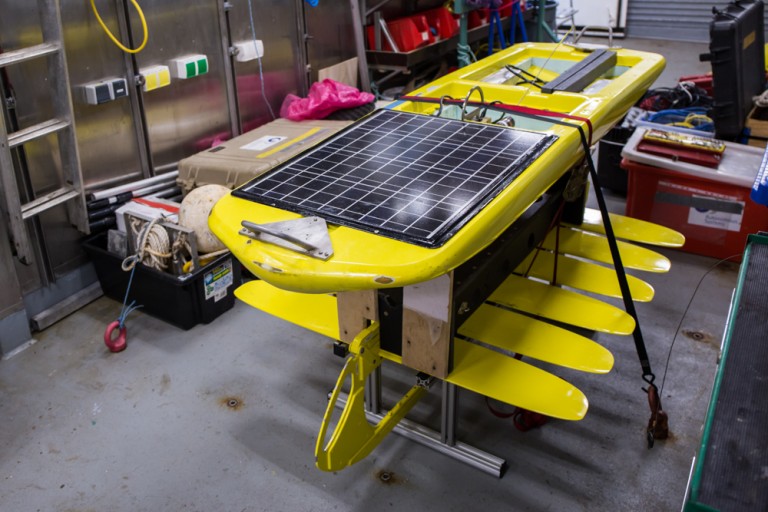 The Wave Glider gets its name from its most unique feature, it converts the up-and-down motion of the waves into forward propulsion.  This makes it a great vehicle for long missions. Construction-wise, it isn't as sophisticated as the other submerged vehicles, mainly because we don't have thrusters onboard. But that is the brilliance of it; its simple construction ensures reliability for sea-going missions. The glider is nearly all aluminum, foam, and fiberglass.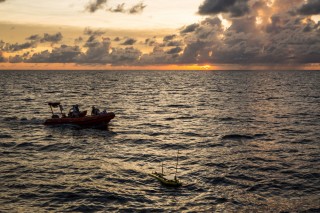 Without payloads, the vehicle weighs about 90 Kilograms and has a buoyancy (water-payload) of up to 20 kilograms onboard. If the payload is in a separate boat being towed, it can carry around much more weight.
The Wave Glider could also be described as an unmoored station-keeping buoy. If we give it a single point to swim around, it will maintain that position without having to be anchored to the sea floor. The glider version onboard, SV2, made its journey all the way from California to Sydney some years ago; and still holds a Guinness Book World record for that feat.
It can maintain an average speed of about 2 knots. If it gets stuck in a current, the glider can be delayed, but it will eventually 'figure out' and swim its way out. Sometimes it takes being a little clever with mission planning.
The Wave Glider uses no electricity, and no power for its forward propulsion – as long as there are waves, it will keep moving. Solar panels are mounted on top of the float, and the engineers charge on-board batteries that power the control software and other electronics, including sensors or payloads. Additionally, payloads are not limited to what you can fit inside the glider, it has a bit of towing power, so another boat could be attached to it.
One of the gliders strongest features is that it can reduce data collection operation costs for at sea missions. Traditionally, a boat crew would be out at sea with all of the equipment for weeks or months. That becomes costly with fuel, ship time, maintenance, paying the crew, etc. The Wave Glider can accomplish all that at pennies a day. Once launched, it can maintain itself at sea, providing a low-cost mobile platform for ocean data collection.
Surface to underwater interface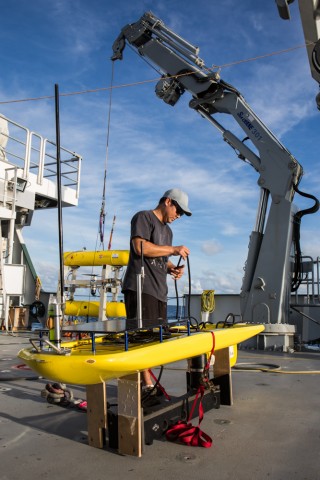 The science team is using the wave glider as a surface-to-submerged vessel communication interface at Scott Reef. With all our submerged vehicles, the only way to communicate with them underwater is through an acoustic modem. You can't send a cell signal or GPS signal through the water. The use of the wave glider extends our range and duration because we have an acoustic modem built into the glider. With the glider's surface component, we are able to communicate wirelessly to our submerged vehicles, providing a unique surface-to-water interface.
The device we have installed to the wave glider is a USBL head, which stands for ultrashort baseline. It is an acoustic transceiver that communicates with our submerged vehicles that have similar acoustic modems installed. At the top level, we use this to communicate with our submerged vehicles by sending commands and receiving data. On a lower level, we use the USBL for navigation and positioning of our submerged vehicles. This set up works similar to how a GPS operates, by basically triangulates our submerged vehicles position with an array of acoustic devices.
For instance, with this experiment, we have a submerged vehicle called a "Photo-Float" and its movement subject to currents. The glider will be able to determine the position of the submerged Photo-Float and track it, follow it, and transmit its data back to the surface. So the Wave Glider on this mission isn't necessarily collecting data itself, it is the surface interface, communicating with our submerged vehicles.
Deployment and recovery are the trickiest part about the Wave Glider compared to traditional vehicles, since no other vehicle has a component that hangs seven meters below. The science team is lucky though, with calm sea states, and a well-equipped vessel with several cranes, we are confident that it won't be too much of a problem.