In nautical terms, a "flagship" is the lead ship in a fleet of vessels. Usually it is the largest, fastest, most heavily armed, or best known of the group. The HMS Sirius was the flagship in a fleet that set out in 1787 from England to establish the first European colony in New South Wales, Australia.
Autonomous Underwater Vehicle (AUV) Sirius is named after this historical vessel, and could be considered the flagship of the AUV fleet on the Coordinated Robotics cruise.
It is the largest and heaviest of the AUV's, weighting 250 kilos. Painted bright yellow, the AUV consists of two, 2-meter long tubes, one placed 1.5 meters vertically above the other. This shape creates a stable imaging platform, as the lighter workings are in the top tube, and the heavier mechanisms at the bottom.
Data collection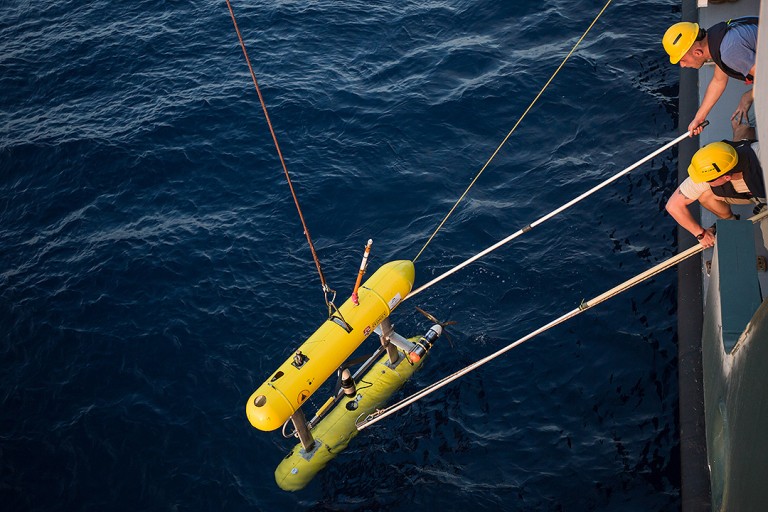 Sirius's primary purpose is to collect stereo imaging data (two photos at once) used to create 3D maps of geography and corals. Sirius also collects CTD – conductivity (salinity), temperature and depth, and has a flourometer that is used to make inferences about the marine environment including micro-organisms in the water. Additionally, Sirius carries a multibeam sonar that is capable of getting high resolution readings to produce maps.
Our main use is to do repeat surveys of things like coral reefs. We want to be able to go back to the same place and see the same pieces of coral we have recorded in the past and compare between the years, says Andrew Durrant of the University of Sydney."
"We already have two years' of data sets with Sirius (2009 and 2011), so coming back enables us to get another very valuable data point in that sequence. A lot of the coordinated robotics that we will be doing here is based around that data set. We look at Sirius's data as a grand truth to monitor and compare what the other vehicles are doing," says Durrant.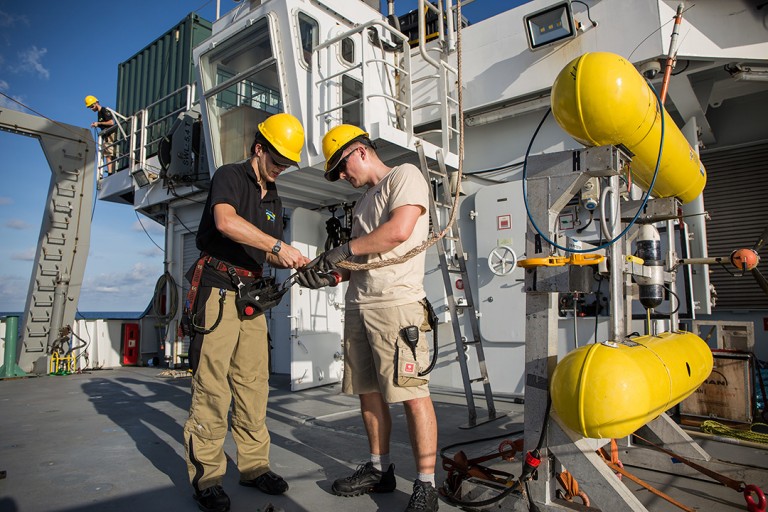 A workhorse of a machine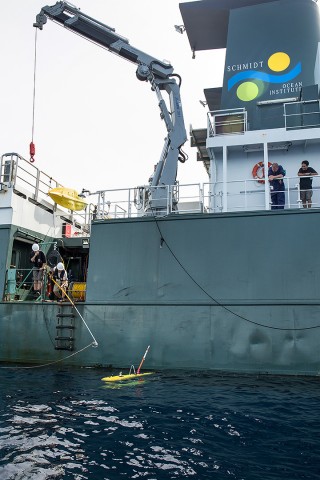 Inside AUV Sirius are aluminum tubes are electronics and batteries, multiple sensors and a metal frame. Syntactic foam, a foam that doesn't compress under pressure and therefore is able to descend to depths without losing buoyancy, is also inside. Because of the weight and bulk of Sirius, it is always launched and recovered by crane or an A-frame off the aft deck of Falkor.
Sirius is powered by 18 laptop-style batteries, which together provide up to 1,800 watt hours of lithium batteries.  The AUV also has three thrusters that help it move in the water, two that propel and steer, and one focusing on vertical control. The thrusters are very large model airplane propellers that are made from strong, carbon-fiber. Sirius is also slightly buoyant, so if power is lost the vehicle will always come back to the surface.
Precision over time
A major strength of Sirius is its accuracy, operators are able to get the AUV around with precision of up to 20 cm. To achieve this, Sirius uses two different types of navigational tools, a USBL modem (ultra-short baseline) and a DVL (doppler velocity log). Both are acoustic instruments and when used together, allows Sirius to plot its way between waypoints with remarkable accuracy.