It's been just three weeks since we returned to Honolulu after our first 36-day cruise to the Papahanaumokuakea Marine National Monument, but we're already preparing for a second cruise of equal length that leaves this morning. The mission once again will be mapping the monument's seafloor.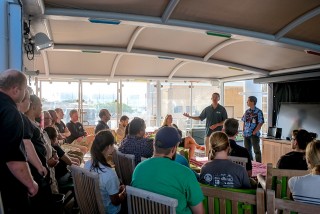 Eight of our 11 science team members are new, including two students from the University of Sydney, Australia, one student from the University of British Columbia, three students from the University of Hawaii, a trained NOAA observer, and the data manager for the Hawaii Undersea Research Laboratory.
We'll be producing much-needed maps of key areas we didn't reach during the first cruise, but this expedition is also the culmination of a geology and geophysics field study course offered to UH students this spring. So, while the project's ultimate objectives remain the same, this cruise will have a greater emphasis on student instruction.
Steady Pull
Jonathan Tree, a graduate student himself, is again responsible for the gravimeter operation and data processing.  As the rest of the new science team members were completing their training with the SOI crew, he was busy conducting what is called a gravity tie. This gravimeter calibration enables us to measure the amount of instrument drift (or decreased accuracy over time) from the previous calibration that we conducted before the first mapping leg.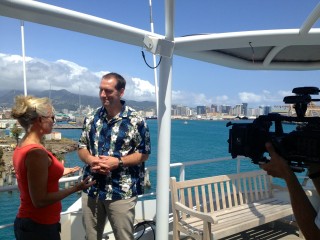 The calibration works like this: over the course of an hour and a half, we record the gravity that the meter is measuring and compare that to a known gravity measurement on land at the pier next to Falkor. After correcting for the distance from the the pier to sea level over the course of this time period, we can then use the measured value from the gravimeter onboard and recalibrate so that it measures the same value as the station on land.
We found that in the two months since our last gravity tie, the meter has only drifted slightly. This is great news because it means that the gravimeter retains its accuracy and precision longer than the 36 days we will be at sea.
Final Tasks
Meanwhile, the chief scientist was busy setting up multibeam data processing computers and hosting a production crew from the Voice of the Sea television show, which interviewed team members for an episode next spring that will feature Schmidt Ocean Institute, the Falkor, and this project.
Once they finished, staff members from the monument came aboard to provide a  cultural briefing that included a talk about the monument's shipwrecks, which provide a rich cultural heritage story spanning hundreds of years.
So it was definitely a busy couple of days, but we are now ready and will leave port shortly.  Spirits are high and we are all very excited to begin another productive five weeks in the fascinating waters of the monument.