NOAA, which manages the Papahānaumokuākea Marine National Monument, gives a cultural briefing to groups working there that covers the history of Native Hawaiian navigation and settlement in the region (see the video below to learn more about Pihemanu, or Midway Atoll), and also some of the key shipwrecks that have occurred here. That includes one whaleship with a close tie to the tale of Moby Dick.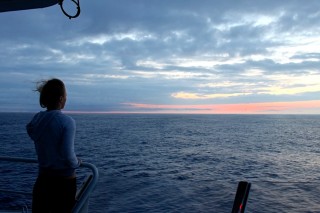 Our briefing the day before we left port reminded us that the first Hawaiian settlers came through these waters and spent a considerable amount of time on some of the islands, and that's something that's been on my mind during some very early mornings. I have been working the graveyard shift—midnight to 8 a.m.—and have also volunteered to be the first up on the top deck to watch for any marine mammals in our vicinity, an ongoing task. In early dawn, alone and watching as the sky slowly goes from dark to light, my mind drifts to what it might have been like for the early Polynesians as they navigated from the South Pacific to Hawai'i.
"In early dawn…my mind drifts to what it might have been like for the early Polynesians"
A Little Easier Now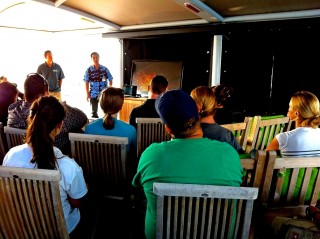 As I watch the various wave trains move in different directions from my comfortable vantage point, I wonder what it might have been like to be reliant on cues read from the ocean swells as well as other environmental factors to know where you are. I look out to see a dark cloud and big squall and know that I can put on my Goretex jacket to stay warm and dry, but the early explorers were much more exposed to the elements.
Last night, before my shift, I went out on deck to look at the stars and immediately saw the Big Dipper, which drew my eyes to Hokule'a (Arcturus) and Hokupa'a (Polaris). We know our precise location with the aid of GPS, but early explorers gauged where they were with the aid of key stars like those.
Whaling Woes
Early whaling ships also traversed these waters without the benefit of modern technology.  As we learned from Dr. Kelly Gleason, who presented the maritime archaeology section of the briefing, more than a few ended up as wrecks on the shallow reefs in the Monument.  Perhaps the most significant of these is the Nantucket whaleshipTwo Brothers, captained by George Pollard.
His previous command happened to be the infamous whaleship Essex.  The Essex was reportedly sunk by a sperm whale—the incident that inspired Herman Melville's novel Moby Dick.  After that, Captain Pollard believed his bad luck was behind him. So, he took command of the Two Brothers, bringing the ship all the way around to what is now the Monument in search of whales, only to wind up wrecked again, this time by an unexpected reef. He never got another ship.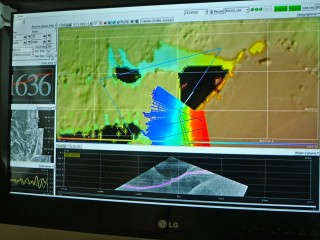 As we continue to improve our knowledge of the seafloor and benefit from the advanced navigation technology now available to modern day ships such as Falkor, we cannot help but reflect on and remember those who came before us, the true pioneers who traveled, learned, explored, and sometimes met disaster in this amazing place.