I am constantly trying to answer the question of how to effectively inspire people to engage with the natural world, to pay attention to and take responsibility for how our consumptive patterns and daily choices impact the environment. 
I feel that to truly make a shift towards sustainability and living in balance with nature and its resources, we must feel an emotional connection with it. Precisely what draws me to art is that it allows an emotional engagement between the work and the viewer, and, to repeat the frequently quoted words of Jacques Cousteau "people protect what they love." 
From the Start
My upbringing was quite a wild one. As the daughter of a marine biologist tasked with the job to survey and develop an Integrated Coastal Zone Management plan for the entire coast of Oman, my weekends and holidays during the first eight years of my life were often spent in remote natural settings. To this day I remember the emotional response and awe generated by (as a 5-year old) running solo over sand dunes and coming face to face with a deadly poisonous sand viper, staring into the eyes of my first shark at age 6, helping hatchling loggerhead turtles safely reach the ocean, getting lost in the spectacular colors and unique forms of coral reef kingdoms, and allowing my imaginative mind to wander as I stared into a desert night sky so saturated with stars that the expanse of the universe almost felt tangible.
I feel truly privileged to have been able to interact with and cultivate my love for the natural world from a very young age in this way. To my young inquisitive self, nature was awe-inspiring and magical – it commanded respect, instilled humility and inspired me to feel connected to a larger interrelated and marvelously mysterious whole. The ocean especially has long-felt like an extension of my soul, the physical geography on this planet that feels most akin to "home."
It made sense that as I grew older, I wished to work in a capacity to help protect nature, and so I pursued a career in the international conservation and sustainable development field, working with such organizations as the UNESCO World Heritage Centre Marine Programme, The Regional Organisation for the Conservation of the Environment in the Red Sea and Gulf of Aden (PERSGA), Equipe Cousteau, and now currently I work part-time with Biomimicry Europa.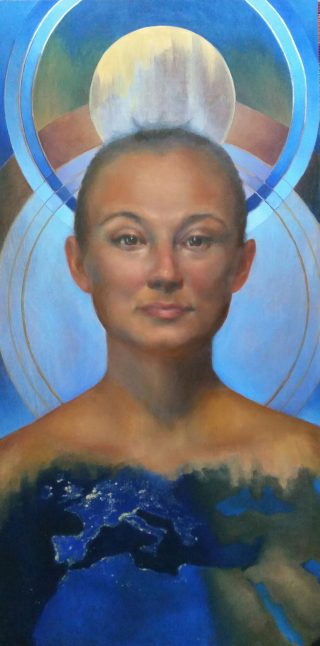 A New Chapter
Art has only relatively recently entered into the equation for me, but it seems like a natural evolution on my journey of exploring and trying to understand the interconnected relationship between man and nature, and also my personal journey of discovering my unique role and contribution to this planet. Art allows a means for my processing and understanding of such complex issues and ideas, and the expression of this processing in an imaginative way. I hope that as I develop my art career I will be able to generate work that touches people deeply, provoking an emotional response and inspiring a deeper and lasting connection with nature.
A Mayan abuelo I work with in the Yucatan once said to me "the world is in such a difficult place right now because humanity has broken its contract with nature and with god." This speaks to my main motivation in producing art – to explore and discover humanity's connection to the complex dynamic of time and space, to nature and the cycle of life, and to the mysteries of our existence and place within this awe-inspiring universe. 
Art is equally a vast and largely unknown universe to me, and I I can not help but take note of the seeming serendipity of this Artist-at-Sea residency aboard the R/V Falkor (named after the Luck Dragon from the Neverending Story). The residency started just 2 days after my 34th birthday, and 3 months after I decided to move back to Paris to start a new career chapter focusing more heavily on the arts and specifically painting. It feels like a wonderful affirmation and launching opportunity to this new cycle of life, and I can see how the inspiration and knowledge gained during this voyage will have a lasting influence on my work and artistic projects long into the future.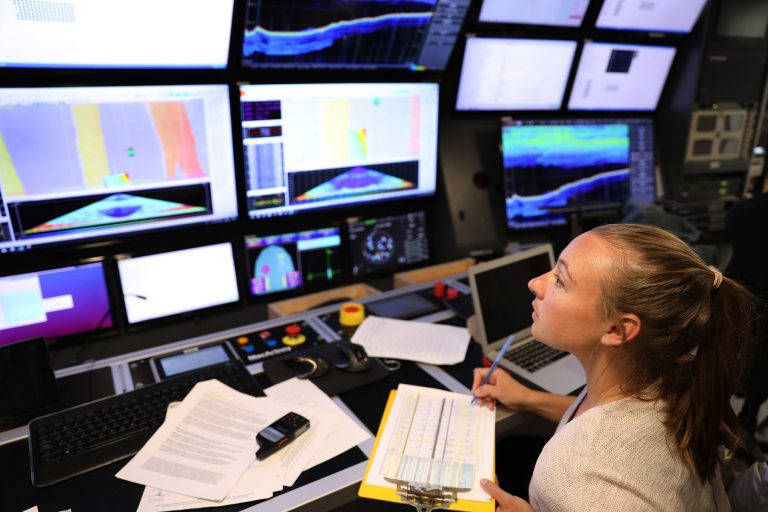 After participating in the Seeping Cascadia Margin seafloor mapping voyage, I will be producing an oil painting portrait of Susan Merle, the Chief Scientist aboard this trip and Senior Research Assistant at Oregon State University, the NOAA Earth Oceans Interactions Program. I will juxtapose her portrait with images of the mapping results and process to tell the story of the scientist and her work. While on the ship, I have been creating watercolour paintings using traditional nautical navigational instruments to draw my lines and geometries. Several of these paintings include circular and compass rose symbolism, drawing a connection to navigation through time and space, and referencing planet earth, which we are trying to increasingly understand through such scientific and artistic endeavours.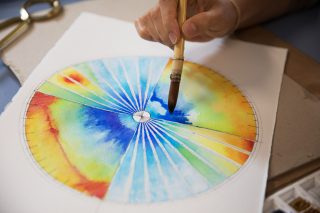 As Sylvia Earle so succinctly stated: "far and away the greatest threat to the ocean, and thus to ourselves, is ignorance."  Research voyages such as this one, coupled with the production of art inspired by science, can help us both better understand our oceans, as well as communicate to a wide public in order to catalyze meaningful engagement with science and the natural world.