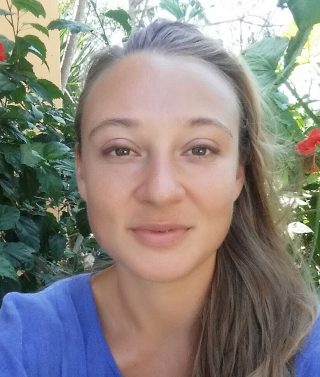 Although creative her whole life, Lauren's first real introduction to the study of art was at age 18 after enrolling in a classical realism (drawing and painting) atelier programme in Hawaii.  At this time, however, Lauren was intent on pursuing a career in the international environmental/humanitarian field, and so completed her degree at the American University in Paris in Sustainable Development and Conflict Resolution. 
Lauren went on to work with the UNESCO World Heritage Centre Marine Programme, and then moved to Jordan to help develop environmental conservation and education projects in the Red Sea region (mainly the Red Sea Coast of Sudan) through a joint programme between the Cousteau Society and the Regional Organization for the Conservation of the Environment in the Red Sea and Gulf of Aden (PERSGA).  
Having grown up around the world (Indonesia, Oman, Kenya and Hawaii) and with constant exposure to and immersion in vast wild places, Lauren has cultivated a deep love of nature from a young age.  Over the past few years, she has returned more dedicatedly to drawing and painting, understanding that, for her, art allows a deep engagement with and impactful expression of the many inspirations she finds in this world, including the inextricable link between man and nature as well as science and art.
In addition to currently building her art career, Lauren works part-time running Biomimicry Europa's project "Árboles de Vida" ("Trees of Life"), a reforestation and sustainable livelihoods initiative with Mayan Communities in the Yucatan Peninsula.
Lauren's artwork can be found in private collections in London, New York, Hawaii, San Francisco, Colorado, Italy, Mexico, Colombia and South Africa; in Nohea Gallery in Honolulu; and in the 2017 Luciano Benetton Collection's Imago Mundi publication, Aloha Spirit: Contemporary Artists from Hawaii.
Examples of her work can also be viewed on her personal website: www.laurensalm.com
Cruises: