Docked in San Diego Bay in southern California, ambient light from the metropolis obscures the stars on the eve of our voyage aboard the R/V Falkor. I am aware of the stars but it is difficult to clearly discern them. As a Duke undergraduate student studying Biology and Environmental Science, I am eager to gain hands-on experience with this scientific technique as its implications and uses are far reaching. Understanding the sea floor and methane seeps is especially relevant as climate change continues to dominate global discussions. But like the stars in the night sky, clarity is often masked.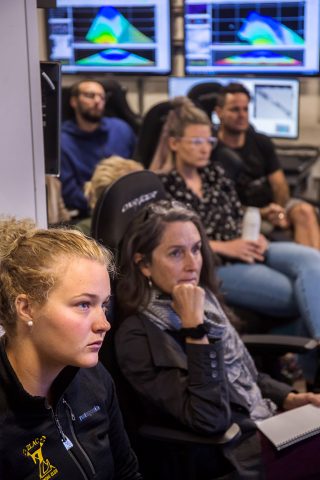 Working Together
Science coupled with art is our focus, making this short cruise unique and exciting. In addition to the scientists on board, six artists of different media have joined the team on our voyage from San Diego to Astoria, Oregon. Too often, science is conducted and presented in ways not easily understood by scientists in other fields and non-scientists alike. I believe discoveries in science should be egalitarian—made available and conveyed clearly to all. I am passionate about making people aware of the dangers mankind is imposing on our oceans. This is where art comes into play. Art evokes emotional responses that arouse passions, to want to be involved. In order for people to take steps toward action, they must first care about our oceans.
Having grown up on and in the ocean, I have been involved with ocean conservation and education as long as I can remember. I want people to understand the problems plaguing our oceans; the work being done to study our world's greatest resource; how they can help; and that their effort makes a difference. What better way to spark this than through art?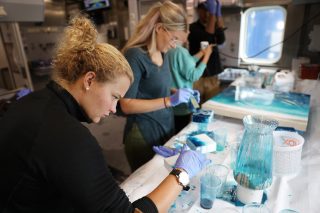 More than Lessons
I am excited to meet and work with these talented artists working to communicate science through their work. Art can bring the science to life, and I am excited to be on the front line to help make this connection for the world, learning more of the science AND finding ways to communicate important findings to the world.
As we pull away from the shore, I look forward to seeing not only the stars more clearly but also ocean discoveries through the eyes of the accomplished artists eager to share and express science through art.