When I step out of the van, I set my bags down on the pavement and look up at the R/V Falkor for the first time. Compared to the massive cargo ships at port it is small, but the research vessel appears huge to me. I can't help but feel nervous. While I have a background in marine science, I have never been on a large ship or spent a significant period time on the open ocean. A few questions stubbornly drift around my head:
Am I ready for this journey?
What happens if I get sea sick the whole time?
Am I really qualified to work on a big expedition with so many distinguished scientists?
The second mate greets me and my travel partner on the gangplank, helping us move our luggage onto the ship. He shows me to my cabin, where I drop my bags – I will unpack later. Right now I am curious to explore my new home for the next few weeks. I make my way to the mess hall where I find a fancy coffee machine, and a few members of the crew already sipping cups of joe at one of the many tables.
First Steps
I grab a coffee and quickly introduce myself as the from Northwestern Michigan College's Marine Technology program. Leighton Rolley, the lead Marine Technician introduces himself to us. At only 34-years-old, Leighton has completed over 120 expeditions at sea. He has worked in every ocean and visited every continent. I walk away from our conversation thinking "That's a guy I need to impress."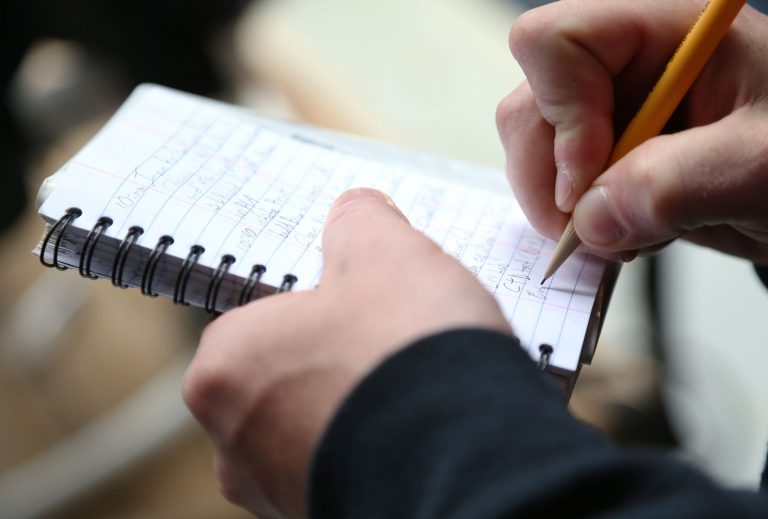 When the rest of the science party arrives, we all file into the library—an inviting room full of windows, long tables, and walls lined with books and movies. The captain gives us a warm welcome, members of the crew introduce themselves, and then each scientist stands up to describe his or her area of expertise. I try my best not to feel intimidated. "I'm the intern, and I'm here to lend a helping hand however I can," I say when I stand up.
As the science team discusses plans for the cruise, I jot down notes, listening intently, and hoping I can contribute.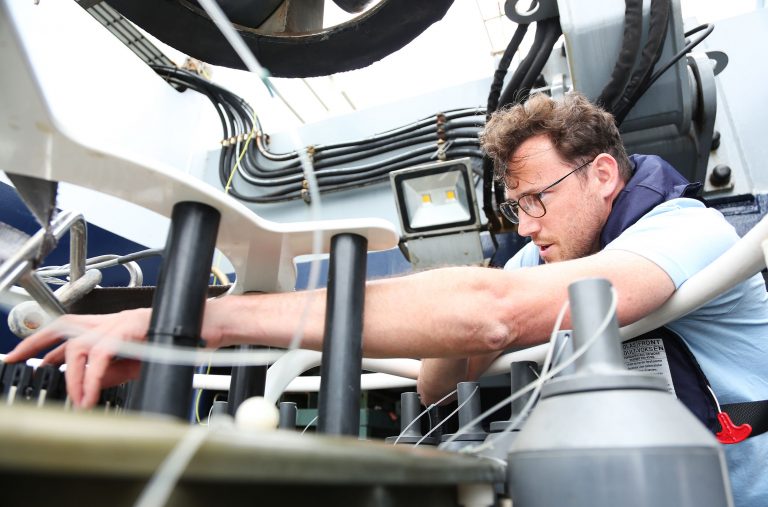 Over the course of the day, I engage in more friendly conversations with a wide variety of people, and my nerves start to dissipate. I may not be a distinguished professor, PhD student, or researcher, but I am a trained marine technician and a hard worker. I know I have a lot to learn, but I also know I would not have been selected for this opportunity if I was not qualified.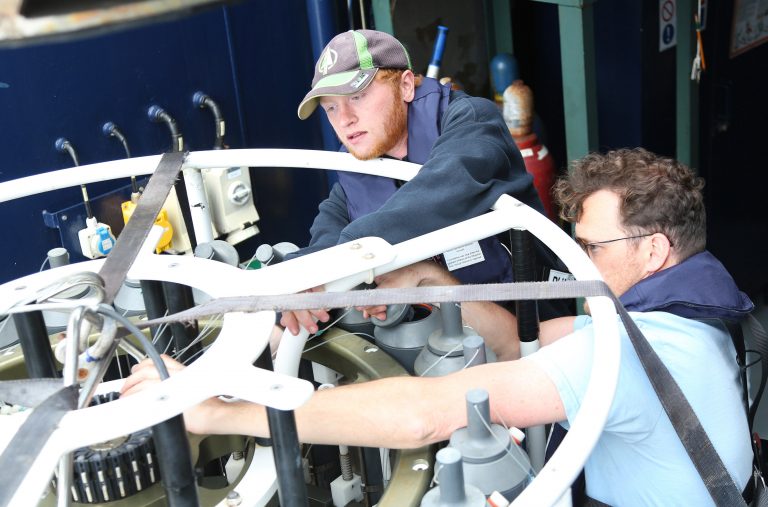 Work in Progress
Just two days later, I stand on the back deck, assisting with dry testing the CTD bottle lids, ensuring the electronics systems and sensors are responding, and filling the bottles with freshwater which will then sit overnight and be checked in the morning to determine the integrity of the seals. Meanwhile, the 3D printer is working on the nose cap for one of the drone systems, and I am serving as a liaison between the UAS engineers and the ships Senior Electrical Officer in charge of the 3D printer. I have been charged with ensuring that communications for needs and requirements are clear and concise from one department to another, and to limit downtime for the engineers so that they can focus on finishing their preparations leading up to our arrival at the front.
I am beginning to find my place among the crew, and my head is clear.