As we make our way to the Subtropical Front, the Falkor bustles with activity. Dozens of people run tests and equipment checks to ensure all systems are go for our work to begin. Walk into any room and you will hear discussions of drone ops or CTD testing or outreach initiatives—and these conversations are all in a myriad of languages.
Perhaps it is fitting that on a research expedition centered around communication, we have a science team that includes 27 people from six different countries who can collectively speak over a dozen different languages. The mixture is both beautiful and comical. Over breakfast, chief scientist João Borges de Sousa greets us with bom dia while Igor Belkin, an oceanographer originally from Russia, says dobroye utro.
One of my first tasks on board involves assisting Renato Mendes with his Ship-to-Shore presentation. When I try to say his name in the correct Portuguese pronunciation, I end up spitting. I laugh, apologize, and promise him that I will work on it.
"You can just pronounce it the way the Spanish do," Renato says.
"Rrrrrrenato!"
He shakes his head, laughing.
At dinner, I speak Spanish with Francisco Lopez-Castejon and Javier Gilabert, experts in autonomous underwater vehicles hailing from Cartagena, Spain. Like the rest of the science team, Francisco and Javier both speak English, but enjoy the opportunity to converse in their native tongue. They listen patiently as I dust off my rusty Spanish. After we finish eating, we watch a series of large waves roll over the porthole windows in the mess hall, remarking on the deep blue color of the water.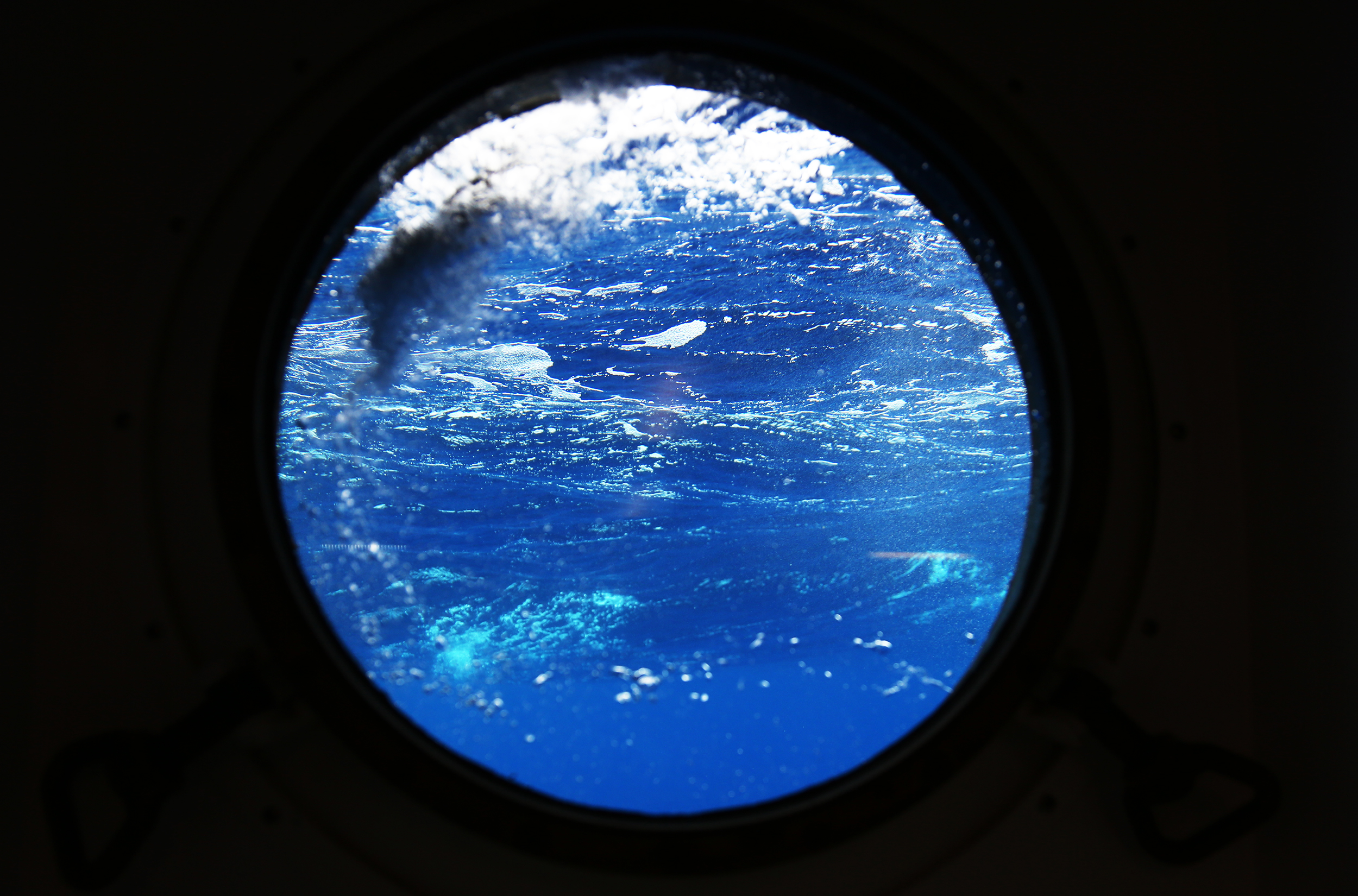 "Es un color muy vibrante," I say. It is a vibrant color.
"Sí," Javier says, nodding. "Lo llamamos índigo." We call it indigo.
"We call it indigo in English too!"
When Francisco approaches me with a video export issue on his iPad, I tell him we can finagle a way to make it work. He gives me a questioning look. "Do you know that English word? Finagle?"
He shakes his head.
"It means we'll figure it out."
"Ah yes, I understand," he says, nodding.
After five days together, I believe I have a solid grasp on where everyone is from, and what languages they speak. But this group is full of delightful surprises. When Keila Lima gives a Ship-to-Shore presentation to a school in Cape Verde, Renato leans over and says, "She's not speaking Portuguese right now—she's speaking Creole."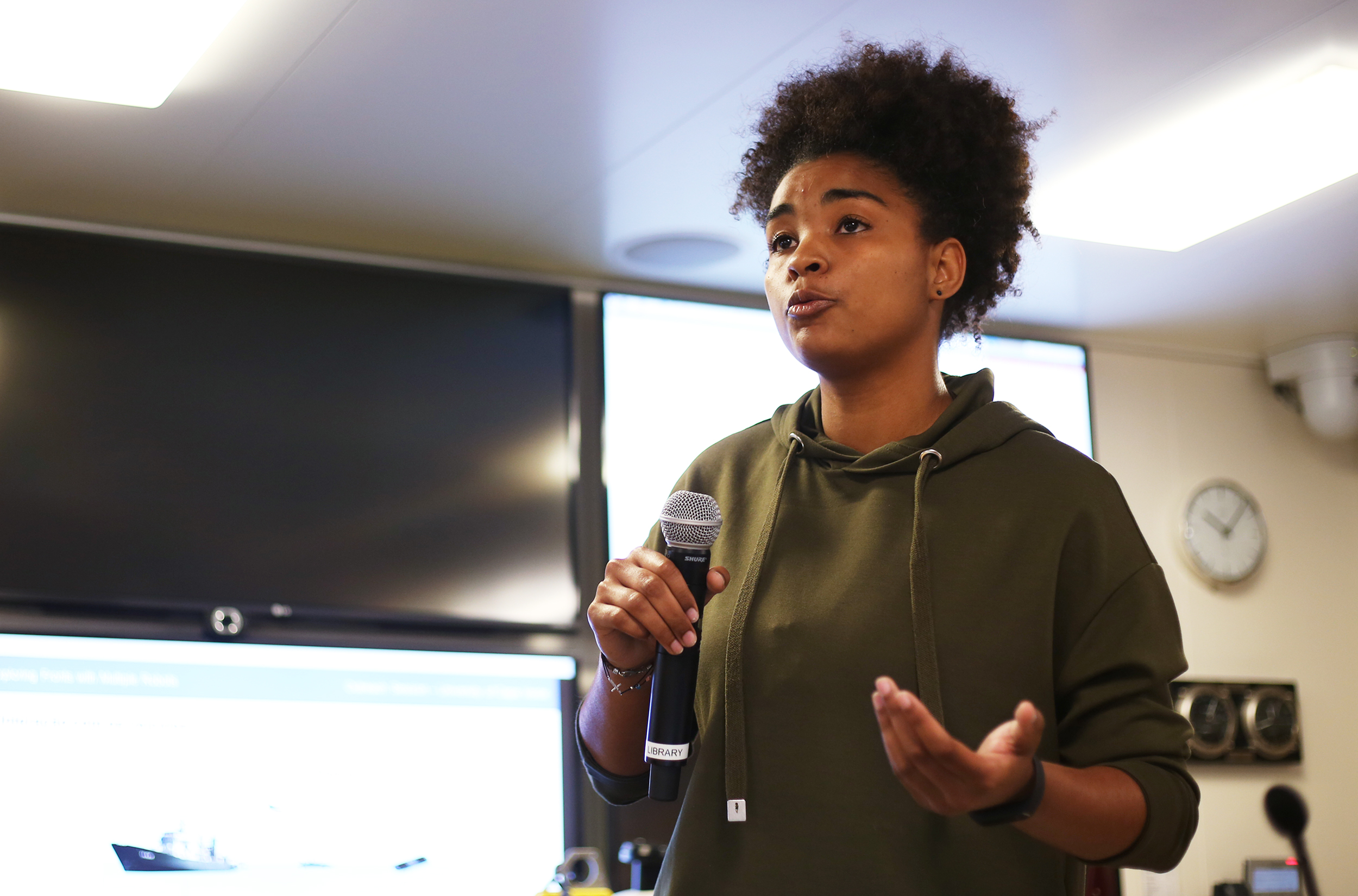 Mealtime conversations often center around language, especially different dialects. From northern Germany to southern Italy to the western United States, we discuss the nuanced ways in which humans communicate. As we compare and contrast unique phrases and sayings from around the world, I cannot help but think there is something special about all of us meeting here, at the intersection of science and technology, in the middle of the ocean.
However, when it comes to technology, the flowing prose of Portuguese or Spanish is often interrupted by English. During the filming of an outreach video, José Pinto says, "Bem-vindo ao Science Control Room."  When I ask him about it later, he says "There just isn't a translation in Portuguese. It wouldn't sound right."
After three days of transit across the churning waters of the Pacific, Thursday dawns with calmer seas and a glint of sunlight on the horizon—the first we have seen since departing San Diego. At our morning meeting on the bridge, the captain tells us we will arrive at our destination in less than an hour. He says the swell and winds will continue to decrease, meaning we should have near-perfect conditions for our first few days of work.
As we walk out to the back deck to prepare for CTD operations, I turn to João and utilize one of my new (and favorite) Portuguese phrases.
"Tudo bem?" All is well?
A wide grin spreads across his face. "Sim! Tudo bem."