The science team continues to pore over the fire hose of data they've collected from CTD casts and the Moving Vessel Profiler (MVP). As they've begun to delineate places where upwelled deeper water seems to make it onto the continental shelf, they've had to constantly readjust plans in hopes of mapping out the most critical areas.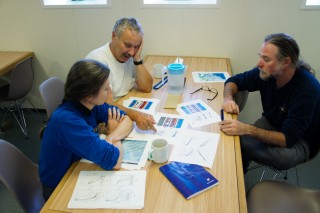 In other words, the more data they gather, the more they see that they need to explore. And of course, there will be months if not years of further data analyzing back on shore. The hope is that they can amass everything that will be needed to answer the most important questions about water pathways, even if they can't get everything figured out in two short weeks at sea.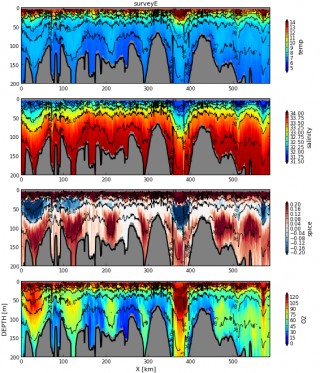 The work continues to support the notion that–despite an earlier hypothesis that the Tully Canyon might be the main path for deeper "spicier" water onto the shelf–the main pathways are in fact at other spots. They've found a couple of places where tendrils of deeper water seem to creep inland onto the shelf, and tonight they worked near the head of Barkley Canyon to locate and map one more of these.
The team has used the MPV to run some 1,435 profiles already. Yesterday and today, a single survey ran for 42 hours gathering nearly 600 of those profiles. That's a lot of pressure on the cable that has to pull the equipment with the ship running at 8 knots. So, today also included a break while the MVP group swapped in a new cable to handle the rest of the cruise.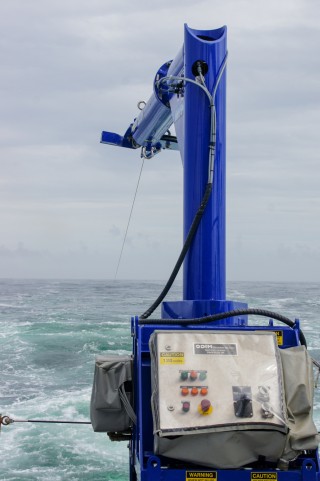 Having now passed the halfway mark, there is still much work to be done. The team will be running some more long MVP surveys through the lower reaches of the Tully Canyon because, even if it's not the main path it's still an interesting component in the overall shelf system.
There will also be additional CTD casts that, among other benefits, will grab water samples the team can analyze for carbon and nutrient levels. These data will further help decipher water pathways because the values tend to be different between offshore and inshore waters.
"We're doing well," says Richard Dewey of the cruise so far, "I give full credit to the great team of people I work with, both the science team and the ship's crew, and the effort and patience they are demonstrating in getting our objectives accomplished."