The bumpy sea abated through the night, and by morning, the winds were light and the sea a confused wash of old and dying waves.
We steam along at our preferred MVP speed of eight knots, and sample with particular purpose. We've used the MVP to find exact locations across the continental shelf front for our final set of CTD casts and are very pleased with the resulting samples. By the end of the day, we have started a marathon of an MVP survey, very likely our last hurrah. If we never give up, luck will find us.
I am already planning the next expedition we might get the Falkor to assist us with. – Richard Dewey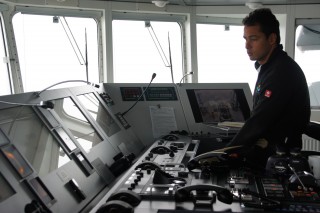 The R/V Falkor  has proven to be a wonderful vessel for oceanographic research. No doubt the technical staff and engineers who conceived, designed, and modified her over the last couple of years had this very objective in mind. She was launched in 1981 as a German fisheries patrol vessel, and was extensively modified for her present purpose between 2009 and 2012. She underwent extensive sea trials and system certification in 2012 and started conducting oceanographic research in earnest in 2013.
She is a very nice size. There are some major research vessels around the world that are larger. Some are longer, wider, or taller. But often those larger numbers come at a cost in windage, fuel, or handling. TheFalkor is relatively long and narrow for her tonnage. This character reminds me of classic sailing ships, which were always long and sleek—a very natural shape for efficient and fast passage through the water.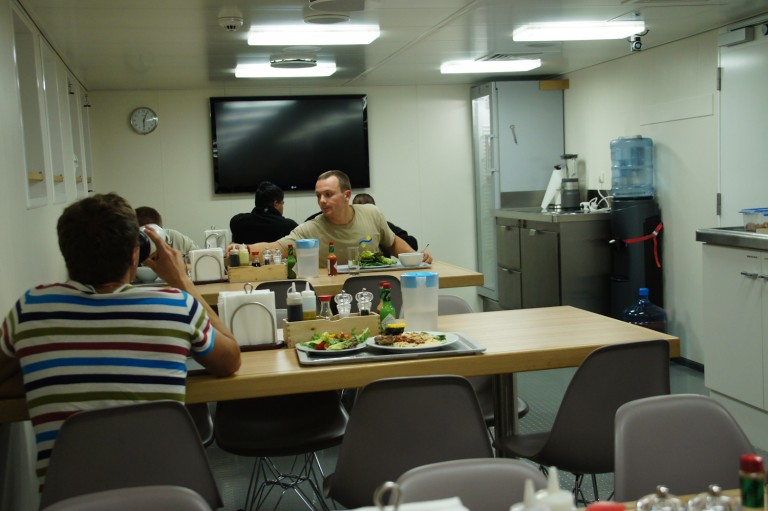 The Falkor is driven by two variable pitch propellers, and a single bow thruster. The bow thruster is either quite stealthy or we have had no need to use it yet. In either case, this is a testament to the balanced handling of the ship. She rides beautifully, and given our most recent experience, handles rougher seas very well. She has a very subtle and gentle motion over a range of sea states, which is lulling many of us to a deep and restful sleep during our off-watch.
The Falkor has several lab areas for the science staff to set-up apparatus for sample analysis, data acquisition systems, and computers for data analysis and office functions. Then there is the large and well equipped control room, with over thirty dedicated large monitors for watching the dozens of data feeds, the ships navigational and operating status, the weather and external conditions, and the many video feeds covering all major deck locations.
There is a large common library and meeting room, and a large mess hall for communal eating. There is a gym and sauna, and laundry services are provided. There is the large upper teak deck, ideal for social gatherings or even watching an outdoor movie. Above the bridge is the marine mammal observation deck, offering nearly 300 degrees of unobstructed views to the horizon. The cabins are well appointed and comfortable. The living and work quarters are excellent.
The services are also top notch. We have had three new and varied meals each day, with no repeats of the soups, main courses, and deserts (OK, there is rice and at least three salads each dinner :). They are also putting out a mid-night dinner for those working the late shift. The galley staff and stewards are always busy making sure all the common spaces are spotless and tidy, and they even assist with laundry. There are always abundant supplies of snacks, candies, cookies, sandwich fixings, and cereal available at any time. As are beverages, pop, juices, tea, and espresso.
The science gear provided by and maintained on the Falkor is spectacular. The list is too long to repeat here, but I will highlight the few we have used. There is a vast array of acoustic sensors, including echo sounders, Dopplers, and bottom mapping arrays. All are calibrated and certified to world-class standards. There is a surface sampling flow through system, which we added an oxygen sensor to in order to capture surface variations in dissolved oxygen. The CTD rosette is the world standard built by SeaBird electronics, and they can profile full ocean depth from either a side J-frame or the full width aft A-frame. Equally as important as the array of installed scientific gear, the ship and crew have accommodated us effortlessly in supporting our Moving Vessel Profiler (MVP), and are set to support the Remotely Operated Platform for Ocean Sciences (ROPOS) remotely operated vehicle on the next leg.
Finally there is the Falkor crew. Each member is polite, helpful, and eager to make sure everyone gets exactly what they need, from a three-phase electrical socket, to a cup of cocoa. The officers on the bridge are extremely professional and handle the ship calmly and with exact precision. The marine technicians are knowledgeable, patient, and ready at every turn to assist and make our challenging science program a success. The deck hands and bosun are easy to work with, responsive, and ready to assist with every deployment and recovery. Finally, there is our Captain. Bernd is clearly in charge, yet always polite, calm, friendly, and fun. He is a pleasure to be around, as are all the ship's crew. I am already planning the next expedition we might get the Falkor to assist us with, and several more beyond that.