How much do we know about the ocean seafloor we are currently mapping? We are surveying the "World's Largest Single Volcano" with some of the best technology, yet we will still have gaps after three weeks of mapping.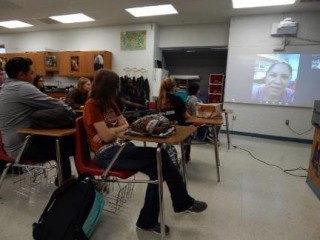 As scientists, we often state that only about 5-15% of the ocean has been mapped or studied.  As I type up this blog, we are certainly contributing to that percentage, but the question still remains, who will continue to study the other 85%?  The era of exploration has not ended, but barely started as we make every effort to inspire the next generation to get excited about ocean science and technology. Hence, what a better way to grab a student's attention than to engage them live from the R/V Falkor as she sails through the middle of the Pacific mapping this massive volcano.
From the Ship to the Shore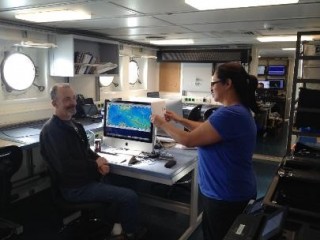 Before we all boarded the R/V Falkor, Chief Scientist Dr. Sager and I shared the story of Tamu Massif through commercials, short videos, workshops, and expert chats.  Once aboard the ship, we made sure that anyone who was interested would have the opportunity to join us on our journey of exploration through our ship-to-shore connections.  Students and educators (or anyone with an interest in ocean exploration) can virtually come aboard Falkor to participate in live research and apply real-world science to curriculum in the classroom. Each connection is approximately 30 minutes and includes a short tour of the ship and ship life, chats with science experts and marine technicians, views of the control room where the science is taking place, and a Q & A session.  We have had over thirty connections so far and have another thirty plus scheduled.
Real World Science in Real Time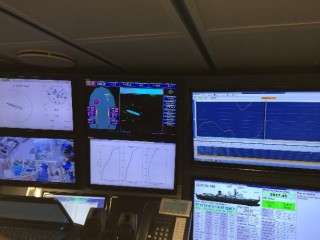 As I conduct my ship-to-shore connections with schools from around the world, I am able to show them the mapping data from the multi-beam echo sounder in real time.  I mention that besides the crew and the science team, they are the first ones to see the 3D features of Tamu Massif at that point in time.  I explain that we still need more data concerning the ocean, but it will take years and future scientists like themselves to continue exploring.  The students are thrilled, and I can often see and hear their excitement as the chatter gets louder with questions and exclamations of "wow" and "I want go on that ship."  They ask great questions and want to know everything we are doing out here.  Their interests have been piqued! The classes have become a part of our expedition, and it is our hope that this small connection will make a big impact on their lives and decisions to enter into STEM (Science, Technology, Engineering and Math) fields.
Milestone 1000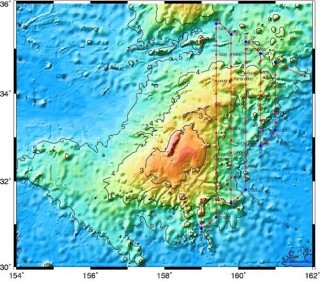 As of today, we have reached over 1100 students and teachers through our ship-to-shore connections aboard the R/V Falkor.  For me, connecting with the students and teachers is a highlight of this expedition, and I look forward to sharing our research with the next 1000 students.  From the crew to the science team, it has been a joint effort in making these connections informative, engaging, and fun.  Everyone on the ship is quite busy, but they always take the time to say hello or explain their duties.  Because of the collaborative partnership with Schmidt Ocean Institute, the Texas State Aquarium, Dr. Will Sager and various other partners such as the Texas Regional Collaboratives for Excellence in Science and Mathematics Teaching, and the Houston Museum of Natural History, we can be sure that what we do here now will be remembered for a long time.
Be sure to follow us and download our educational resources here.