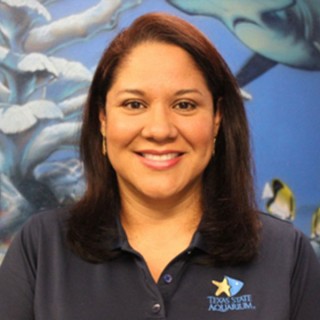 Suraida joined the Texas State Aquarium in February 2015 as the Manager of Distance Learning and Outreach.  In her position, she directs the Aquavision Distance Learning Program and outreach programs conducted for various community groups and events. Suraida has over 10 years of experience in directing and implementing educational programming for varying youth and adult audiences.  Her extensive background and education in marine science research, as well as her work in formal and informal education settings gives her the ability to connect real STEM issues to both the classroom and communities at-large.
Suraida received her B.S. in Marine Fisheries from Texas A&M University at Galveston in 2002 while conducting research for the NOAA Fisheries Laboratory in Galveston. In 2006, she received her M.S. in Biology from Texas A&M University-Corpus Christi, where she studied the nursery habitats for juvenile southern flounder. After receiving her master's, she worked for the Harte Research Institute for Gulf of Mexico Studies, where she focused her work on invasive species and environmental education initiatives.
In 2008, Suraida was granted a fellowship to the University of Louisiana at Lafayette where she worked as a Research Associate at the NOAA Fisheries Estuarine Habitats and Coastal Fisheries Center on coastal research issues in Louisiana. In 2010, she joined the Gulf of Mexico Foundation team and served as their Education Program Manager, working on national and international restoration and community projects while directing all teacher training expeditions and education initiatives. She served as the Chair and International Representative for the Gulf of Mexico Alliance Environmental Education Priority Issue Team and was a leader on several other environmental justice, education, and research steering committees. In 2013, she received an alternative teaching certification in science and started teaching at the CITGO Innovation Academy as a STEM instructor teaching Biotechnical Engineering and Advanced Placement Chemistry. Suraida enjoys traveling, camping and the outdoors, spending time with her husband and daughter, and mentoring young scientists.
Cruises: