On our second day perched above Challenger Deep, the expedition is in full swing. Teams are working 'round the clock as landers are deployed. Chief Scientist Doug Bartlett and the various lab groups prepare for the incoming samples and data, and they work with the ship's crew to create a safe and efficient flow.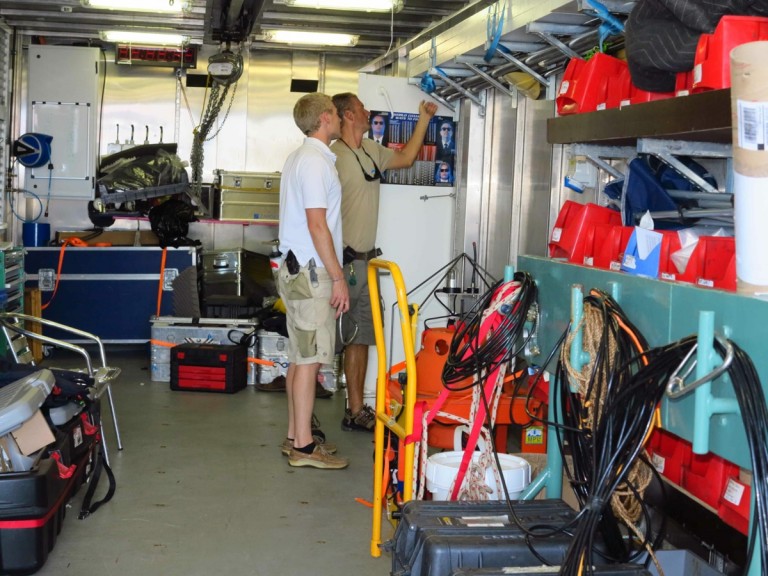 This is a short cruise, so protocols are sorted quickly to maximize sea time. Heavy machinery grinds as it lifts and launches the massive lander units, directed by cool heads and skilled hands.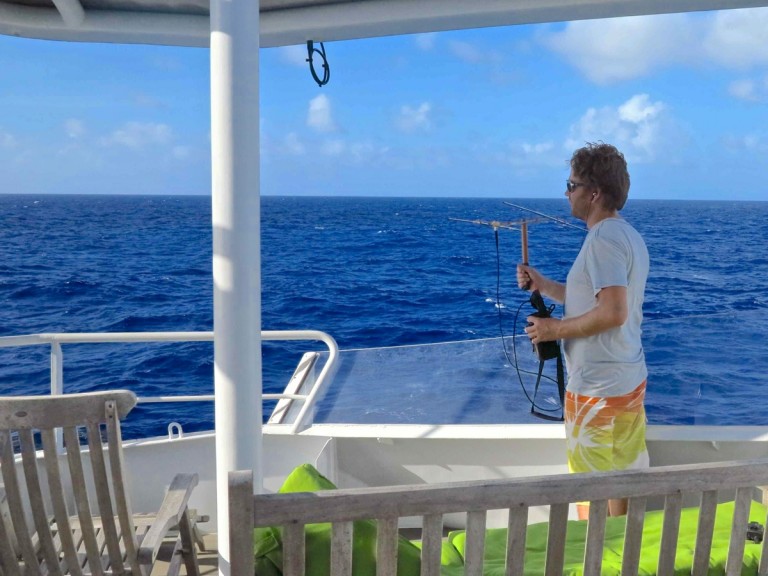 Rough Seas
The trade winds maintain the 3-meter-high seas that have not relented since our arrival. Once the landers pass the rough surface zone, they can slowly begin to make their historic descent into still darkness.
Last night two of the free-falling "Deep Sound" landers from Michael Buckingham's lab were sent down. Deep Sound 2 and 3 have undergone progressive improvements, with each generation incorporating changes to allow for different hydrophone configurations, and increased depth ranges. They drop nearly silently to pick up ambient noise patterns, which can provide insight into physical characteristics of the environment such as sound velocity and characteristics of the sediment.
Yesterday we also deployed the ARI lander, which was equipped with instrumentation and baited to potentially capture the 'gigantic' fauna near the bottom, namely amphipods. These are crustaceans that resemble white sand fleas. Some have been known to grow to over 20 centimeters (~8 inches), compared to the 1-millimeter-sized species that live in shallow waters. It's still unknown how many amphipod species live in the hadal zone, a question more research can hopefully answer.
Victories and Losses
This morning just before dawn, Deep Sound 2 surfaced after a successful dive to its target depth of 9,000 meters. The sound data will be transferred over the next several days by David Barclay and Dieter Bevans. Deep Sound 3 was supposed to dive to over 10,000 meters and ascend several hours after Deep Sound 2, but it never surfaced and its whereabouts are unknown. The ARI lander was expected to resurface by midmorning, but we lost communications with it and it also has not been recovered.
The scientific process is about learning what works and what doesn't, yet these setbacks are still disappointing—especially since working in such an extreme and inaccessible environment means the root causes of these problems may remain unknown.
On the slim chance that the lost landers surfaced intact but with damaged communications systems, we actively scan the horizon and are running a search pattern. With nightfall our odds increase, as spotting the blinking lights affixed to the landers in darkness is easier than searching rolling seas for a distant glimpses of their orange flags. The science team has set up watches on the "Monkey Deck" to lookout for our missing landers throughout the night under the moonless sky.
Surf and Turf
This afternoon Matt Norenberg and Dave Price reconfigured the Leggo Lander with a camera and baited trap, in hopes of drawing in the deep-sea life. The first deployment was designed to draw animals into the Nisken bottle, and although it closed properly and collected water samples, no animals were inside.
This next deployment has a slightly different goal: to capture amphipods and sea cucumbers on film and in a trap. Sea cucumbers have never before been collected at this depth, but images of them may have been spotted on video from the James Cameron Deepsea Challenge expedition, making researchers hopeful. For this drop, microbial contamination is not an issue so chicken, beef, and a mackerel were added to the menu as bait—a deluxe surf and turf platter for discerning hadal palates.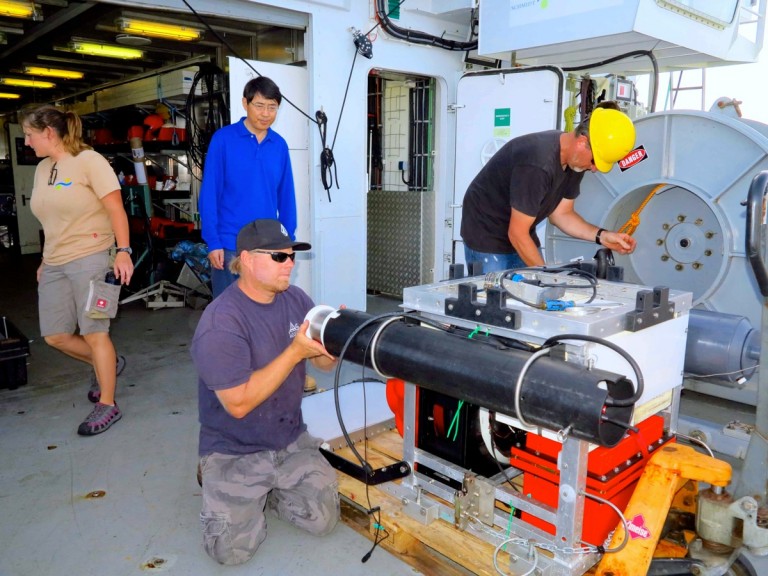 The internal video camera will record the initial descent from the surface, then will shut off for the 5 hour drop to the sea floor. The lander will be at about 10,900 meters (~35,750 feet) for over 6 hours, with lights periodically turning on to surprise and record any visiting snackers.
If all goes well we should retrieve Leggo by morning, hopefully with video footage and maybe even a sea cucumber inside. Allison Miller has said that's all she wants for Christmas. Check back with us tomorrow to see if her wish came true.