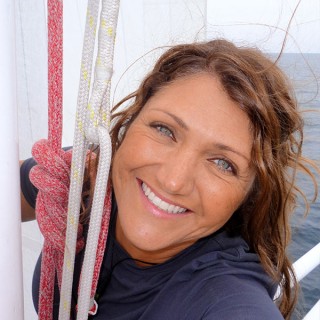 Cynthia Matzke holds a Master of Advanced Studies from the Scripps Institution of Oceanography in Marine Biodiversity and Conservation. She possesses a decade-long cohesive background in journalism, producing packages and assets for NBC Universal, Akaku television, and on independent documentaries. Her goal is to foster conservation efforts by pairing ocean science research with stunning imagery that engages audiences.
In Hawaii, Ms. Matzke has put her training to use by capturing underwater footage of humpback whales for NOAA research on scarring that indicates fisheries interactions. She participates in various odontocete field research projects to look at social structure within pods. Her work with marine animal response networks includes oiled seabirds, sea turtles, and large whale entanglement response for the Hawaiian Islands Humpback Whale National Marine Sanctuary. Cynthia created a successful and comprehensive citizen science and funding program called "Blue'aina" which engages corporate partners to support monthly community beach and reef cleanups.  A corresponding lecture series with classroom outreach followed and was televised throughout Hawaii. She has sailed across both the Eastern and Western Pacific Gyres to document marine debris and rafting species and lectured throughout South Korea, Hawaii, California and Washington.
Cynthia's most recent effort is the development of a documentary with director Susan Kucera entitled "Spiral Pacific." The film will be one of the first to use ultra-high resolution video imagery to examine the complex connectivity of Pacific Ocean environments from the basin to the coasts. After filming aboard  R/V Falkor on the Challenger Deep Expedition, she will continue filming in Guam, Australia, Japan, and the Arctic Circle.
Cruises: