I finally made it, and I am thrilled to be on the Research Vessel Falkor as an Artist-At-Sea participant! This experience was of interest to me for the opportunity to gain at-sea exposure with scientists to deepen my understanding and passion for ocean conservation. For this transit cruise, we are sailing south-southwest for a total of 2,745 nautical miles, across the equator and the international date line, to the Islands of Fiji.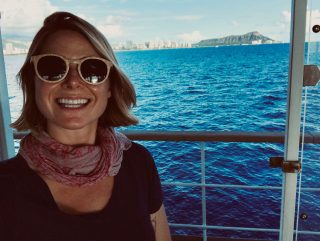 This transit is my first time at sea, and I am very intrigued to learn about the different roles on the ship. Luckily, the Schmidt Ocean Institute's crew has been most welcoming and patient for a novice seafarer like me. No question has been too small to answer. I appreciate the respect for each other, the respect to science, and for the arts.
The science team on board for this transit is under the direction of Dr. Sam Wilson from University of Hawaiʻi at Mānoa, who is out to research marine nitrogen fixation. They are testing seagoing equipment to learn about a specific cyanobacterium – one we are sure to encounter with is Trichodesmium. Even though I just learned its name, I am no stranger to Trichodesmium: it is an algae bloom I often see while fishing in Kona. The blooms are of importance because they are a special kind of nitrogen fixer that work in aerobic conditions.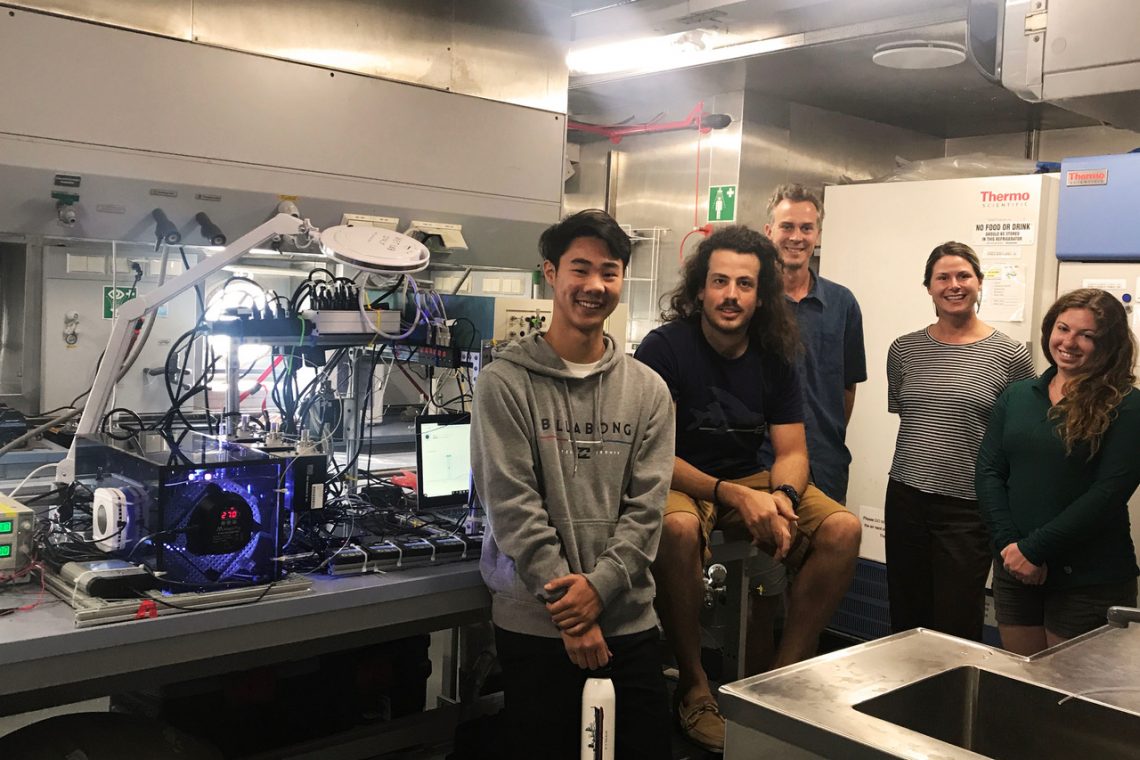 Sea Legs
We departed the Honolulu Harbor on Halloween Day under beautiful midday sun with calm seas, little wind, and the classic backdrop of Waikiki and Diamond Head. After an hour of spinning off-shore for the ship's compass to calibrate, we set sail towards the crossroads of the South Pacific. The plan is 15 days at sea with a stop at the Phoenix Islands to conduct seafloor mapping. Over dinner I learned from Captain Peter that there is a goal to map the entire ocean floor in high definition by 2030, and so ships like the Falkor will use their transit as an opportunity to not only map the entire route, but also stop to map areas of interest. Currently only about 9% of our oceans are mapped in high definition. As Falkor's 2nd Officer, Marissa told me, "We know more about the moon surface than we know about our own ocean floor."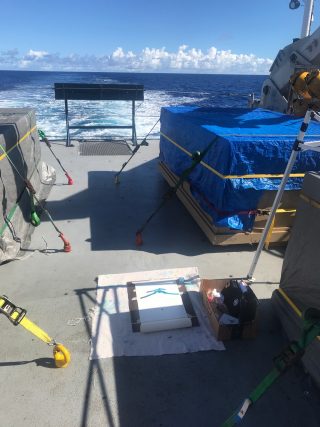 I am sitting in the Falkor's library on my first full day at sea: we are in the middle of the Pacific Ocean somewhere just past 21.4° N, 158° W – no land in sight. The Falkor's crew is helpful and making sure I am not feeling seasick. So far, so good. The boat is gently rocking back and forth and I am learning how to weight my body and go with the flow. I am earning my "Sea Legs" as they say.
Under Pressure
I set up a workspace in the ROV Garage and begin my first project: a daily painting 'experiment' utilizing the boat's movement to my advantage. I start by stretching the canvas and laying it flat, then pouring a small amount of fluid paint on the center, then allow the sway to move the paint. I think of it as a daily timestamp of the seas during our voyage. I tested my first experiments today with somewhat anticlimactic results, but with a few more trials I may find a visually satisfactory outcome. 2nd Officer, Marissa, happened to come by and I showed her the test and explained the concept of painting with the moving ship. She invited me to have a look at the ship's barograph in the Bridge. I was delighted to see this small vintage machine that continuously records the barometric pressure on a moving chart. Marissa points out the areas on a past chart where the ship was in more intense weather and therefore pitching, leaving a thicker line on the graph. I love this barograph! It is a similar concept, mine is just a little more colorful and certainly less exact. But, I think I am on to something…