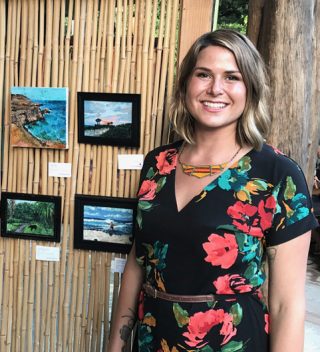 Mixed-media artist and designer Bailey Ferguson combines her passion for the social common good with a strong design philosophy to effectively communicate an idea across disciplines. Ferguson earned a BFA in Studio Art (2008) from the University of Denver and a secondary BFA in Communication Design (2012) from Metropolitan State University of Denver. She also studied art history at Studio Art International in Florence, Italy.
Ferguson's fine art practice dances between representational and abstract to create an aesthetic conversation about events occurring in her environment. The Nebraska-born artist lives and works on the Big Island of Hawai'i where she investigates the subtleties of color in nature, her greatest inspiration. While surfing, fishing, sky-gazing and dodging volcanic eruptions Bailey studies the environment to inspire her work. In the past year the elements of fire (2018 Kilauea eruption) and water (surf art) have influenced her work like never before in two new abstract painting series, DISPLACED and WIPEOUT. Recent honors include: A finalist for the Hawai'i Volcanoes National Park/National Park Arts Foundation Artist-in-Residence progam, a solo exhibition in Kamuela, Hawai'i, participation in several group exhibitions on the Island of Hawai'i, and winning 1st Place in the 2019 state-wide jurried exhibition"Transformative Forces" at Kahilu Exhibits in Kamuela, Hawai'i.
Outside of her studio arts practice, Bailey Ferguson freelances as a print designer and digital media manager for several clients bringing color and energy to their brands. In 2016, she joined production for the series, The Culinary Edge TV, which cover themes of food, culture and travel from around the globe.
"Since growing up in a landlocked state I have found a healthy obsession with the ocean and the culture that surrounds it. I am inherently drawn to experience new horizons, color palettes, cultures, cities and coastlines."
Cruises: