On our last night at sea, I spread my artwork across the two long tables in the library. In a few minutes, members of the science party and crew will file into the room to browse through my work and ask questions about my creative process. I am excited for the opportunity to explain why and how their research has inspired me over the past three weeks.
The paintings on the tables, for example, showcase a myriad of detail and color that captures this science in more ways than one. These water colors (made using water collected from the Niskin bottles in our CTD deployments) bring to life an artistic interpretation of some of the research team's queries. Finding different methods for incorporating scientific materials into my art has been and inventive and fun experience. In addition to using leftover water from our sampling, I have picked up discarded beakers and filters to create shapes that fit into these fantastical designs of microbial life. As the scientists move about the room peering at the paintings, I hear squeals of delight. "Those are my filters!" Justine Albers says, pointing to a circular shape.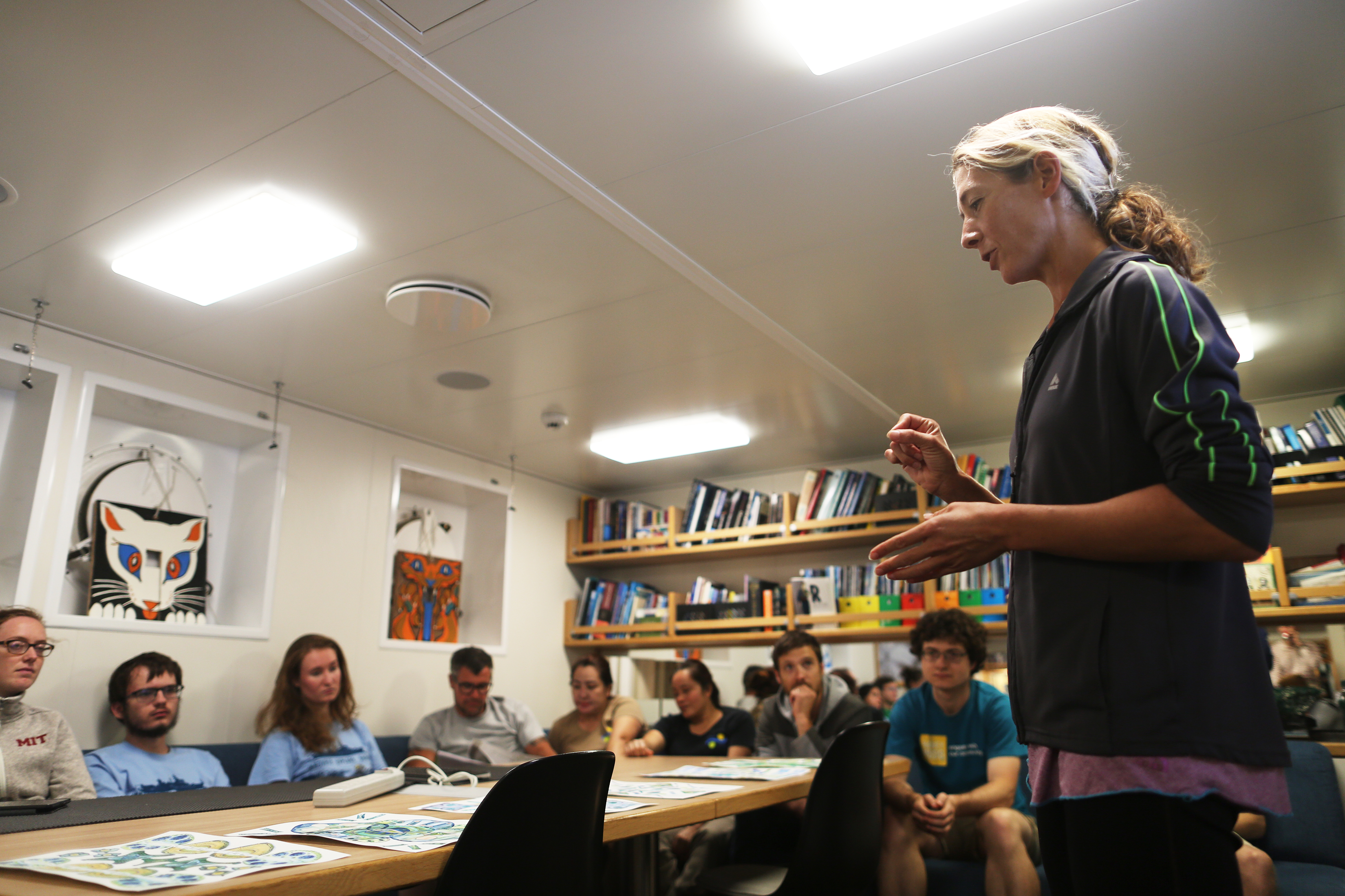 Presentation and Ideas
After answering questions about the water colors, we watch a quick time lapse video (filmed by our multimedia correspondent) of the mural I painted in the corridor leading to the aft deck. This is only the second time my art has been captured in this way, and it feels oddly satisfying to see hours of work condensed into just a few seconds.
In addition to the water color paintings and the time lapse of the mural, my "art show" in the library this evening also includes a thick booklet of sketches from the past three weeks. While my paintings are more interpretive and whimsical, these sketches are more documentary in style—capturing in-the-moment action of over a dozen different activities and experiments conducted by the science team.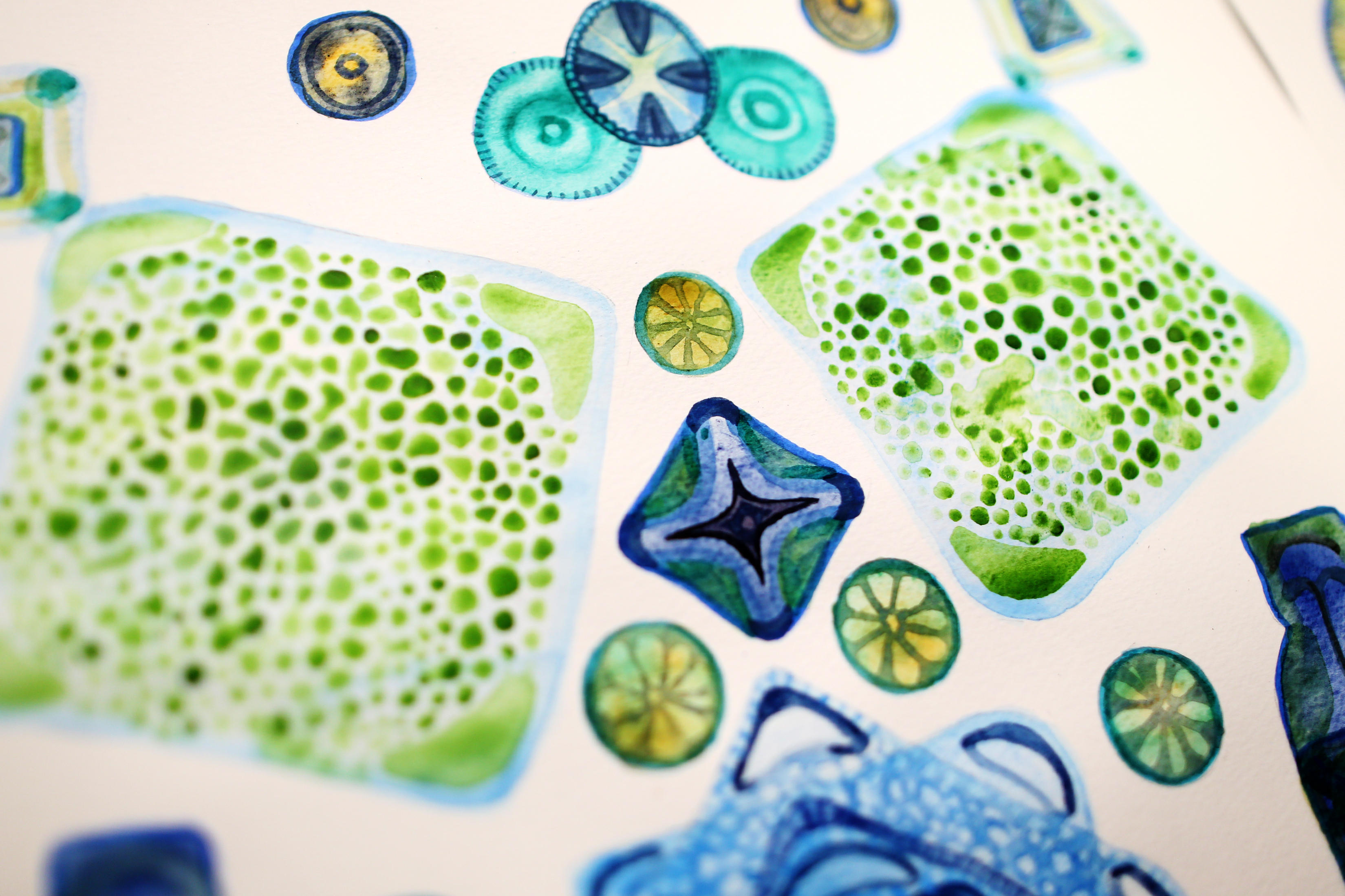 The End (and the Start of a Beginning)
I am so impressed by how much these researchers have accomplished in such a short amount of time. The bubbling vials, legions of bottles, gas cylinders, and dozens of other pieces of equipment have all been packed away, but the excitement about the research continues. As the individual members of this team travel back to their labs, they will begin the lengthy process of analyzing an immense amount of data. I look forward to following their progress, and learning about their results.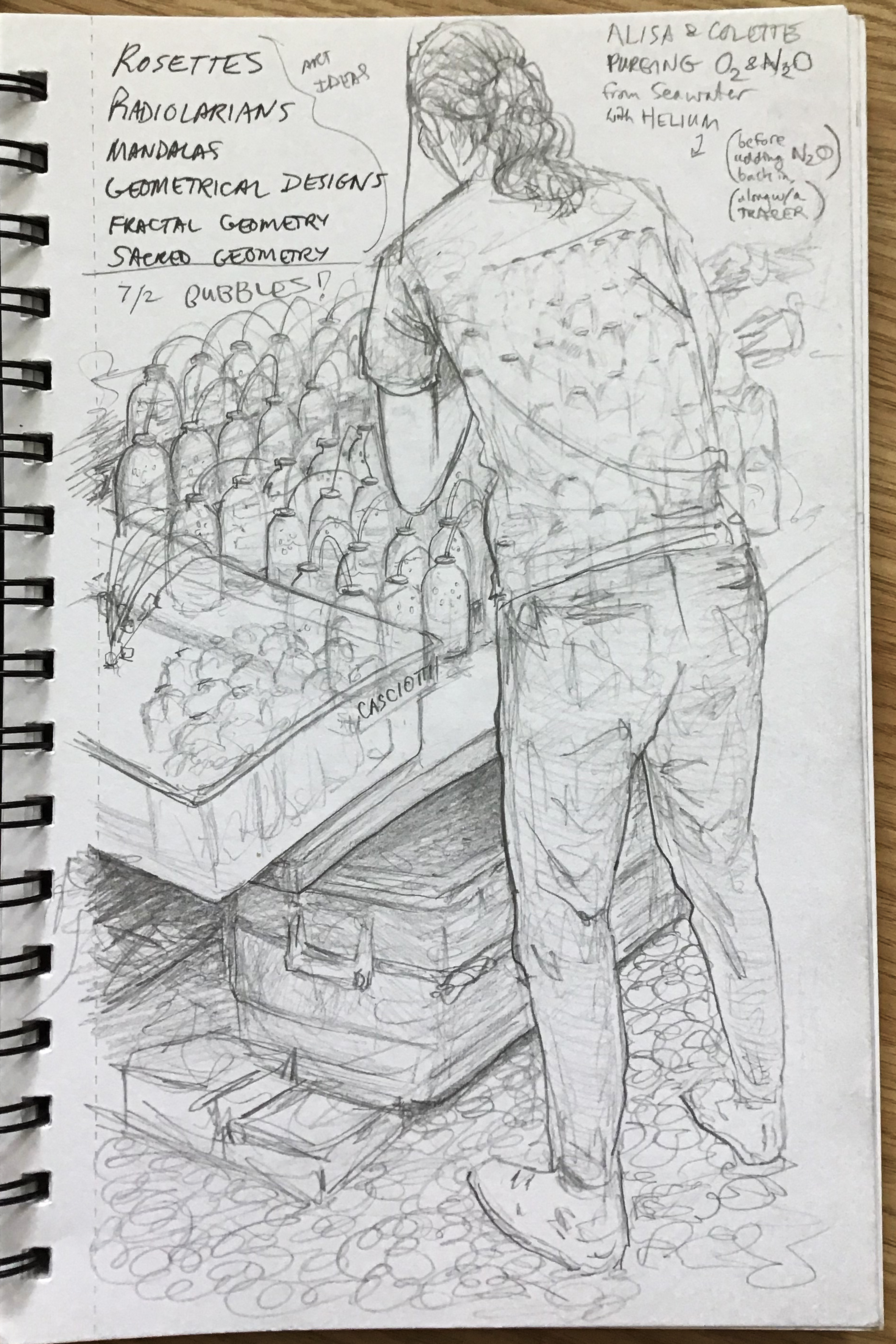 This expedition has been such a memorable one. I am so grateful for the opportunity to have joined as an Artist At Sea on this research trip and to have spent the past three weeks in the company of such dedicated, hard-working people. I have learned a great deal about microbial interactions within remote oceanic zones, and their contribution to global environmental health. Each day brought a whirlwind of activity, and the vigor and energy manifested by the team and crew members has been contagious. This experience has only deepened my love for the ocean, and I believe what I have learned aboard R/V Falkor will continue to inspire my work for some time to come.