The
Ocean Sciences Meeting (OSM) is t
he flagship conference for the ocean sciences and larger ocean-connected community held every two years.
Its importance has been bolstered by the approaching
UN Decade of Ocean Science for Sustainable Development,
beginning in 2021.
Schmidt Ocean Institute (SOI) had a strong presence in OSM 2020 in a variety of ways. Several past Principal Investigators presented findings from research cruises aboard research vessel
Falkor
, and Artist-at-Sea participants gave talks on expressing science through art and showcased their work in an exhibition.
SOI held an Alumni Reception, inviting 125 past R/V Falkor participants from the past eight years. This event was also the official announcement of SOI's newly appointed Executive Director, Dr. Jyotika Virmani.

Dr. Virmani and SOI's Communications Director were featured on student career panels, and participated in a two day Ocean Exploration Education Ideation Focus Group Meeting with Ocean Exploration Trust and NOAA's Office of Ocean Exploration and Research. SOI was also prominently featured in several of the "Town Halls" including the All Hands on Deck, where Dr. Wiener was one the featured speaker. 

SOI's Allison Miller led a mini session focused on solutions to ocean plastics as part of the Ocean Visions: Finding Ocean Based Solutions to Society's Greatest Challenges sessions, and several Falkor Principal Investigators including, Mandy Joye, Erik Cordes, Peter Girguis, and Amanda Demopoulos hosted a panel on Developing Transdisciplinary Deep Ocean Work.
Presentations about research conducted on R/V Falkor included: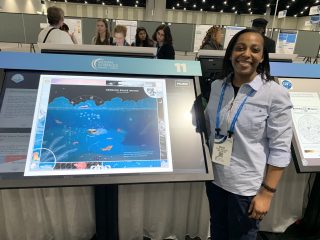 The most visible aspect of SOI's presence was the Artist-at-Sea exhibit, featuring the work of 15 artists who have journeyed aboard R/V Falkor as a part of the research team, working alongside scientists to not only decipher and share data, but encourage new ways of approaching questions and answers. Several of the artists presented in the SOI co-chaired session Imagining Ocean Science, including Lily Simonson, Fernanda Oyarzun, and Abrian Currington (who gave out copies of her work inspired by the "Seeking Space Rocks" expedition).
 Ocean Sciences Meeting 2020 contained the most representation ever for SOI in a single event. It was a tremendous meeting providing attendees the opportunity to bridge disciplines, connect communities, and make lasting partnerships. SOI is proud to have played a part in OSM20's success and is grateful to everyone who has been a part of our journey so far. Thank you all!