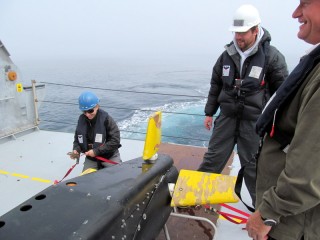 The results from our Video Plankton Recorder (VPRII) continue to please researchers aboard the first Falkor shakedown cruise.
"We made our daily stop for a CTD cast and a plankton net tow, and the VPR was redeployed easily in calm seas," said Dr. Cabell Davis, the mission's Chief Scientist. "With three successful plankton tows for calibration of the VPR so far, we decided to continue towing it without stopping until the end of the transect was reached on the Greenland shelf."
The extra time saved by not stopping allowed the Falkor crew to reach Greenland ahead of a forecast storm and enter a fjord for refuge. The VPR collected 90,000 images per hour across much of the Atlantic and observed a large diatom bloom, which was unexpected at this time of year. Dr. Davis characterized the diatom bloom as "massive" and said it merits further investigation.
"We can truly say we have smashed the expectations in terms of VPR data for this cruise," Dr. Davis said.