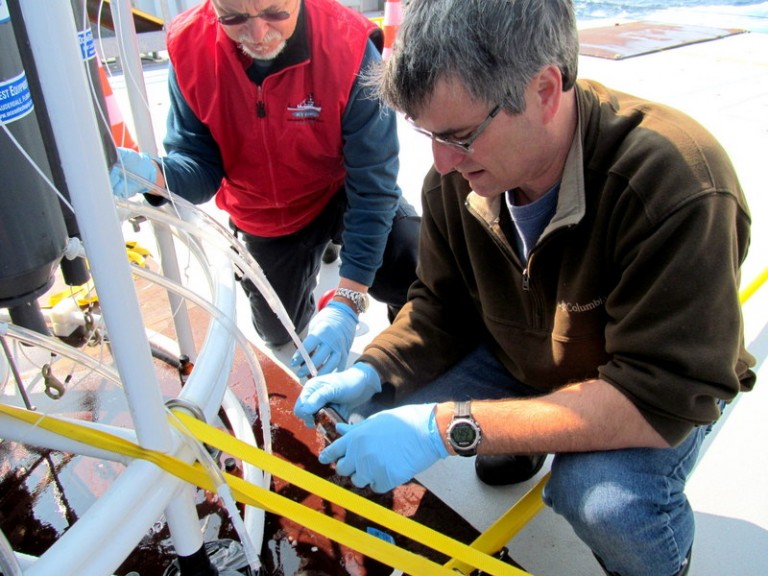 Scientists from the University of Rhode Island working aboard the R/V Falkor's first shakedown cruise are collecting ocean water samples from the North Atlantic seas between Greenland and Woods Hole, Massachusetts. Gathered using a platform called the Conductivity, Temperature and Depth Rosette (CTD), the water samples are rife with the ocean's smallest, but most abundant microorganisms: bacteria.
During a CTD launch on Saturday, July 21, the URI team captured samples of ocean water from sea surface to sea floor. Professor Steven D'Hondt, a URI oceanographer said data sent from the CTD to the Falkor mirrored that gathered by the Video Plankton Recorder (VPRII). Between the depths of 50-70 meters, the CTD observed a spike in fluorescence – a clue that there was a large bloom of phytoplankton in the area. Later that day, the VPRII sent back images of dense populations of diatoms, confirming the likely cause of the green fluorescence detected by the CTD.
Dr. D'Hondt and his colleague, Professor David Smith, also a URI oceanographer, will extract genetic material from the water, in order to understand just how diverse the ocean's bacteria are, and how they are distributed throughout the ocean.
"What's the real diversity of bacteria in the ocean?" Dr. D'Hondt said. "We don't yet know the answer."
"Ideally, oceanographic expeditions create deeper understanding, through collaboration of different research groups with initially different objectives," Dr. D'Hondt said. "For example, coordination of our studies and the studies of Dr. Cabell Davis' VPRII team will help both teams to much better understand the ecosystems that our organisms inhabit together."
The Falkor scientists will continue to launch the CTD and gather ocean water samples until the expedition concludes at Woods Hole Oceanographic Institution on July 28, 2012.