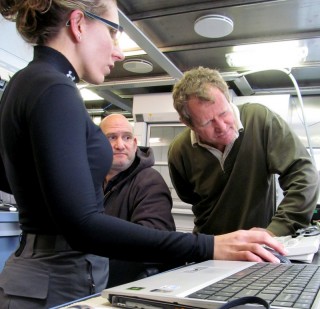 The Video Plankton Recorder (VPRII) aboard the R/V Falkor's first shakedown cruise late Wednesday, July 18 and throughout Thursday, July 19 observed quantities of cold water plankton that increased greatly as the expedition made its way from the central Labrador Sea to the shallower waters of the continental shelf, about 100 miles northeast of the Straight of Belle Isle.
As the Falkor drew nearer to the Straight of Belle Isle, the VPRII captured as many as 87,000 unique images of plant and animal plankton, which make up the vast majority of all multi-cellular life in the ocean.
"It's rich in plankton as we get into the shelf," said Dr. Cabell Davis, the expedition's Chief Scientist. "We're getting tremendous numbers of images coming in."
The greater population density of plankton near the continental shelf was consistent with what researchers aboard the Falkor expected to see, according to Dr. Davis. Many of the plankton observed included Calanus glacialis (copepods with red antennae), diatoms (microscopic floating plants), and algal mats (living mats of diatoms capable of migrating vertically).
Species of plankton that inhabit North Atlantic waters are well adapted to extreme cold temperatures. The VPRII detected temperatures lower than one degree below zero Celsius – slightly lower than the freezing point of fresh water.
Dr. Davis' team plans to continue towing the VPRII along the continental shelf. He expects to see similar results from the VPRII until the Falkor makes its way into the warmer waters south of Cape Cod.