Does the word artificial mean "not real"?  Not in the case of artificial reefs in the Gulf of Mexico.  Artificial reefs are definitely real to the sea life inhabiting those reefs.  Dr. Greg Stunz and Dr. Matt Ajemian are conducting research aboard Schmidt Ocean Institute's research vessel Falkor to survey a series of artificial reefs currently in place off the coast of Texas.  This research will help to understand how important artificial reefs are as habitat for fish populations in the Gulf of Mexico.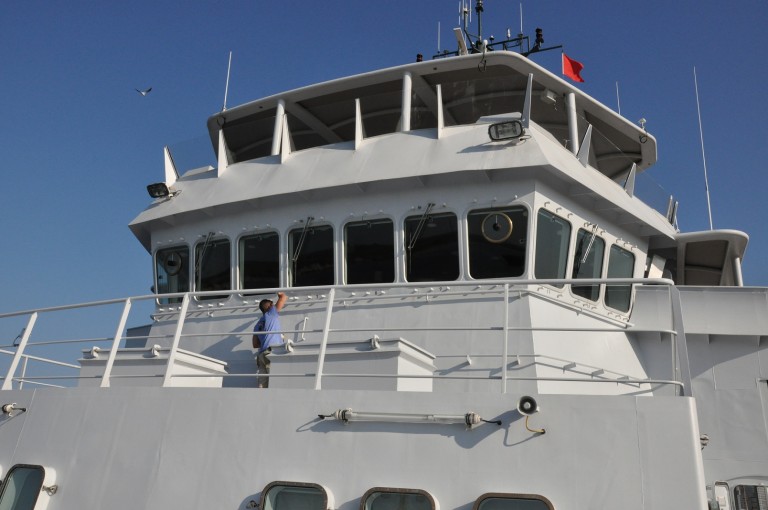 Information about the shape, size, location, and orientation of these existing artificial reefs will give scientists, engineers, and resource managers insight into optimal design configuration for optimization of the habitats they provide to marine life. These artificial reefs will first be mapped by hydrographic surveying methods using multi-beam scanning sonar.  Then, visual surveys will be conducted using cameras mounted on a state-of-the-art, remotely operated vehicle (ROV) followed by fish sampling using a uniquely designed "catch system" called vertical longline.  Fish abundance, species composition, size and age will be determined in relation to the artificial reef's configuration.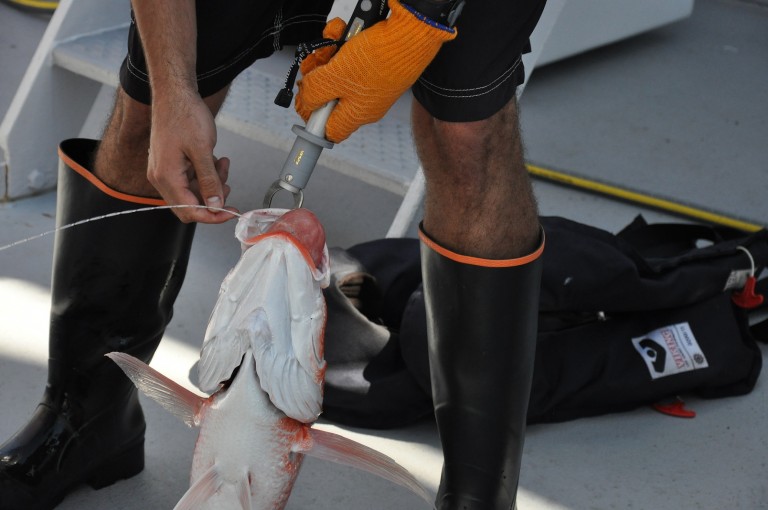 Many of the captured fish will have over-expanded swim bladders when brought to the surface due to the rapid decrease in pressure.  The fish normally use this bladder for buoyancy, but after rapid decompression they actually prevent the fish's descent back to the safety of the reef.  Judd Curtis, PhD candidate at Texas A&M University Corpus Christi, will be investigating the best method to relieve these symptoms during catch and release to reduce mortality related to this bladder control issue. This information is particularly important for minimizing mortality given fish size and catch limit restrictions.  The goal is to release fish and help them safely return to their habitat, which in this case is the artificial reef.
Dr. Matthew Ajemian of Harte Research Institute is discussing artificial reef fish surveys planned for the research cruise onboard Schmidt Ocean Institute R/V Falkor between October 8 and 20, 2012. 
Video credit: Dr. Stacey Lyle, Texas A&M University – Corpus Christi
Harmful Algal Bloom
The Falkor is scheduled to visit 15 artificial reef sites on this cruise.  During the cruise, the R/V Falkor crew will also be assisting Dr. Michael Wetz and his undergraduate research assistants in better understanding conditions that lead to the infamous Texas "Red Tide".   When asked why this is important Dr. Wetz said "scientists think that the Red Tide start out in the deep ocean off the coast of Texas and makes it into the shore where its toxins can affect human breathing, specifically those that suffer from breathing ailments like asthma."
Dr. Wetz will be making oceanographic surveys and specimen collections along the route at specific locations.  Obtaining and processing these samples will be critical to the results of Dr. Wetz's research.  Once we understand the origins of harmful blooms we can move toward the cause, but we must ensure that we obtain this important scientific data with care.
Another important research effort that will be conducted onboard the R/V Falkor will be collection of water samples to study carbon dioxide levels in the western Gulf of Mexico to better understand its role in the global carbon cycle.  Not much data has been collected in this part of the Gulf of Mexico. A team from The University of Georgia will conduct this part of the scientific efforts.
The entire Schmidt Ocean Institute R/V Falkor team will work to solve these problems and build the body of scientific knowledge that will ultimately promote a healthy and productive Gulf of Mexico.  This is a big team effort for all on board.
-Written by Dr.Stacey D. Lyle for Schmidt Ocean Institute
FK005c-2012