In just a few days after being placed in the ocean, rigs (also known as platforms) have already attracted its first residents.  In time, a full ecosystem develops supporting fish populations in the range of an estimated 10,000 to 30,000 fish.  The fishermen in the Gulf of Mexico know this and frequently go "rig-hopping" in search of a wide variety of sport fish.  Unfortunately, over time the number of rigs to target has decreased and the distance between rigs has increased.  The rigs are disappearing in proximity to the coast and in total numbers.  The new facilities have migrated to much deep water with depths greater than 700m or 2000 feet, out of reach for most recreational fishermen.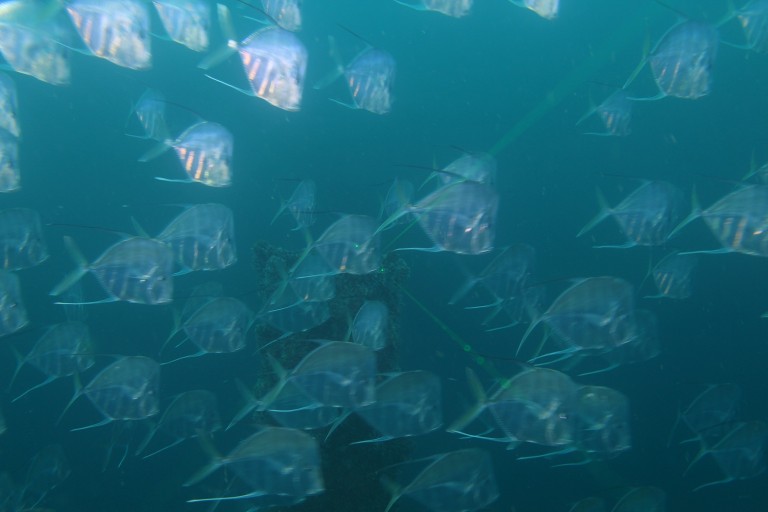 A few weeks ago, one of our scientists was out with his kids on the jetties near Corpus Christi and overheard two salty old fishermen talking about a recent trip offshore to their favorite fishing spot.  It was a rig and they had the coordinates for it, but on this day they couldn't find it.  He heard one of them say "it's not like they can just take one of these things out and move it–it's gotta' be over 100 ft long!"  The seasoned anglers couldn't understand what happened to their productive, easy-to-find fishing hole.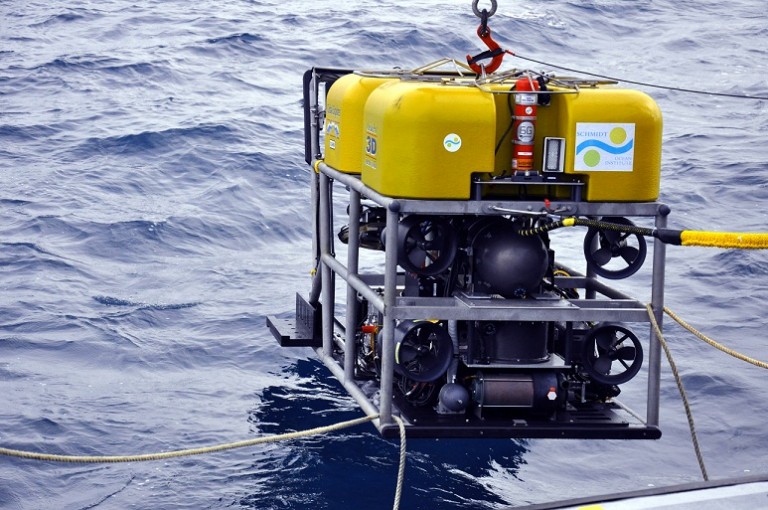 It turns out the rig had been decommissioned and removed–gone forever. This is happening more and more often due to an increased emphasis on removing non-producing oil and gas platforms, called "idle iron."  Currently, the only effective means of saving one of these rigs is the "Rigs-to-Reefs" program run by the Gulf States. By donating the rig to the state after making it safe, oil companies can effectively create artificial reefs from the various components of the structure.  Most of the sites the R/V Falkor is visiting on this cruise are a result of this program.  It works, but the process takes time.
Meanwhile, the industry is ramping up the capability to handle the large increase in decommissioning activity forecast in the next few years.  It is estimated by many that there is $20B of work to be done in the Gulf of Mexico alone.  Rigs can be removed faster than ever before and time is running out for many Texas rigs.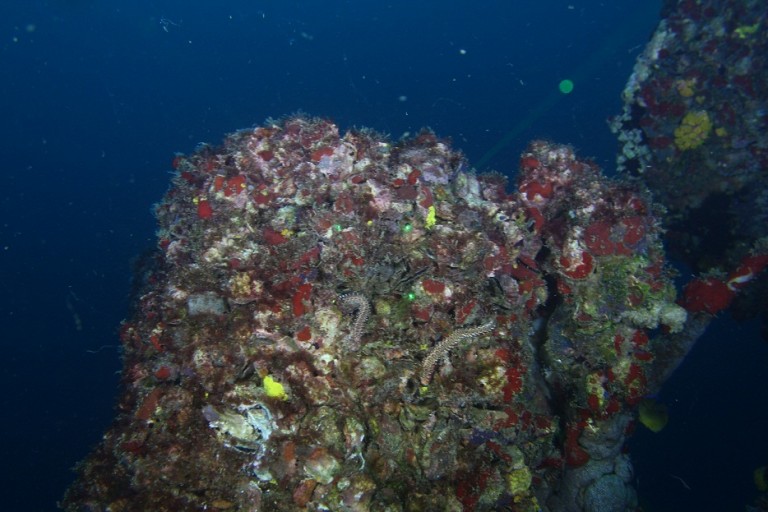 Yesterday, with the assistance of a state-of-the-art DSS Global Explorer MK3 ROV (remotely operated vehicle) and associated crew, we were able to inventory a diversity of fishes of our south block of artificial reefs.  These sites included toppled and cutoff rigs, most of which were encrusted with corals, urchins, fireworms and colorful reef fishes. One site even revealed a very special surprise to our research group – a large goliath grouper! The grouper was originally spotted hovering face-out of a large square hole, but it exposed its awesome size (making adult snappers seem tiny) with a swift broadside of the ROV, which it had convinced to vacate its home. Goliath groupers are protected in Florida and while they may be fished in state waters of Texas, all landed individuals must be safely released back on site. The group was extremely enthused with the opportunity to view this majestic species that is poorly known in the western Gulf of Mexico. These results will be helpful for the State of Texas in offering scientific information to those who participate in the "Rigs to Reef" program.
Written by David Tupaj, a PhD Student at TAMUCC
and Edited by Dr. Matt Ajemian for Schmidt Ocean Institute
FK005c-2012

Video highlights of Global Explorer ROV Dive at an old oil rig site in the Gulf of Mexico on October 15, 2012.  Video credit: Deep Sea Systems International, Schmidt Ocean Institute, Dr. Stacey D. Lyle – TAMUCC
Coverage Around the Web:
Texas A&M University- Corpus Christi Expedition Blog