The DSSI Global Explorer MK3 ROV (remotely operated vehicle) operated from R/V Falkor captured video of an invasive venomous lionfish on an artificial reef. This is the second lionfish that has been spotted by the Harte Research Institute (HRI) Fisheries Group.  Both sightings took place on artificial reefs, but it is believed that once these fish have entered into an area they could be found in natural reefs and other hard bottom habitats. Additionally, earlier this summer HRI scientists noted several lionfish at the Flower Garden Banks National Marine Sanctuary located approximately 100 nautical miles offshore of southeast Texas.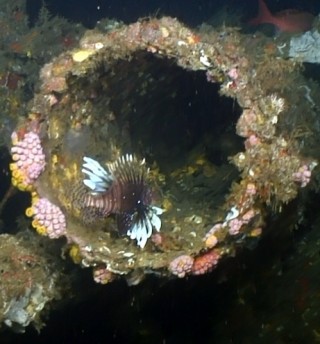 As an invasive exotic species the lionfish likely has few predators on Gulf of Mexico reefs. Without any population control and a fairly broad diet, lionfish are hypothesized to compete with many native species for food resources. Combined with a relatively high reproductive activity, these characteristics of lionfish could be detrimental to the native reef fish community using these hardbottom habitats. Furthermore, lionfish presence represents a potential hazard to fisherman and divers that use these sites. This venomous lionfish has deadly spines that could cause extreme pain and sickness to humans handling this animal. Many regions throughout the southeast US, Bahamas, Bermuda, and the greater Caribbean have adopted lionfish "derbies" to help eradicate this invasive species and preserve coral reef communities.
While lionfish have been sighted throughout the Gulf of Mexico for a number of years, the multiple recent sightings off the Texas coast may be an early warning sign of the species' westward expansion. Should populations become dense in this area, scientists may consider investigating the potential impacts of lionfish on the many species of recreationally and commercially important reef fish we have observed using these natural and artificial reefs.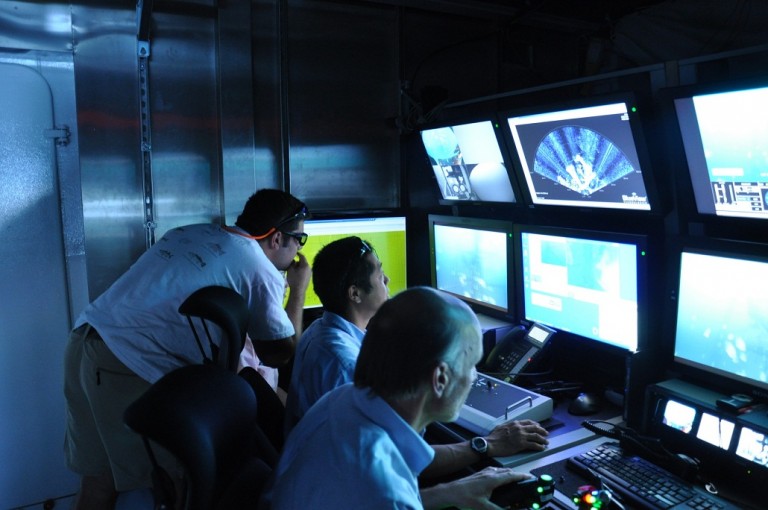 The team plans to report the finding to the USGS Nonindigenous Aquatic Species program (NAS) through their website reporting portal. The purpose is to help document the current range of this nonindigenous aquatic species in the Gulf of Mexico.  The Fisheries Group suggest that other sighting be reports so that we can best understand the current distribution of the species.
Written by  Dr. Stacey D. Lyle, Edited by Dr. Matt Ajemian for Schmidt Ocean Institute
FK005c-2012
Lionfish spotted at an artificial reef off the south Texas coast by DSSI Global Explorer MK3 ROV launched from R/V Falkor on October 16, 2012.  Video credit: Deep Sea Systems International, Schmidt Ocean Institute.
Coverage Around the Web:
Texas A&M University- Corpus Christi Expedition Blog