Today we set sail from Guam, bound for newly discovered hydrothermal vents -volcanic underwater ecosystems thousands of meters below the sea surface. The pressure, acidity, temperature and darkness down there would be a vision of hell for humans, but there are plenty of other organisms who have adapted perfectly, making themselves right at home. These vent sites can look otherworldly and some think that chemosynthetic life could exist on other planets.
The truth, however, is that we have barely scratched the seafloor; making this trip a real adventure into the unknown. We do know that chemosynthetic life loves to gather around energy-producing vents, but what organisms are there in this back-arc area? How are they distributed? How do they travel, survive, and evolve? In order to find out, the research vessel Falkor is loaded with a crack team of scientists and a brand new Remotely Operated Vehicle – SuBastian. The ROV will dive down and sample the water, rocks, chimneys and organisms at the vent sites, as well as a taking a host of chemical measurements. SuBastian films all of the dives too, broadcasting back to the pilots and scientists on board the ship, as well as back to you live at home!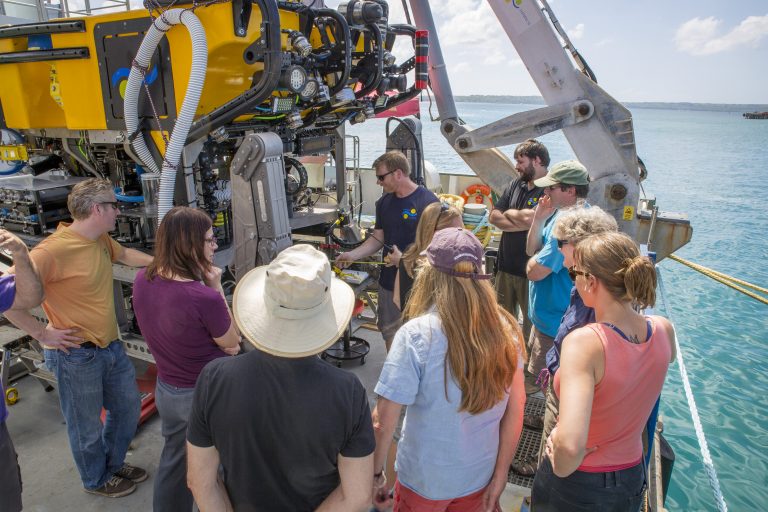 Leaving on Time
Today we are making the day-long journey to our first dive site, a recently erupted lava flow discovered on the last trip, a year ago. It was a fortuitous discovery because deep-sea eruptions are almost impossible to detect and represents a rarely glimpsed stage of seafloor evolution.  There is the possibility of discovering new vents and biological communities, which has everyone extremely excited about what we might find.

The Future of Science in Guam
On the 2015 expedition, the team was forced to leave port early because of a typhoon. Fortunately this time there is no rushed start. We even got a chance to pay a visit to the University of Guam, as well as host students for a tour of the ship. We can be confident that the next generation of Guamanian scientists will be pushing oceanographic research even further in the future.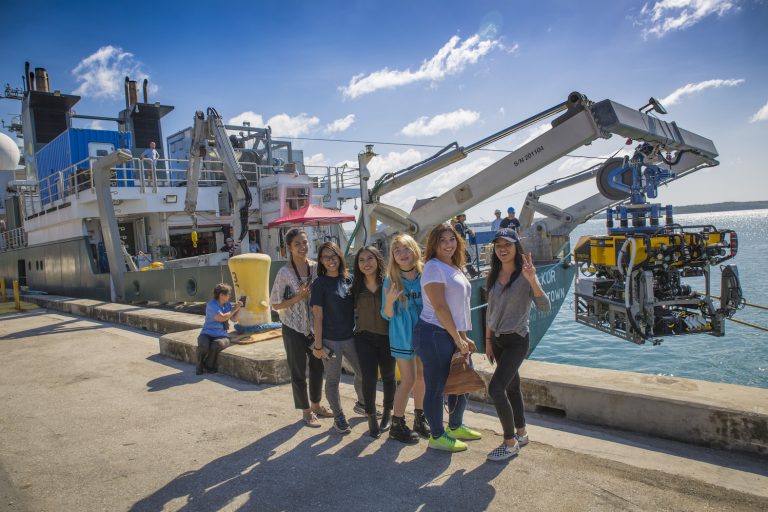 Fingers Crossed for Calm Seas
We depart perfectly on schedule; but it's only the first of 21 sea day,s so no-one is getting carried away. A shower of rain interrupts the group photo of us leaving port, a timely reminder that weather conditions will play a big part in this voyage. Everyone knows that on the ocean, your plans evolve sooner rather than later. We will all be keeping a close eye on the weather forecast, so keep your fingers crossed for calm seas. Whatever the next three weeks has in store for us, the team is in a fantastic position to unlock the secrets of the unknown deep. Keep up to date with our dive plans on Twitter, Facebook, and Instagram, and we hope you'll join us on the livestream during ROV dives. These are some of the most remote, unseen frontiers of life on this planet and we can't wait to explore them with you.