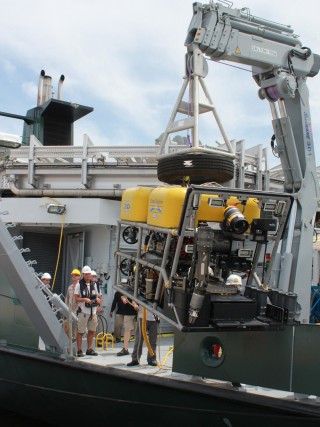 It has been a busy day preparing the R/V Falkor for departure. The research team and crew are excited to begin the second shake-down cruise. A shake-down cruise tests ship operations under real world conditions.
This 'deep-sea coral shakedown' is the first time that a science-class remotely operated vehicle (ROV) has been brought on board the Falkor. The ROV team and crew have been working hard to prepare the ROV for operations at sea, meanwhile the research team have been unpacking and preparing their scientific equipment and sampling gear.
This afternoon, the ROV team carried out a successful load test of the Global Explorer MK3 at the dock in St. Petersburg, Florida. Load tests involve running the vehicle at maximum thrust, with all instruments active, in order to test the capacity of the circuits. Calibration and testing are necessary before any ROV can be deployed in the field.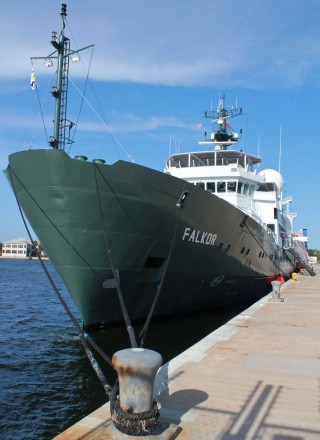 The load test was carried out in port, to ensure that major issues can be addressed before the vehicle is deployed at sea.  According to ROV project manager Dominic Liberatore "the vehicle test pointed out concerns and highlighted issues that were expected…and all in all the test accomplished what we were looking to do." There will be several quick shallow water tests before the vehicle is deployed in deep water at 400-2000 meters depth.
At 10 pm tonight, R/V Falkor departed from the port of St. Petersburg in Florida. Departure was one day earlier than anticipated, in order to avoid the path of Tropical Storm Isaac. Isaac is expected to reach the eastern part of the Gulf of Mexico as a Category 1 hurricane within the next few days. The captain and crew are closely monitoring the forecasted track of the storm, which is expected to make landfall in the northern Gulf of Mexico on Tuesday.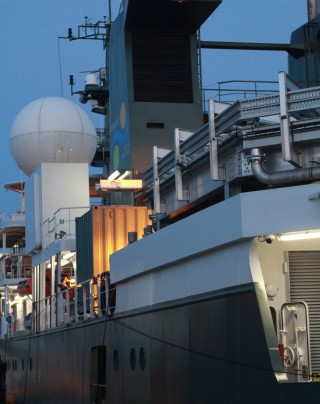 The ship is currently heading towards the southwest where winds are expected to be less severe.  According to Captain Bernd, it is a general mariner's rule to stay to the aft port (south west) side of a hurricane, where the winds tend to push the ship away from the storm. Due to the tendency of hurricanes to turn eastward in the northern hemisphere, the ship is less likely to be within the storm's track by moving in this direction.  Furthermore, the ship is safer in deep waters far from obstacles, rather than in port, where it can incur serious damage. The captain plans to "sneak back behind the storm" to return to research sites off the coast of Florida.
He says, "with good seamanship and proper precautions, like lashing down the equipment well, we can hope to maintain the integrity of the ship. But, unfortunately it means that it will be a bit of a rollercoaster ride for us."