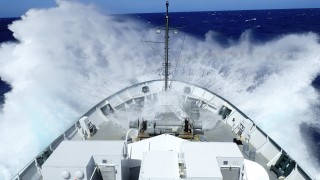 Although we were able to collect the missing ROV part this morning, there is yet another obstacle to clear before we can explore the Canyon for the first time. As soon as we headed back out to the open ocean, we were met with strong winds and swell that persisted throughout the day. This wild weather does not allow for the deployment of either the ROV or the CTD rosette, so this has given us an extra day to test our equipment and get our "sea legs".
The importance of structure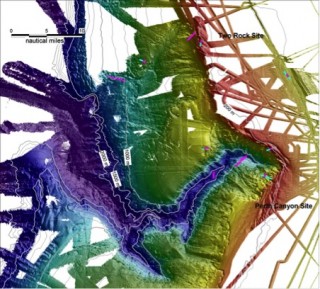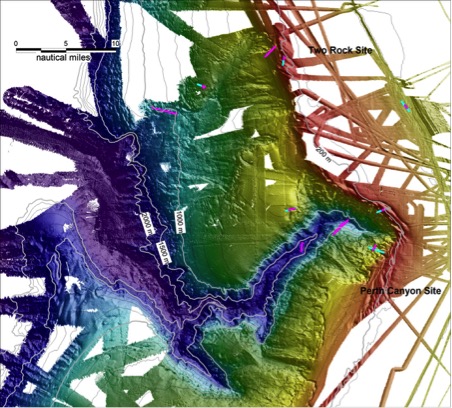 As we continue to map Perth Canyon, one of the few things that can be done in these conditions, the multi-beam sonars have begun revealing the Canyon's fine-scale structure. The structure provides important insights into the potential processes that are occurring in the Canyon. For example, the Canyon allows nutrient-rich deep-sea water to upwell onto the continental shelf, but at certain times of the year, it may also be a conduit to transport water masses from the shallow continental shelf down into the deep sea. These processes significantly influence the water chemistry, and therefore also impact the marine life within the Canyon. Data from the CTD casts, water samples and other measurements will help us to constrain these processes.
Solving the mystery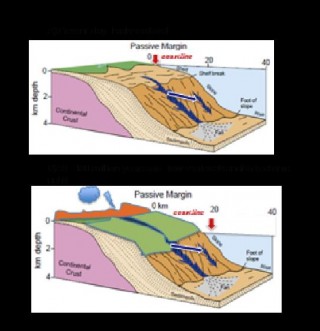 There is still one big mystery about the Perth Canyon that has yet to be fully constrained – how did Perth Canyon form? We do know that it is part of the ancient Swan River delta, where many millions of years ago, the strong water flow of the Swan River cut into what is now the continental shelf. The exact details of its formation are unclear, but it seems likely that sea level was much lower at that time. Back then, the Perth Canyon likely had a strong resemblance to the U.S. Grand Canyon. Alternatively, it is also possible that plate tectonics played a role, but since Australia has only passive continental margins, this seems less likely.
We are hoping the weather will improve so that we can finally do our first ROV dive and begin to unravel the mysteries of the Perth Canyon.