At last, R/V Falkor has entered the Indian Ocean for the first time in her history and is now docked at Henderson, just 35 km (22 miles) south of Perth, where final preparations are made for the upcoming Perth Canyon cruise.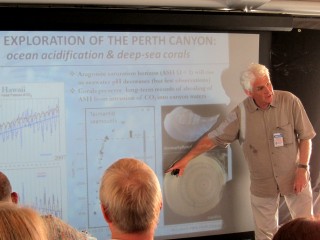 Scientists, visitors, and journalists took this opportunity to visit Falkor and participate in a lecture about the upcoming cruise this week. Chief scientist Prof. Malcolm McCulloch gave a short introduction and Schmidt Ocean Institute Science Program Coordinator Allison Miller and Lead Marine Technican Leighton Rolley provided interesting insights into Schmidt Ocean Institute's mission. This was followed by a tour of the vessel by friendly crew-members and a relaxing sun downer.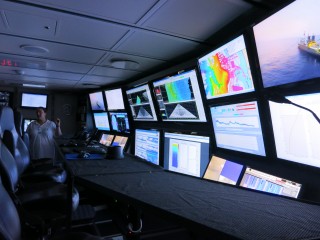 During the tour, participants learnt about the ins and outs of the ship.Falkor is 82.9 metres (272 feet) long and (luckily for us) has all the facilities required to undertake the ambitious and highly technical "high-risk-high-return" research that Schmdit Ocean Institute supports. The amazing capabilities of Falkor include the ability to deploy ROVs, a CTD rosette, both a wet and dry laboratory, a large control room with numerous screens to keep track of the ROV footage, and global internet access (very important), among other things.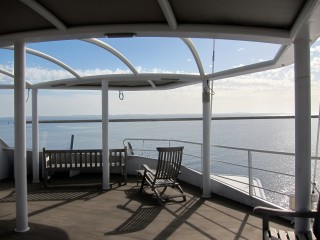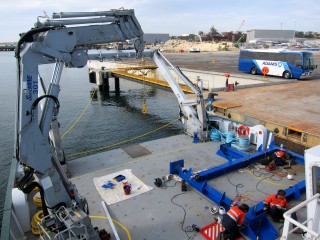 Aside from being a highly capable research vessel, the designers ofFalkor also clearly had the comfort of the crew and scientists in mind. While early explorers in previous centuries had to endure significant deprivations, the science party will have many luxuries that you would not necessarily expect aboard a research vessel. For example, the team will have fresh bread thanks to the bakery, enjoy perfectly brewed coffee with two coffee machines, and there is even a sauna for scientists to relax in after a hard day's work. If a sauna doesn't do the trick, scientists can always catch a sunset from one of the outdoor decks or unwind in one of the cozy lounges. The main goal is that all guests on board immediately feel at home.
The departure date for the cruise is right around the corner, but for most of us, it still hasn't fully sunk in that there are only a few days remaining until we boardFalkor and begin steaming out to sea. We look forward to the weeks ahead and will continue to write about our adventures each day – so stay tuned for more cruise logs in the coming days.