One week flew by in the blink of an eye, and we are already parting ways with the R/V Falkor and her crew. This week and experience has been incredible. I started out being pretty shy and intimidated – honestly I felt like I was not completely prepared or in the right place. As the week progressed those feelings changed drastically. After our first day of science I immediately started to feel better – more confident and comfortable in my position. I could tell that the scientists had faith in me to do my job in the lab just as well as they were doing theirs, and that gave me a good feeling.
Even in the beginning – before we started the filtration for eDNA, just talking about the procedures as a group – it was interesting to me that this was the same processes we did in labs at university, including discussing aspects we could do differently, or to be more efficient, etc. That right there made me realize I was actually more prepared than I had thought. Once we started working in the lab with the seawater samples doing the eDNA work and running CTDs in the ocean, I really got into the groove of the routine of our lab shifts at sea.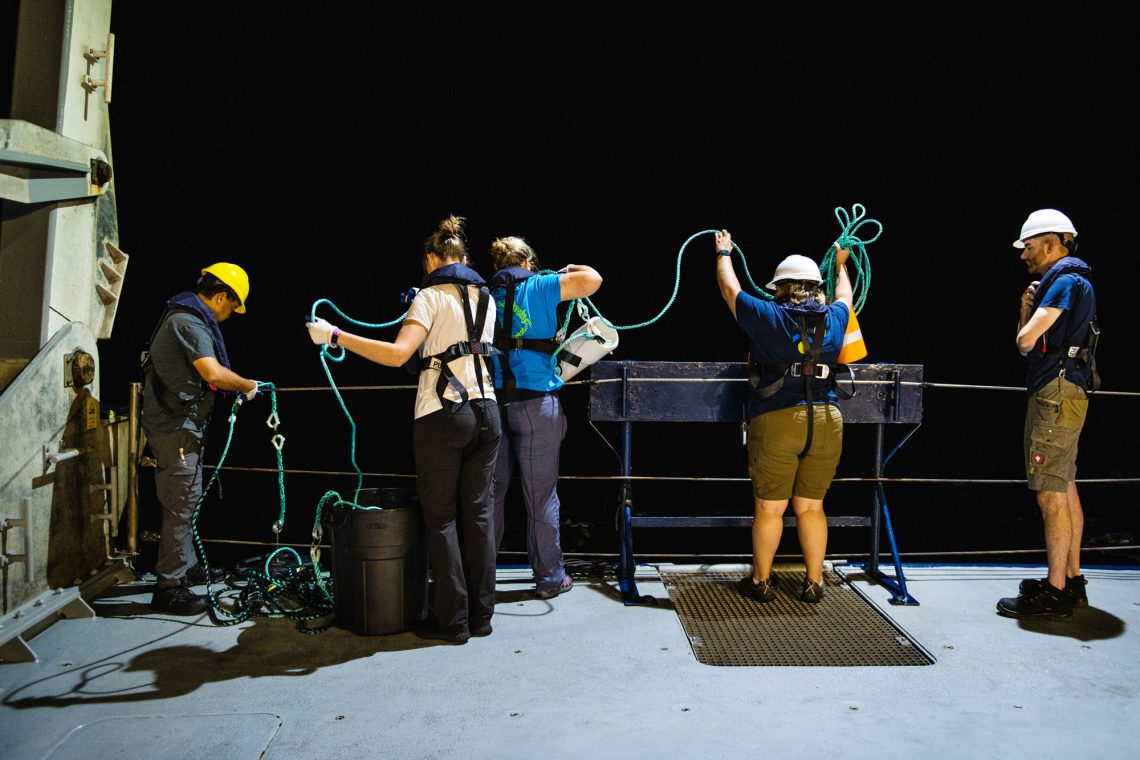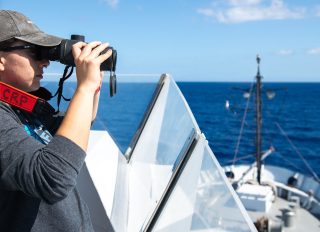 Things went fairly smooth in the lab, and I learned a lot from the scientists and the marine technicians about the equipment on the ship. On the transit days, we would do whale observations on the monkey island (the name of the deck above the bridge). From there you can get a 360-degree view and a good high angle of the water to spot whales. We took two-hour shifts here with binoculars looking for whales. Unfortunately, during our three days of observations we only saw bottlenose dolphins and a couple groups of pilot whales – so not exactly what we were looking for (but it was still really awesome to see the pilot whales up close!).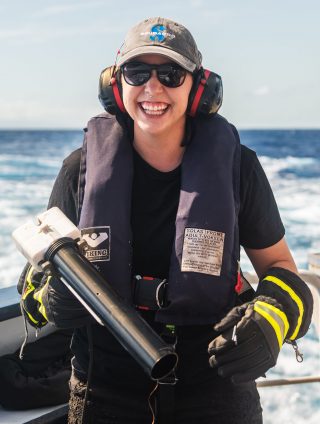 Some of the best parts of the cruise have been the meals. The food on the ship is amazing; every meal has so many options, they are all healthy, and everything is homemade. That is definitely something I am going to miss a lot when I go home. It has also been a lot of fun getting to know everyone and hearing their stories of how they came to be in the research or job positions that they are in today. Now that everyone has gotten settled in and comfortable around one another, there is a bit more joking around and teasing. I even got my "initiation" deployment. I got to do an XBT deployment, but in reality it was really a joke to see how much protective equipment they could get me dressed up in before I really questioned it – and then we did a small deployment. They called it a "rite of passage" on the ship, but to me it meant that they must have really liked me (or at least liked me enough) to take the time to set up the  fun prank.
By the end of the trip it felt like saying "See you later," rather than saying "Goodbye" to all the people on the ship and the science crew; it felt like we all made connections where we might cross paths again. It was such an incredible experience and has definitely made an impact in my life and to my future career – hopefully I will get a chance to work with Schmidt Ocean or this science crew again!