Monkey Island is my new hangout. This is an actual place on board the ship, located at the very top above the bridge. I pinch myself: I am sailing through the Hawaiian Islands on the R/V
Falkor
! It is here on Monkey Island that a group of scientists spend hours in the sun scanning the surface of the Pacific Ocean, looking for false killer whales hunting and feeding.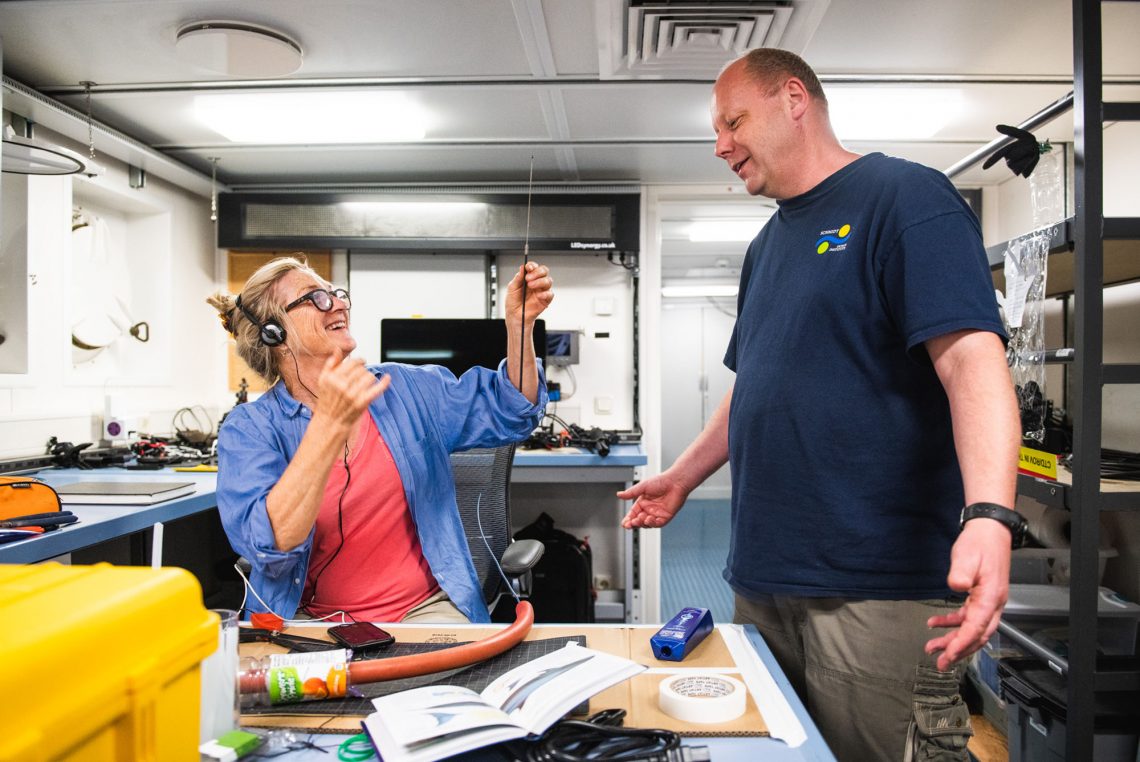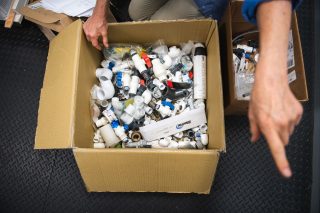 We navigate from Honolulu by Molokai and Lanai, around the Hawaiian Islands Humpback Whale National Marine Sanctuary – no luck. But the team's mission is not all visual; they are at sea to listen for whales. We are on our way to a specific area between Maui and the Big Island to drop listening devices 150 meters underneath the sapphire sea, hoping to listen for beaked whales feeding on squid in the inky dark. The instruments are listening for three known species of beaked whales, and one that researchers know exists because they have heard it, but it has never been seen. In addition to the audio devices, the team is collecting water samples for species identification by using the latest technology studying environmental DNA to sample the ocean without being invasive. 

This is all very cool, but how do I fit in? We do not have marine debris on board and have no plans to pick any up on this expedition. How do I stay true to what I do and the relevance of the expedition? I arrive at the Falkor with an idea… "The whales are cryptic. I will coax them out with a talisman." I will create a sculpture out of the dry waste that I find on board. By doing this I will bring awareness to the overall waste on a ship this size, and upcycle the material.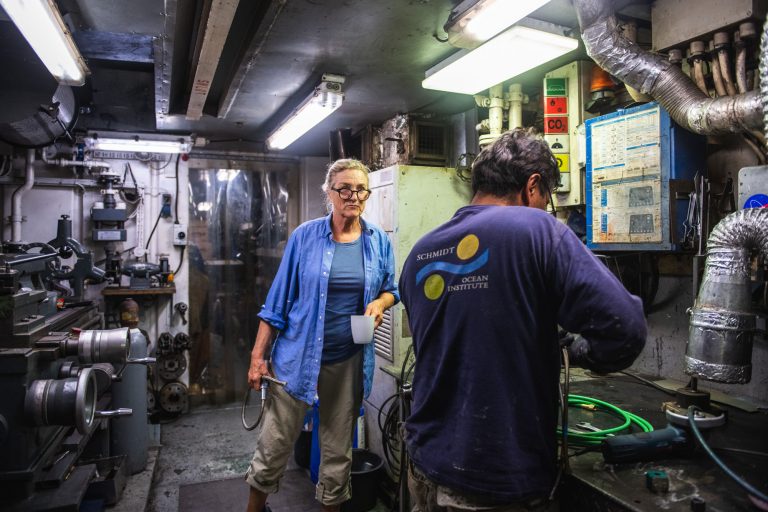 Meeting the Crew
Once I checked in on the ship, began meeting different crew members  – all of whom are not just helpful, but very enthusiastic about the project. My first stop on board is the "garage." Here I meet Lars, the Bosun, who is as crazy about reusing materials as I am. He suggests that we can go to the dumpsters that are parked next to (and used exclusively by) Falkor when at port in Honolulu. Dumpster Diving it is then! We grab a ladder and go… yes! Lots of goodies in the dumpsters. At this point there is a lot of curiosity coming from the crew: What will I do with these things? What will you make? How will you make it? I explain that I will create a false killer whale based on a 1969 photograph I saw in National Geographic of two false killer whales performing in a pool at a tourist attraction in Hawaii. It will be a talisman to call the whales.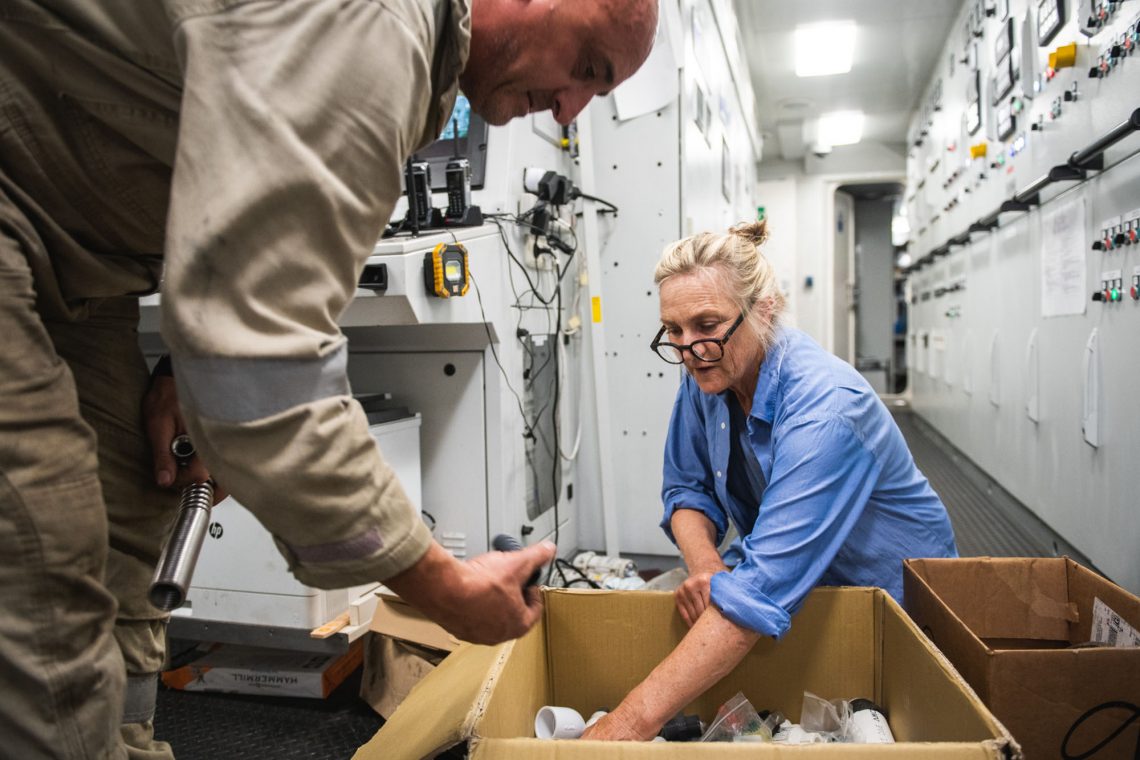 Now that I have set up a cleaning and a collection area in the garage – along with a studio in the dry laboratory – it is time for me to head down below to the engine room to meet Miro and his crew. The engine room is the heart and lungs of a ship, and these are the people who keep it running. Miro gives us a tour of the enormous engine and shop, then generously donates bits and pieces of waste that they have collected. I am meeting everyone that works on the ship, from the bridge to the laundry room. I empty waste cans in the various offices and come up with bubble wrap and packing materials. Yesterday, I rummage through the dining hall rubbish, finding yogurt and juice bottles. I have become the trash collector on board.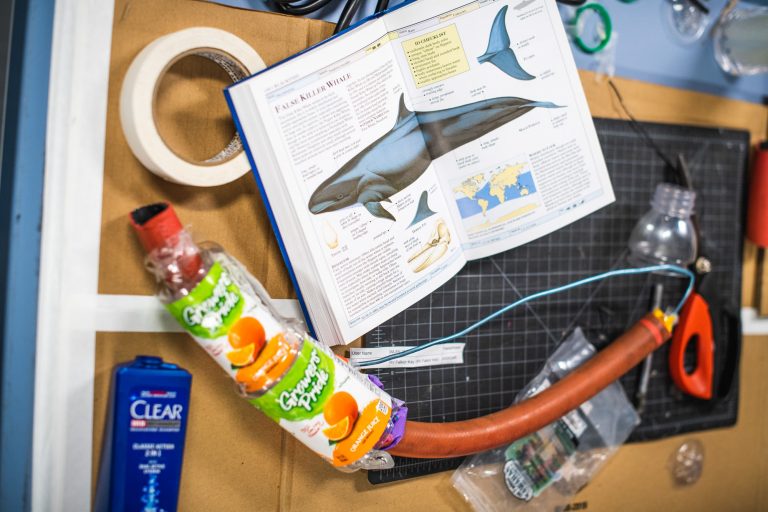 Creating the Talisman
As I sit at my studio station in the dry lab, I gladly accept gifts of luggage tags, zip ties, and disposable gloves. Electronic engineers bring me old electrical cords. Piece by piece the hoses, bottles, and plastic bags fill out the form. I begin one step at a time to create a false killer whale, our talisman to bring forth the cryptic whales.