My name is Kyra, and I was chosen as the student opportunities participant for the "Listening For Cryptic Whales Species" cruise. Being a recent graduate from Hawaii Pacific University, this was a huge opportunity for me. I graduated with a bachelor's degree in Marine Biology, so this specific cruise was perfectly placed for my main area of interest. My dream in life has always been to do research out at sea on either marine mammals or sharks.
I was fortunate enough to land a position on an expedition where the objective was to study whales, and one that focussed on the waters around the Hawaiian Islands, where I happen to live. My main focus here is to work with the science crew, in addition to assisting the marine technicians on board when possible. I want to get involved with the research and learn as much as I can from the field data collection process.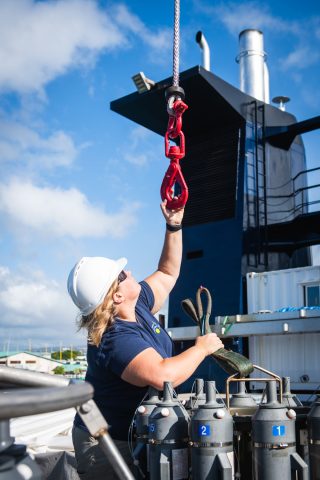 First Days Onboard
The first couple days on R/V Falkor brought with them a lot of information, not just about the science, but the safety procedures of the vessel as well. There are around 30 of us total on the ship… it is hard to give an accurate estimate as I still see new crew faces every day, but that seems about right! I am the youngest and definitely the least experienced onboard, which can be a bit intimidating for sure. After the first day the science crew stayed on the ship, so we began by setting up the lab whilst going over the plans and procedures for the cruise. It was interesting – but also comforting – to see that some of these were very similar to techniques we learned in the university labs, as well as those used for my senior research projects. It put me at ease to know that I was actually more prepared for this than I initially thought!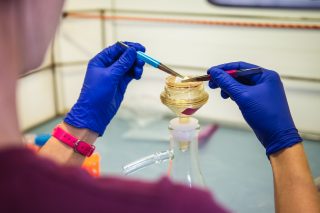 New Faces
It has been great getting to know the people on the R/V Falkor. The crew are super nice and friendly and they are always there to help out if you have any questions or want to see how something works. They are more than happy to give you a tour of the ship and to tell you about its history, which is amazing. I am so unbelievably lucky to have been chosen for this program, and, looking around at the people that I am surrounded by, I feel extremely grateful for the opportunity. Many of the scientists come from awesome backgrounds and have brilliant stories to tell about expeditions and previous research. As well the crew and the scientists, there's also Alex, multimedia correspondent, and Cynthia, the artist-at-sea resident, both of whom have adventurous stories and outstanding resumes of their own that I can't even come close to comparing myself to. Well, at least… not yet!

Making Connections
This is definitely a trip of a lifetime and I am making the most of it; making connections with people that will last longer than just this short week. I look forward to seeing how the science continues to play out and hopefully we see some whales soon!