Leighton Rolley – one of the lead marine technicians on R/V Falkor – has a reputation for wild ideas. When he suggested I use the manipulator arm on our Remotely Operated Vehicle (ROV SuBastian) to make a painting, I did not want to get my hopes up that such a unique opportunity might be possible. For as long as I can remember, I have been obsessed with submersibles and ocean exploration; meanwhile, I have dedicated my entire life to painting. The idea of combining these two passions was thrilling. As he left the room to float the idea with the ROV team, I tried to tamper my expectations. Was it really possible they would let me and my paint brushes near a machine as unique and valuable as SuBastian?
Fortunately, the Schmidt Ocean Institute has a very open-minded approach to ocean exploration. In addition to facilitating more standard forms of research, they support a variety of initiatives related to art, creativity, and innovation—all in hopes of generating more knowledge and personal connections with our ocean planet. Not only did the ROV team support the painting idea—they were so enthusiastic about a potential collaboration they suggested we go for it the following day.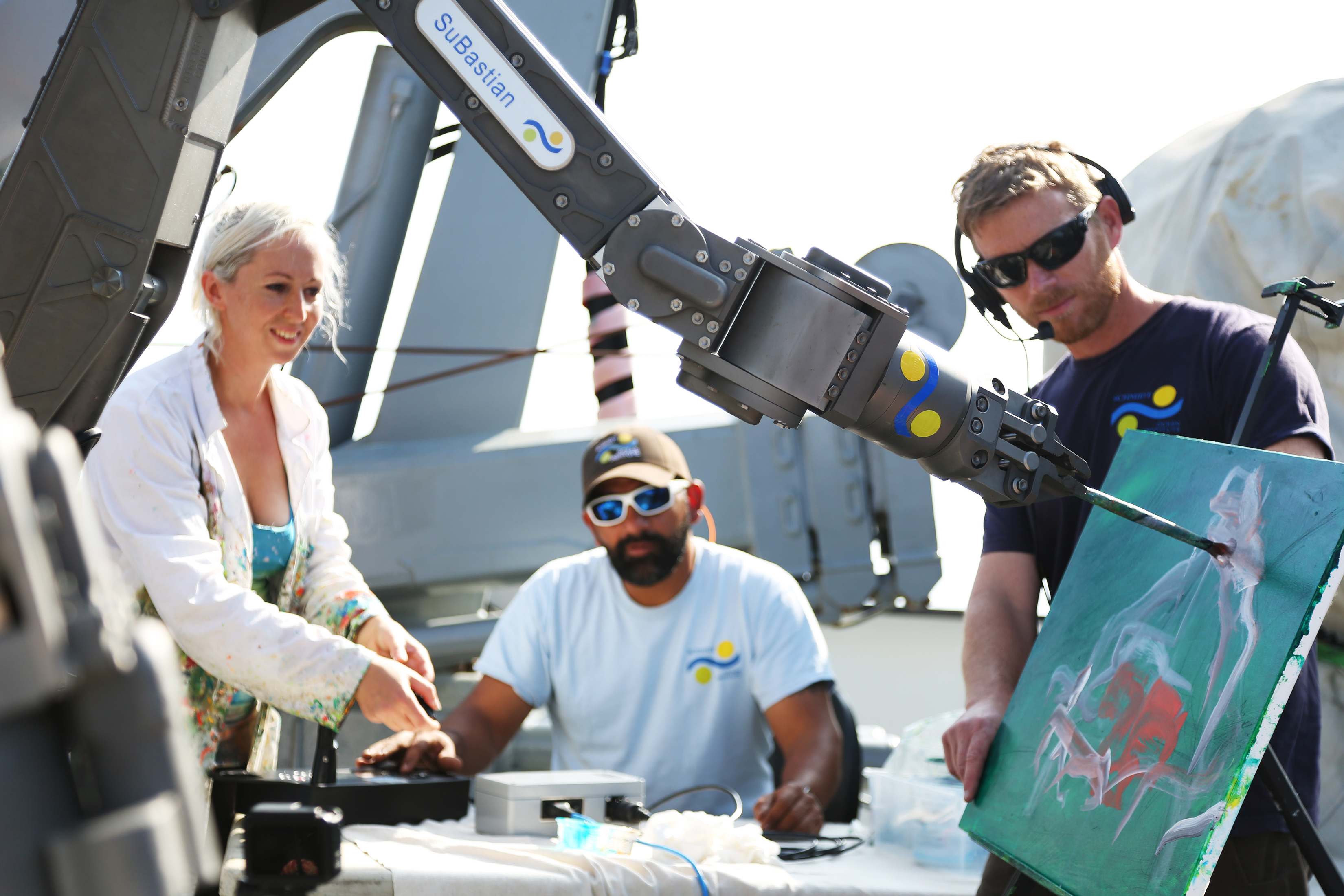 I knew controlling the ROV manipulator arm would be intensely challenging, but I still felt ambitious enough to try to make a painting that would be representative of the research goals on this expedition. I decided to paint the Autonomous Biogeochemical In Situ Sensing System (ABISS) lander—a NASA prototype that some of our scientists helped develop. With its geometric, metallic features, creating an image of the ABISS would present a departure from my normal subject matter, which focuses on the natural world. But given that the lander was a piece of high-tech gear destined for the seafloor, it seemed fitting to paint the ABISS with a deep-sea robot. Plus, the lander was already sitting on the deck just a few feet from the ROV, so I would be able to stay true to my process of working from direct observation.
Before I knew it, the ROV team set up a table on the aft deck full of paints and supplies, and gave me a quick lesson in operating the manipulator arm. Members of the science party and crew started to trickle onto the deck to observe the spectacle. I am accustomed to scientists taking a look at my paintings in progress as I work alongside them in the lab, but having an audience of dozens of people was extra nerve-wracking.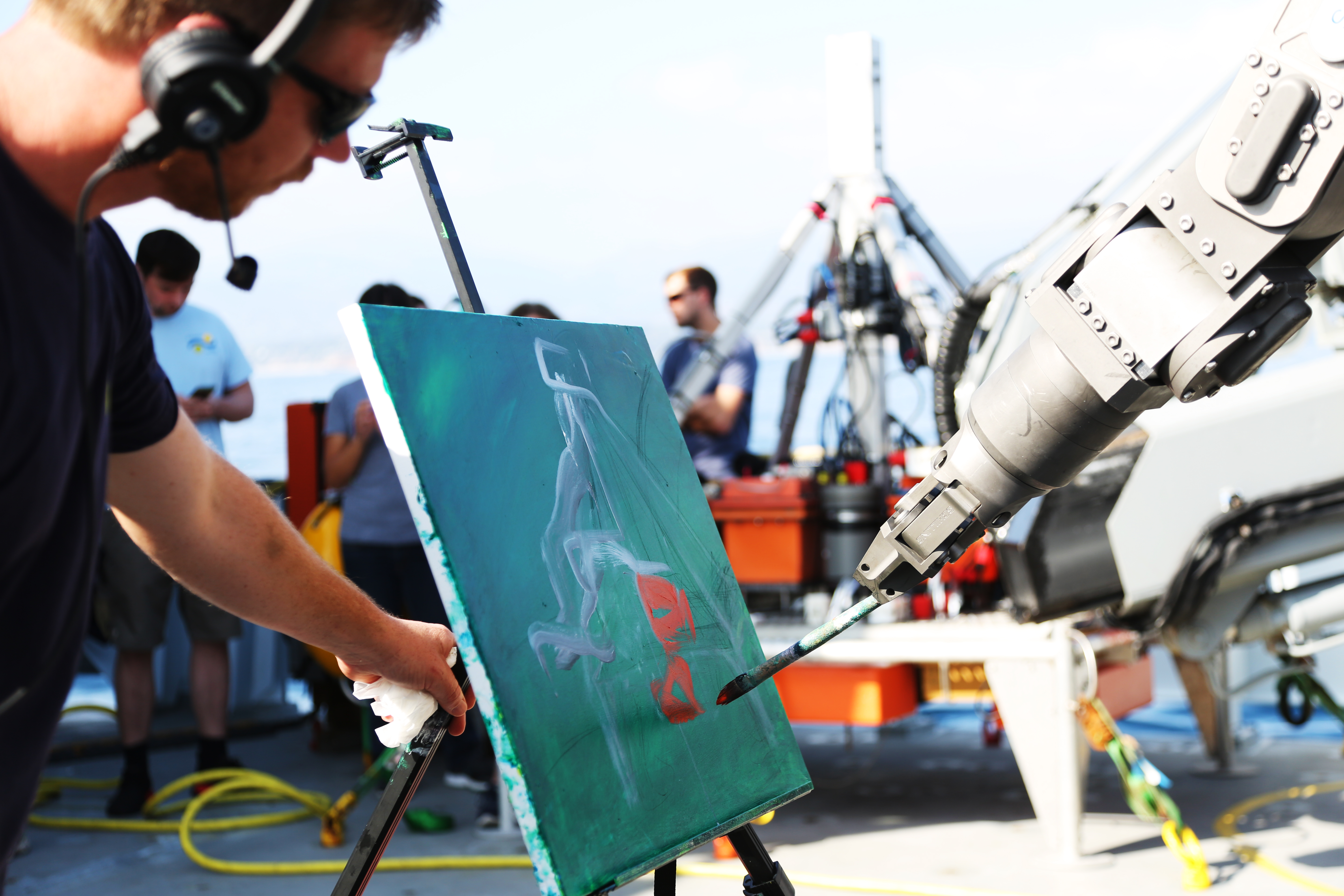 Fortunately, I was in good hands. Lead Mechanical Engineer Jason Williams helped position the canvas throughout the process, while ROV pilot Jason Rodriguez coached me through each motion. When my movements finally synced with the brushstrokes executed by the ROV's manipulator, I felt a rush of excitement. As an artist passionate about interdisciplinary connections, the experience of truly collaborating—not just with other people, but with a robot—was transformative.
Controlling SuBastian's manipulator arm was even more difficult than I anticipated. I cannot say I ever completely got the hang of it. It often felt like ROV was controlling me more than I was controlling the ROV. But I often find joy in the moments when I teeter between my internal vision for the painting and the natural entropy of the medium. Magnifying that element of volatility and chaos made the experience even more exciting.
The final painting strays wildly from my typical style, but I love looking at it. Of course, I am not the first artist to paint with a robot. But I may be the first artist to paint with a deep-sea robot, and I am definitely the first artist to create a piece using ROV SuBastian!
I have dedicated my career to painting creatures from the most remote depths of the ocean that never would have been discovered without submersibles like SuBastian. These deep-sea vehicles have brought countless muses into my world, and in that way, they occupy an almost mythological status in my mind. Creating a painting with such a legendary machine was the experience of a lifetime.