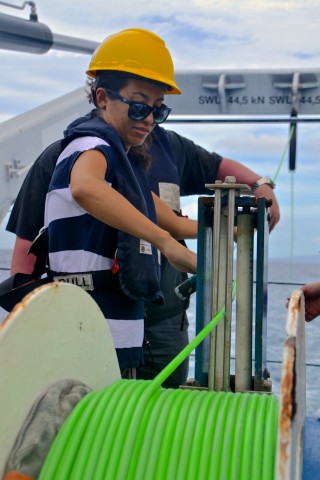 The most notable event today wasn't a dive, but rather a hastily arranged rendezvous with the Coast Guard.
Last Monday there was a terrible helicopter crash in the Arctic Circle. While returning to the Amundsen, a Canadian icebreaker and research ship, the helicopter went down, killing three people—the ship's captain, the pilot, and a scientist. There was no known problem with the helicopter and no distress call, so the cause of the tragedy is unknown. That's where the connection to our expedition comes in.
The Amundsen is equipped with a small remotely operated vehicle, but ROPOS pilots Vincent Auger and Jon Lee are the current experts at operating it. So, we made an unplanned trip close to shore, where a Canadian Coast Guard launch met us to pick up Vincent and Jon and leave two replacements on Falkor to help with final dives.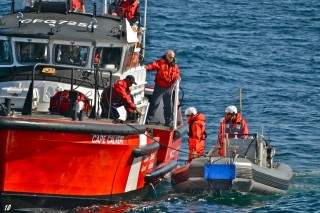 There's urgency to the mission up north because ice is closing in on the crash site, which greatly complicates ROV work, and because critical engine parts that need to be examined to figure out the cause of the accident are quickly degrading in saltwater. So, Vincent and Jon will be getting some equipment together then flying north and eventually transferring to the Amundsen via helicopter.
We were sorry to see them go, but certainly all aboard were more than happy to make any contribution possible to the effort.
Last Barkley Dive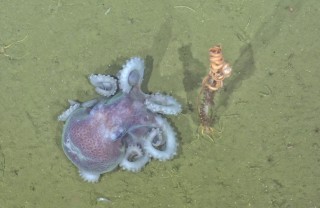 This morning we dove in Barkley Canyon to 600 meters—once again in the heart of the oxygen minimum zone. The life here was especially sparse, even compared to other dives in the low oxygen core. One exception was that in places where there were rocky outcrops and walls, we saw more snails than usual. Why this area looked different than others with similar oxygen levels isn't clear, but could be tied to more sediment making its way through here to cloud the water.
That's it for Barkley. Tonight we are making the run south to Tully Canyon, within the Olympic Coast National Marine Sanctuary, in U.S. waters. We've got special permission to dive there, in an area that as far as we know has never before been explored. The permit kicks in at midnight, and if all goes well ROPOS will be going in the water at 12:01.