During the inaugural Schmidt Ocean Institute Symposium in November of 2013, Schmidt Ocean Institute (SOI) Vice President and Co-Founder Wendy Schmidt launched an initiative to inspire a deep passion for ocean sciences among students by bringing them out to conduct research at sea aboard the R/V Falkor.  At the time, SOI was already planning its collaborations with the University of Hawaii at Manoa in preparation for a series of scientific research cruises out of Honolulu.  As a result of this initiative, a new program of 2014 student cruises was born.
This year, on three separate expeditions, select student groups will gain invaluable skills and experience at sea while working with some of the world's most advanced oceanographic technologies and tools, available on R/VFalkor. Students and professors from the University of Hawaii will conduct hands-on research that will not only produce valuable data and knowledge, but could also encourage participating students to either continue on toward, or commit to, careers in ocean science.
"Participating in research activities on Falkor, seeing the insights with their scientific mentors first-hand, is invaluable for studentswho have an interest in ocean science," said Wendy Schmidt. "I'm delighted that we can provide this unique experience, and hope that it inspires a new generation of scientists to explore and share new information about our oceans."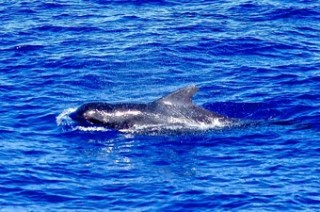 The student cruises will include both research, for instance in support of Ph.D. dissertations, and training curricula. On the first cruise, from Feb. 16 to 22, a group of graduate students and post-doctoral researchers will steam aboard Falkor from Honolulu to the Kona Coast on the west side of the island of Hawaii. There the group will study the feeding habits and distribution of deep-diving whales using the ship's state-of-the-art research sonar systems, data processing and visualization capabilities, and other technical tools. To learn more about this cruise, please visit The Secret Lives of Whales. A link in the upper left corner of that page takes you to the cruise blog.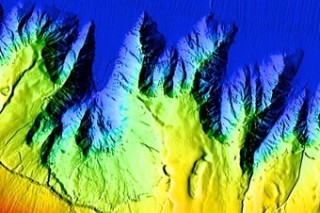 An April cruise will include two segments. On the first, graduate and undergraduate students will learn how to perform key geophysical survey work such as sonar seafloor mapping using Falkor's advanced multibeam sonars. This work will help prepare some team members to later join the second of two month-long mapping expeditions to the Northwestern Hawaiian Islands aboard Falkor, in May of 2014.
During the student cruise's second segment, the focus will be internal tides off the western tip of Oahu. An internal tide is a wave formed below the sea surface by the turbulence generated as normal tides move water up and down slopes like those at the base of a Hawaiian island. The team will use Falkor's current profiling sonar system to map those internal tides, and they'll collect water samples using the CTD rosette to analyze what effect the resulting mixing has on the amount of food and the types of animals inhabiting different depths. To learn more about this cruise, please visit the intro page here.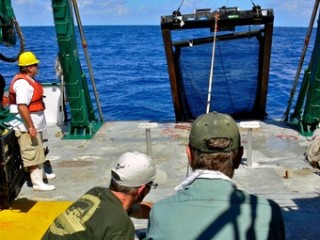 The final student cruise, in June, will also involve both undergraduate and graduate students. The research will include a vareity of student projects and work with a MOCNESS, or Multiple Opening and Closing Net with Environmental Sensing System. A MOCNESS has separated sections that can be opened and closed electronically to precisely collect samples of marine snow and animals at different depths. The final day of the cruise will focus on additional multibeam sonar mapping of the ocean floor near the Hawaiian Islands. For more information about this cruise, and links to the cruise log and expedition map, please visit the intro page.