This year marks the 10th anniversary for Marine Technology Reporter's annual Top 100. As a relative newcomer, Schmidt Ocean Institute is honored to be included in this list alongside with many recognized innovators in maritime industry.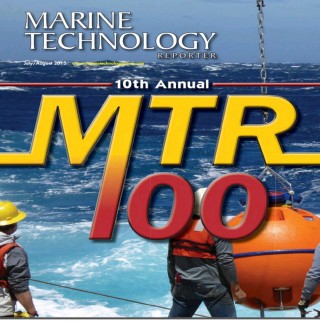 Not only does Schmidt Ocean Institute appear on the list for the first time, but it was distinguished as one of the Editor's Choice top Five Stand-Outs.
Schmidt Ocean Institute showcases breakthrough ocean research made possible with advanced technologies, such as marine robotics, remote sensing, high performance computing, telepresence, and broadband ship-to-shore communications.  Examples include hundreds of hours of high definition video streamed live from the recent robotic surveys of the previously unexplored Perth Canyon and the remote reefs of the Timor Sea. Autonomous seafloor 3D modeling and habitat characterization in collaboration with Australian Centre for Field Robotics earlier this year highlighted SOI's support for the advancement of intelligent survey techniques and coordinated autonomy algorithms for groups of diverse coordinated robots.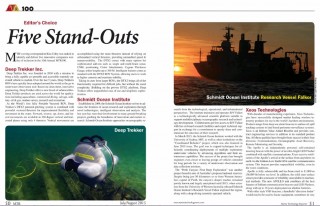 The institute initiated the development of a series of underwater research robots, with the first 4,500m remotely operated vehicle (ROV) expected for delivery in 2016.  The recently installed high performance computing system on RV Falkor enables marine scientists to inform their day-to-day research at sea with high throughput numeric modeling and interactive analysis.
Honored to be selected among the top Five MTR100 Stand-Outs, Schmidt Ocean Institute looks forward to advancing shipboard research with innovative technologies for the benefit of humanity for years to come.
Marine Technology Reporter's Top 100 July/August Issue can be viewed and downloaded here.