Microbes play many vital roles by physically and chemically changing their surroundings: they consume and produce a diverse range of organic and inorganic materials, provide food for other organisms, and drive biogeochemical cycles on a global scale. Our research in the Cunliffe Group based at the Marine Biological Association in Plymouth UK focuses on understanding how microbes carry out these important ecosystem functions throughout the marine environment. One such environment is the sea surface microlayer (SML), which is the thin layer just 1/2 mm thick at the sea-air interface. Everything entering or leaving the ocean must pass through this critical boundary layer. Microbial communities in the SML are distinct from those in the underlying water column. This unique and mostly invisible marine ecosystem controls the interactions between the atmosphere and the ocean.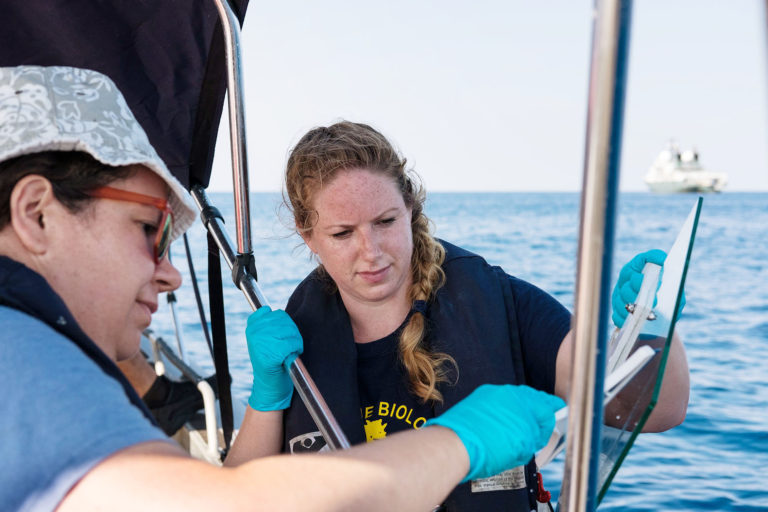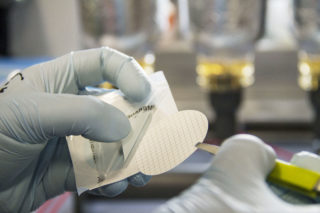 First Things First: The Samples
We are extremely excited to be a part of the Schmidt Ocean Institute Air to Sea cruise. We are part of a unique collaborative and interdisciplinary study bringing together some of the world's leading chemical, physical and biological oceanographers. All of us are applying cutting-edge technology to further the understanding of this fascinating and globally important marine ecosystem.
The majority of our work will take place in the lab in Plymouth, however first we need samples. Our work begins by collecting seawater. Here on the RV Falkor, we sample the SML by hand: a glass plate is dipped into the ocean, the microlayer sticks to the plate and is transferred to a sample bottle. Each dip collects only a few mL so we have to dip the glass plate approximately 100 times to collect enough water for each sample. The samples then have to be filtered to capture the microbes. We filter through a membrane that has pores just 1/5000th of a mm in size. During this Air to Sea cruise, we will filter over a ton of seawater and collect almost 500 individual samples.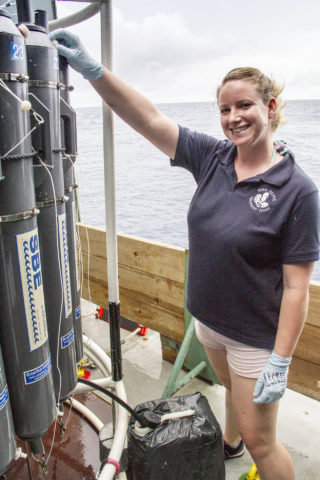 Then Comes Lab Work
Once back in the lab in Plymouth, we use a combination of traditional microbiology alongside modern molecular and genetic techniques to identify the microbes present in each sample. The data generated from our samples (along with the physical and chemical data collected by our collaborators during the Air to Sea cruise such sea temperature, sea surface roughness, gas exchange etc.) will tell us which microbes are present and active in the SML, as well as help us to understand what functions they are carrying out and how they interact with their surrounding environment and each other.
We are sure this knowledge will have many applications in the future. For the time being, understanding how the sea surface microlayer affects the exchange between air and water is fundamental to prepare for the coming changes in our planet due to climate change.