Today R/V Falkor and ROV Global Explorer MK3 made a second and final visit to a site near the Macondo wellhead. Dr. Chuck Fisher and his team directed the ROV pilots to complete imaging of approximately 40 remaining corals on their list. This was the last imaging dive of the expedition.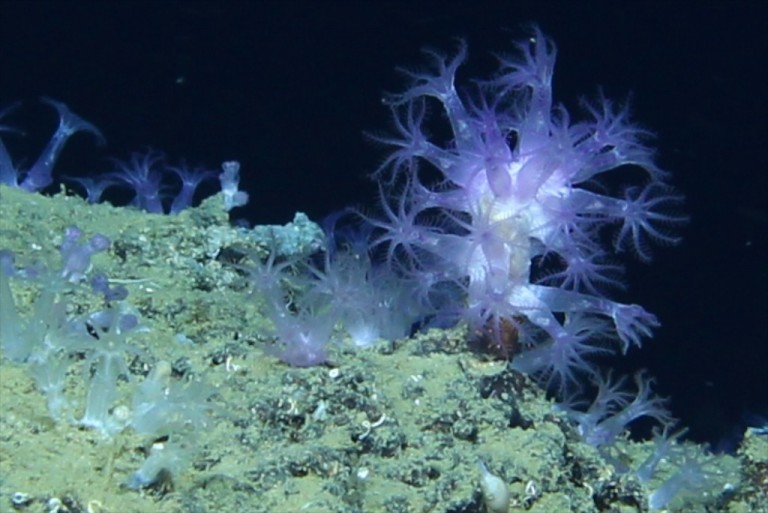 How do researchers find and keep track of the coral colonies being studied? It involves several navigational aids, accurate notes, and real-time coordination with the marine technicians, ROV pilots, and ship's captain to get the ship and ROV into correct position for every mission. In this study, Dr. Fisher has previously positioned a grid of seafloor markers on cruises with other ROVs and submersibles over the past nearly two years. Two different types of markers were created with image processing in mind. Each marker has been constructed of polypropylene line (rope) with a square of syntactic foam on one end and an anchor weight on the other end. Tied into each line is a regulation-sized, yellow wiffle softball, approximately nine centimeters in diameter. For grid survey markers, the softball is tied close to the anchor so that digital images of the area can be mosaicked together. Markers that delineate coral colonies of interest have the softball tied toward the foam block; the softball provides a size scale for images of the corals. The position (latitude and longitude) of the vehicle is recorded for every marker placed on the seafloor.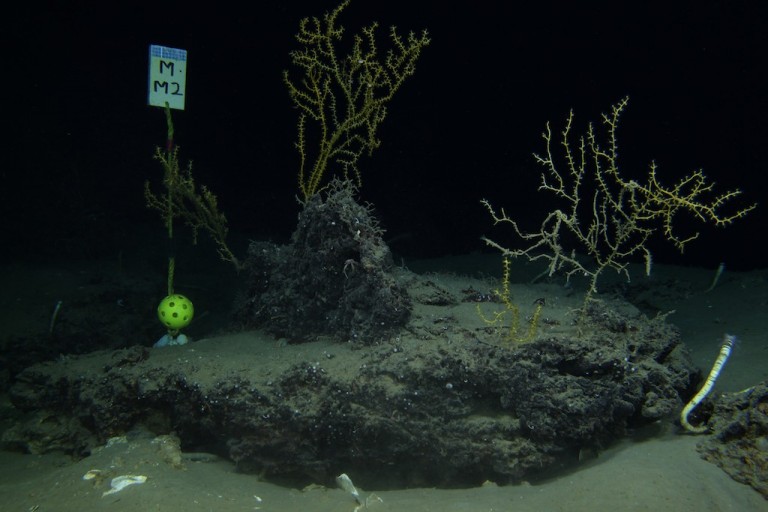 Miles Saunders, Fisher's geographic information systems (GIS) analyst, creates maps with bathymetric data and the marker positions. These maps were brought onboard the Falkor and used in planning the ROV dives during the study. But the ability to return to the markers also depends on the accuracy of the ship's and ROV's navigation systems. For every ROV dive, marine technicians Colleen Peters and Leighton Rolley deploy an ROV tracking system and operate the navigational software that the pilots, ship officers, and scientists use during the dive. Colleen and Leighton monitor the position of the ROV throughout the dive and respond to navigational questions and requests to mark waypoints.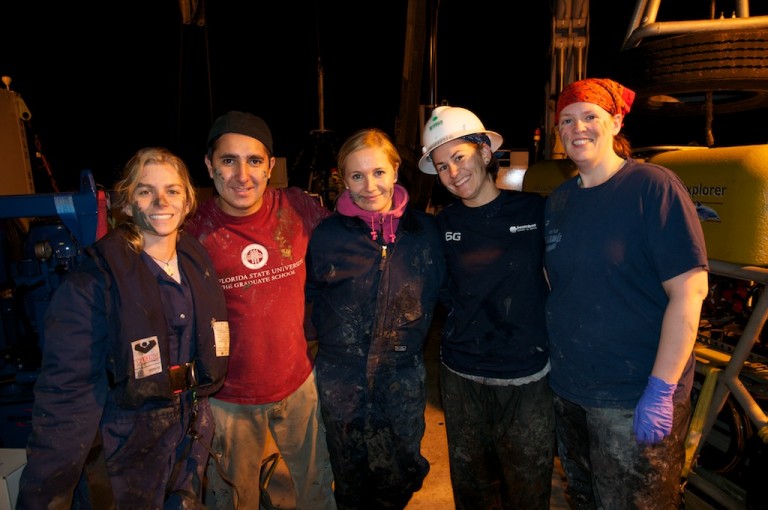 Chuck Fisher has been pleased with how well the ship and pilots have been able to position the dive right at the site of interest. The team completed another successful dive with ROV Global Explorer MK3 today and will return back to Penn State with an updated set of images to analyze.
The day ended with two final deployments of the multicore sediment sampler. The cores were put into the cold van and will be transported back to the University of Georgia by Sara Kleindienst. Boxes are beginning to be packed and labs cleared as everyone prepares for the last day at sea.