An international team of scientists work together to rapidly find and explore
large hydrothermal vents on the world's longest mountain range.
Video and photos available here.
CONTACT: Carlie Wiener (808) 628-8666 cwiener@schmidtocean.org
San Juan, Puerto Rico – Scientists have discovered three new hydrothermal vent fields over a 434-mile-long stretch of the Mid-Atlantic Ridge during the first scientific expedition aboard Schmidt Ocean Institute's recently launched research vessel Falkor (too). 
The multidisciplinary science team representing 11 institutions from the United States, Canada, and France used advanced ocean technologies to make the discovery. Scientists used autonomous and remotely operated underwater vehicles resulting in 65 square miles (170 square kilometers) of seafloor mapped at one-meter scale resolution, an area approximately the size of Manhattan Island.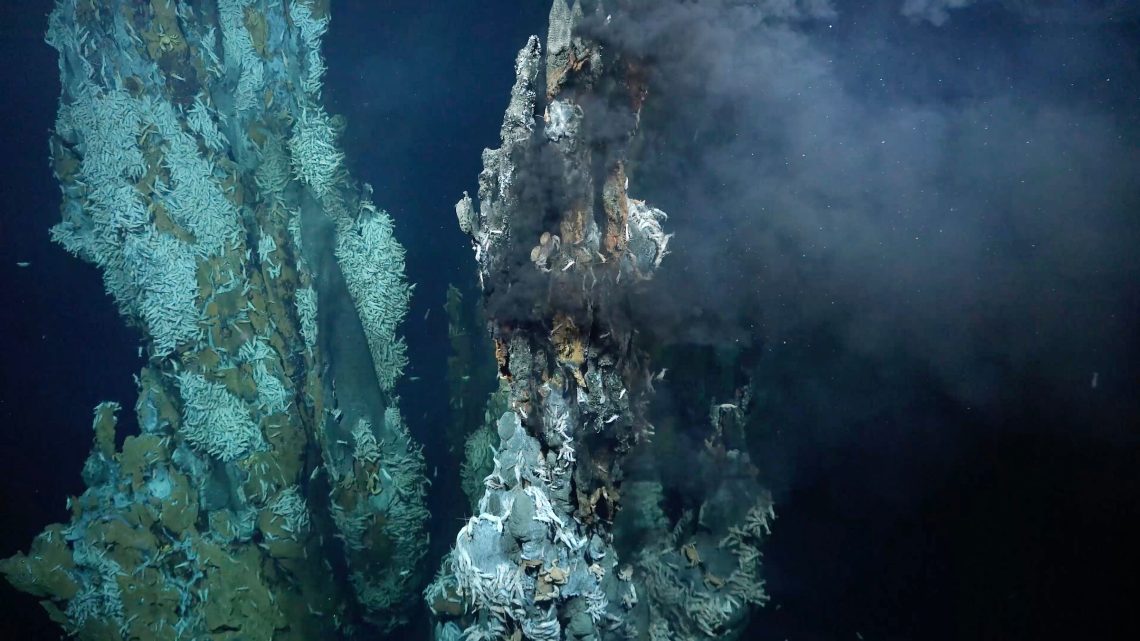 The discovery of the active hydrothermal vents is the first on this section of the world's longest underwater mountain range, the Mid-Atlantic Ridge, in more than 40 years. One of the discovered vent fields was located at the Puy des Folles volcano and has five active sites over 6.95 square miles (18 square kilometers). High-temperature 'black smoker' vents were also found at the Grappe Deux vent system and Kane Fracture Zone.
"This cruise exceeded expectations with the discovery of so many amazing hydrothermal vents vibrant with life," said Dr. Jyotika Virmani, executive director of Schmidt Ocean Institute. "We are delighted with the new capability that Falkor (too) brings to the ocean science community, including the ability to put multiple different types of technology in the water simultaneously. The dedication of the scientists and crew, along with the capabilities of the ship, was evident in the success of this expedition and we look forward to more."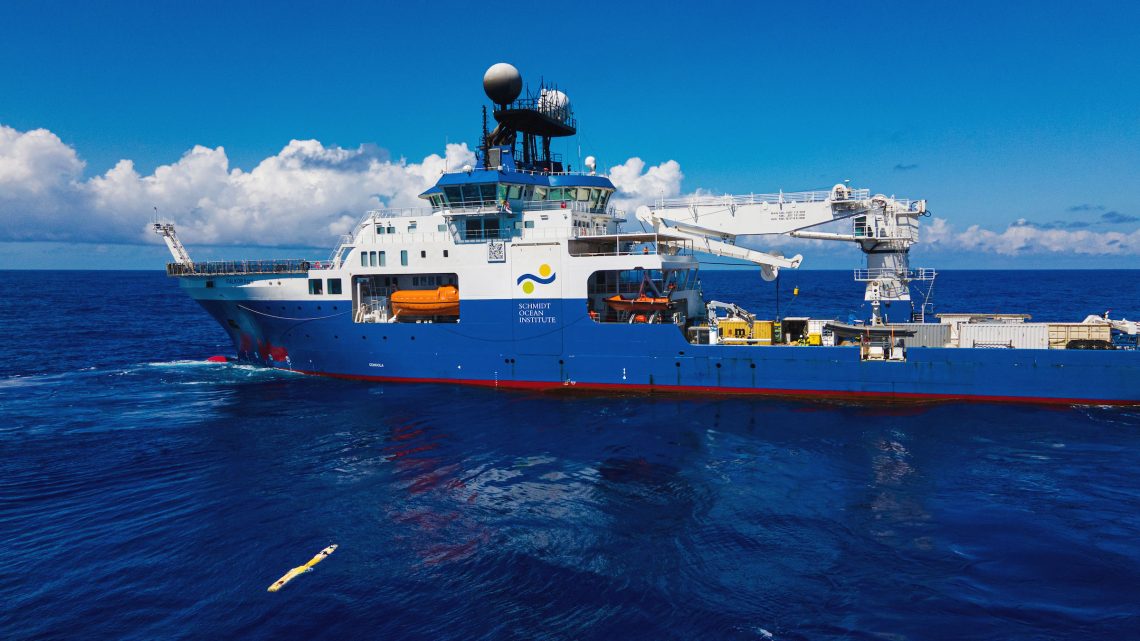 The Mid-Atlantic ridge is a target area for deep-sea mining and exists in international waters, also known as "The High Seas." All mineral-resources-related activities in the area are regulated by the International Seabed Authority, established by the United Nations. The ISA is currently considering whether to allow deep-sea mining.
Active hydrothermal vents are rich in metal sulfide deposits– mineral ore often affiliated with copper and zinc. In exploring the vents for the first time, scientists found rich biological communities. The vents were teeming with marine life including massive swarms of vent shrimp and a rare sighting of a big fin squid. Many species found on vents live off chemical energy (chemosynthesis) instead of energy from sunlight, which doesn't reach those depths.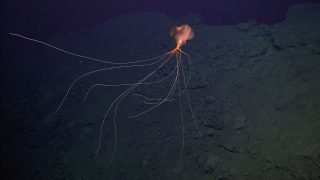 Scientists are still learning about how these ecosystems function and the role they play for cycling carbon on our planet. The impacts deep-sea mining would have on hydrothermal vent ecosystems are unknown, and the discovery of active marine life underscores the need for more research to understand the effects. 
"Regional Environmental Management Plans for regulating ocean mining require accurate scientific data on the presence of animal communities and an understanding of how sites are colonized," said Chief Scientist, Dr. David Butterfield, Principal Research Scientist with the Cooperative Institute for Climate, Ocean, and Ecosystem Studies at the University of Washington and Group Leader for the Earth Ocean Interactions Program at NOAA Pacific Marine Environmental Lab in Seattle. "There is some agreement that sites with active venting and chemosynthetic vent fauna communities should be excluded from mining because of the very limited extent of hydrothermal vent habitat, which is restricted to a narrow band of activity on the global mid-ocean ridge system."   
The inaugural 40-day expedition on R/V Falkor (too) began in March. The new vessel will be utilized for global ocean exploration, focused on a new region of the world each year. The next expedition will begin on April 17 exploring deep-sea coral.
"Falkor (too)'s inaugural expedition has demonstrated all that's possible when you bring together scientists from around the world and give them access to the latest tools and technology, all aboard a collaborative floating laboratory," said Wendy Schmidt, co-founder and president of Schmidt Ocean Institute. "The discoveries on this expedition underscore how much we have yet to learn about deep-sea ecosystems—and why, before marching ahead with mining or other potentially damaging activities, we need to learn more about our unknown ocean."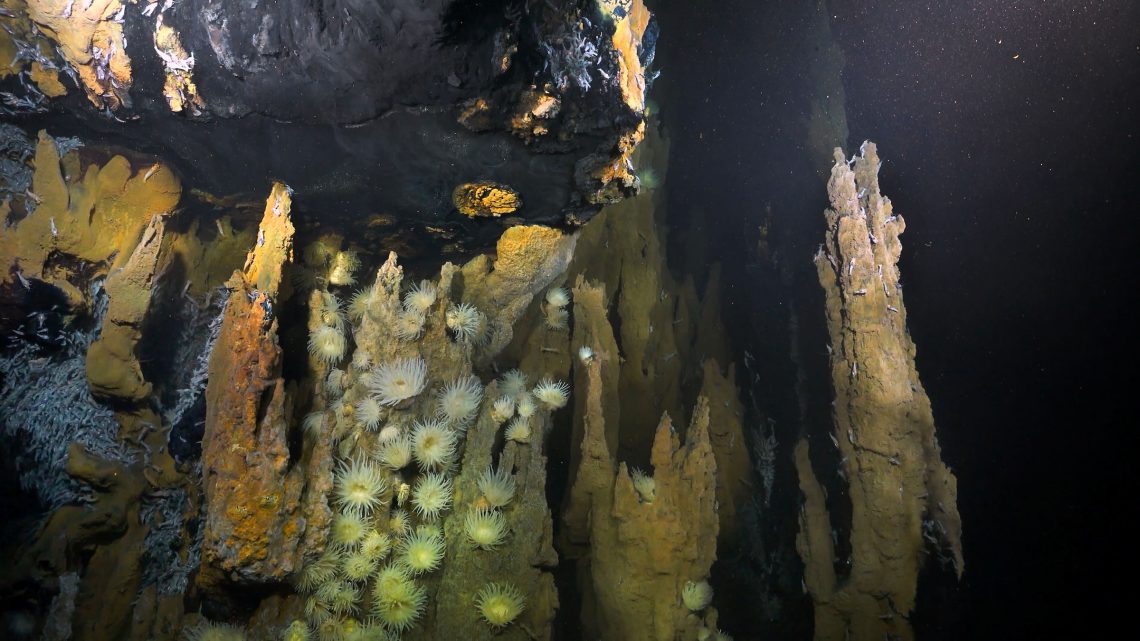 About the Organizations
Schmidt Ocean Institute was established in 2009 by Eric and Wendy Schmidt to advance oceanographic research through the development of innovative technologies, open sharing of information, and broad communication about ocean health. It operates Falkor (too), the only year-round philanthropic research vessel in the world that is made available to the international scientific community at no cost. For more information, visit www.schmidtocean.org.
NOAA Ocean Exploration is a federal organization dedicated to exploring the unknown ocean, unlocking its potential through scientific discovery, technological advancements, and data delivery. By working closely with partners across public, private, and academic sectors, we are filling gaps in our basic understanding of the marine environment. This allows us, collectively, to protect ocean health, sustainably manage our marine resources, accelerate our national economy, better understand our changing environment, and enhance appreciation of the importance of the ocean in our everyday lives. Learn more about NOAA Ocean Exploration.
Pacific Marine Environmental Laboratory (PMEL) is a federal laboratory that makes critical observations and conducts groundbreaking research to advance our knowledge of the global ocean and its interactions with the earth, atmosphere, ecosystems, and climate. These observations are used to improve weather and climate predictions, fisheries management, and coastal resilience. PMEL is a global leader in the development and deployment of innovative strategies for ocean observation. Learn more about PMEL at https://www.pmel.noaa.gov/. 
Woods Hole Oceanographic Institution is dedicated to advancing knowledge of the ocean and its connection with the Earth system through a sustained commitment to excellence in science, engineering, and education, and to the application of this knowledge to problems facing society. Learn more at https://www.whoi.edu/.
MBARI (Monterey Bay Aquarium Research Institute) is a private non-profit oceanographic research center, founded by David Packard in 1987. The mission of MBARI is to advance marine science and technology to understand a changing ocean. For more information, visit https://www.mbari.org/.
University of Washington has been a hub for learning, innovation, problem-solving, and community building. Driven by a mission to serve the greater good, our students, faculty, and staff tackle today's most pressing challenges with courage and creativity, making a difference across Washington state — and around the world. Learn more at https://www.washington.edu/. 
Oregon State University College of Earth, Ocean, and Atmospheric Sciences is the center of Earth sciences research and academic programs at Oregon State University. Our scientists and students are on the frontlines of discovery, from the depths of the ocean to remote mountain peaks, from our backyards to the ends of the Earth, and from the state-of-the-art labs that line our halls to the communities that we serve with the outcomes of our research. In all disciplines, our faculty are renowned for their science and valued for their expertise. Learn more at https://ceoas.oregonstate.edu/. 
University of Toronto is proud to be one of the world's top research-intensive universities, bringing together top minds from every conceivable background and discipline to collaborate on the world's most pressing challenges. Learn more at https://www.utoronto.ca/. 
University of Victoria combines three elements: dynamic learning, vital impact, and our extraordinary academic environment. Together, these three elements nurture an environment of discovery, innovation, and creativity. Learn more at https://www.uvic.ca/index.php. 
Dalhousie University is located in Nova Scotia, Canada (Mi'kma'ki) with four campuses in Halifax and Truro, and satellite locations in Yarmouth and Saint John, New Brunswick, with a broad range of academic programs that attract and retain a diverse mix of incredible students, scholars, researchers, and staff who work together with an interdisciplinary perspective and a focus on service. Learn more at https://www.dal.ca/. 
IFREMER – A pioneer in ocean science, IFREMER's cutting-edge research is grounded in sustainable development and open science. Learn more at https://en.ifremer.fr/.
 # # # #