On October 3rd, 2017 Schmidt Ocean Institute presented the first Impact Award to Dr. Christopher Zappa at the celebration of five years of research on board Falkor.
The Schmidt Ocean Institute Impact Award recognizes investigators who have sailed on research vessel Falkor and taken great risks to align their research with our mission, to transform ocean sciences with disruptive innovation and defy the conventions of what observations, data, and knowledge are attainable to scientists at sea.
In October of 2016, a research team co-led by Dr. Chris Zappa from Lamont Doherty Earth Observatory at Columbia University for the first time co-developed, deployed, and successfully operated a high endurance and high payload vertical take off and landing robotic aerial vehicle HQ-60B from RV Falkor.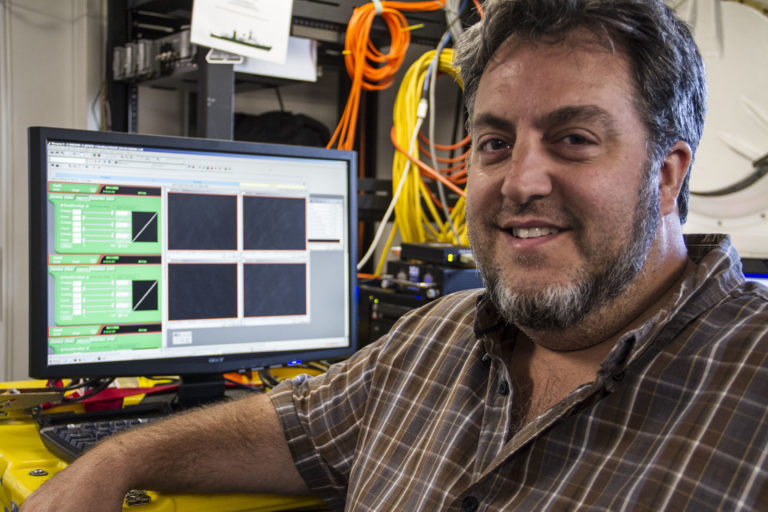 As a result of 15 flights, it gathered 27 hours of radiometric, spectroscopic, and infrared imagery covering many tens of square miles of ocean surface in 322 separate color wavelengths. This data will transform our understanding of how the microbes inhabiting the ocean surface biofilms mediate the exchange of heat and gases across the air-sea boundary and regulate our climate on a global scale. Highlighted by the continued live blog, social media, and video coverage from the cruise, within three weeks of its completion, Chris's team received a $ 3.7 million grant from the Gordon and Betty Moore Foundation to use HQ-60B to investigate coastal ice interactions in Alaska. Their research was later mentioned in a White House press release.